Diagonally opposite the historic Grace Hotel in Sydney's CBD sits Charles Plaza (previously the ACA Building), whose distinctive pink hues mark out the site as an important part of the city's heritage fabric. Whichever way you step inside, it carries a certain grandeur. Led by Cox Architecture director and head of interiors, Brooke Lloyd, alongside interior designer Zia Gatti, the project was completed in association with H&E Architects, whose team included director Chris Grinham and designer Natalie Rumore.
The bevelled corner edge creates a relationship with the Grace Hotel, while just a few steps away sits the original monumental doorway on King Street. The fit-out for hospitality interiors, recently shortlisted for the Interior Architecture award in the NSW Architecture Awards, has certainly not shied away from the challenge. Elegance radiates from the smallest detail to the highest ceiling.
"The design treads a fine line — it needs to be respectful of heritage while looking through a contemporary lens," explains Lloyd. Interior detailing such as the triangular wood panelling, for example, draws inspiration from the stone facade by abstracting certain features into a consistent design language. That language is then repeated across numerous details in order to articulate the heritage in a contemporary way.
The close attention to materiality continues with brass and bronze fittings, deliberately used to contribute to a subtly aged atmosphere. While fitted sumptuously, the space nevertheless evokes a sense of history through the patina of these materials.
It all contributes to a feeling of effortless glamour, simultaneously new and old. It's also at once grand and intimate — from the bar, with its low, dark ceilings, through the small lobby area standing in striking contrast to the oversized main entrance, to the double-height brasserie with its theatrically exposed kitchen.
"During the interwar years when this building was created, coming into the city was a real occasion and we wanted that feeling again. When you come here to dine, there's a sense of formality and occasion," says Lloyd.
Related: Cox Architecture's historic Sydney stadium
Inside the dining space, work included ripping out a stairway that crashed rather ungraciously through a prominent balustrade. Instead, a sculpted timber piece by local joiners Élan provides access to the mezzanine dining area while custom works of wall art and sculpture complement the geometric design language and colour palette.
Cox Architecture has managed to create a variety of spatial atmospheres in a limited series of rooms, again ranging from intimate and private to open and visible. As Lloyd puts it, the overall design captures a "relaxed formality".
The sense of playful contradiction relates back to the concept aesthetic of 'future nostalgia': "It comes back to the idea of time-stamping the building and being respectful of its past but designing it through a contemporary lens. Looking at it in a way that doesn't muddle heritage and new insertions is really important to us. There's such a spirit imbued in a place like this with 100 years of history, so it would be crazy not to use it as a reference point," says Lloyd.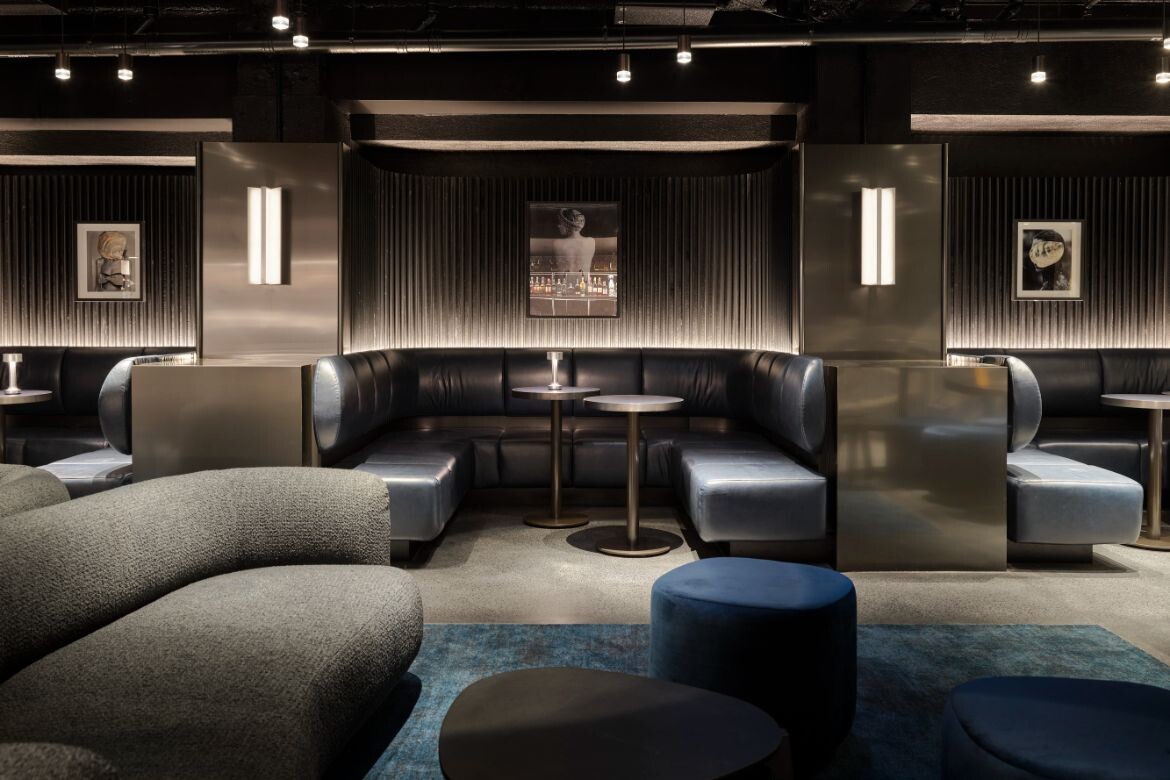 Head downstairs, however, and the character of the space changes dramatically. Leaving the restraint and refinement upstairs, TIVA is an edgier space: a nightclub providing a strong counterpoint to the other hospitality venues. Defined by a material palette of polished metals and precious stone alongside raw concrete and exposed services, it's a music venue with a "rough luxe" aesthetic.
Less formality, more decadence — but still the sense of glamour that pervades the whole site. TIVA certainly extends the contemporary side of the design but Cox Architecture has still balanced heritage with modern across this series of fit-outs. The site is small with only a couple of floors but it's space enough to fit a day in the life of any gourmand or reveller, sating the daily appetites from morning coffee to after-dinner dancing.
Cox Architecture
coxarchitecture.com.au
Photography
Anson Smart, Steve Woodburn
We think you might also like this article on Luchetti's Krelle's interiors at Jane.