Those Byronic shades of coastal escape abound at Pixie – it really is as good as you imagine it might be.
Located within what is taking form as a designer/dining enclave with Venroy, Deji Studios, Nagnata and Light Years (Pixie's sister restaurant), the Jonson Lane Precinct is shaping a new view of Byron. Pixie brings to this mix a robustly design-led experience that sits perfectly with the Italian menu and Byron surrounds. Imagine David Flack in a pair of shorts – still Flack, but a bit more relaxed.
Taking inspiration from Italy of the 1970s, Flack Studio's design pays homage to mid-century architect Gae Aulenti, whose Pipistrello Table Lamp takes pride of place on the bar. Aulenti is bests known for her architecture and design for Musee d'Orsay and the Contemporary Art Gallery at the Centre Pompidou. Additionally, Aulenti was a prolific designer across furniture, stage, lighting, exhibition and interior design, and was known for never discriminating between old and new but rather giving preference to whatever was right for the project. To this end Flack's rich and layered material palette feels right at home, with furniture and lighting mixing up eras.
Related: Milan exclusive with Luca Nichetto
At the centre is a magnificent zig-zag-faced pink marble bar with a striking steel hood featuring round porthole-like details. Recessed into the high gloss ceiling above, the light glows golden red across the ceiling and shimmies like molten amber across the wall at the back of the bar. Surrounding the bar is a small floor inset of pink and white diagonal stripes of marble before terracotta becomes the main. This too is Flackified with randomly placed and sized inserts of pink terrazzo.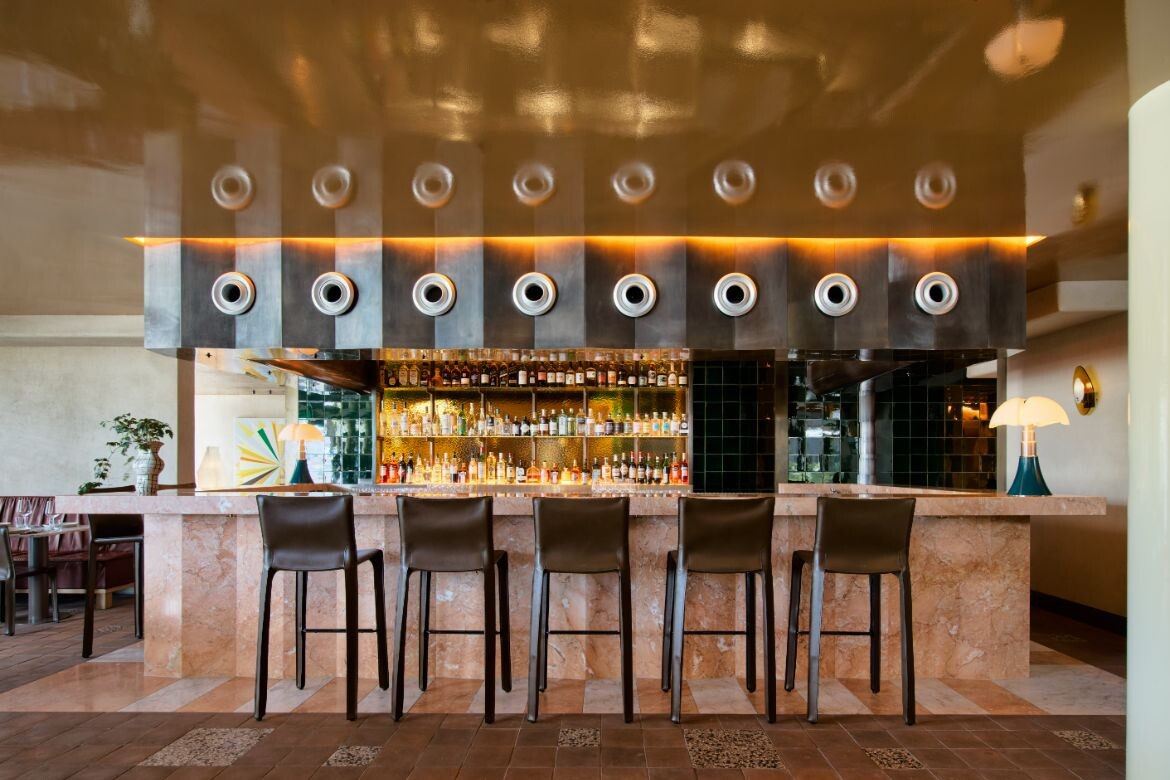 Great lamps from the canon of unusual icons form a European signature in this project. Dotted throughout are Pietro Chiesa's Luminator Floor Lamp, Todia Scarpa's Butterfly Wall Lamp, Mario Botta's Shogun Lamp and vintage crystal art wall sconces, all carefully placed to evoke a cool sensibility. The wall sconces are a particular delight of the seventies mood, with freeform layers of glass lit from behind for a nimbus effect. Flack's material palette comprising layers of burnt terracotta, mushroom browns, pinks, buff and the deep sea green of glossy wall tiles gives the whole a seventies swagger, but the sharpness of detail is entirely contemporary.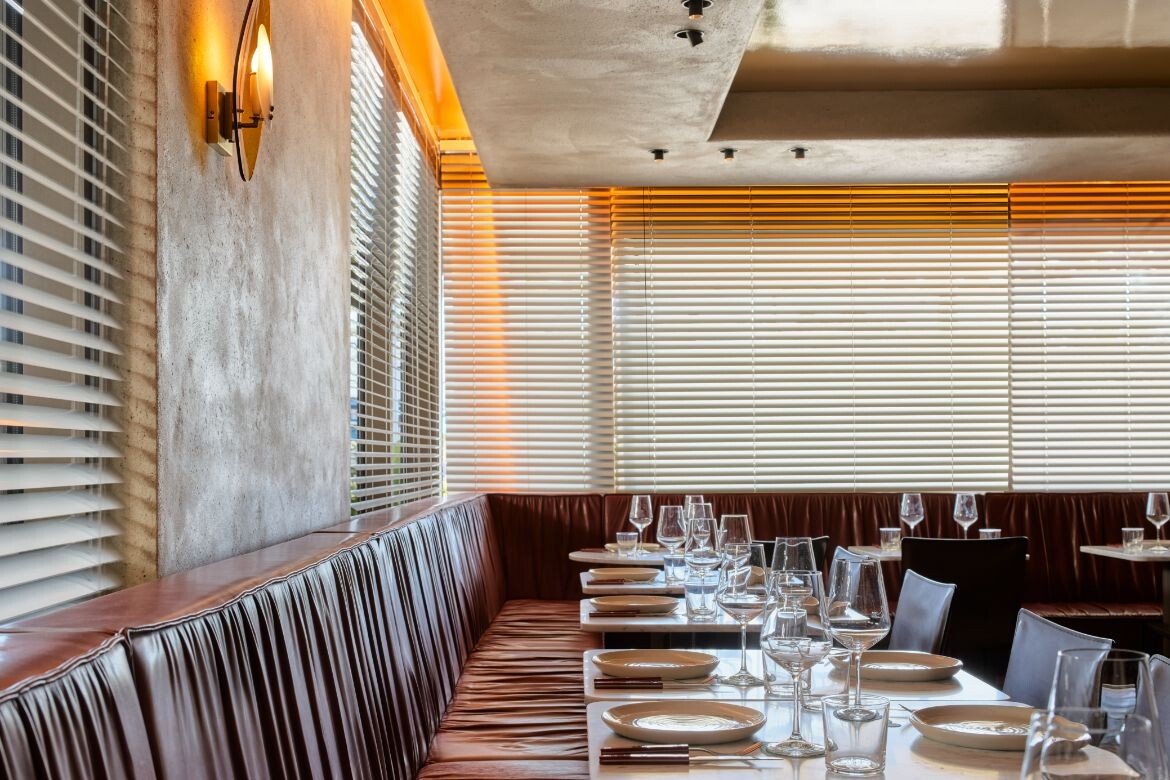 Quintessential seventies Cab Stools and Chairs by Mario Bellini (1977) are paired with a large bespoke banquette in ruched claret leather for a relaxed ambiance that affords each patron ample room. And in doing so, it sums up the relaxed vibe of Byron as sun pours through the slimline venetian blinds, glows through the amber glass screen and fills the room with joy.
Flack Studio
flackstudio.com.au
Photography
Anson Smart
We think you might also like this story on Beverly by Mitchell & Eades.