Joining floors 48 and 49, floors 54 and 55 are extraordinary. In a move that has now become typical for workplace design, the work stations occupy the outer rim with light and view democratically shared. Tweaking this new normal, CCD has created a horse shoe configuration reserving the open side for a lounge on the lower floor and void on the upper. Effectively this has also allowed them to place a cantilevered, round dining room into the void for a sensational experience of space. It has also allowed light and views to flow through the centre of the internal spaces.
And what central spaces they are! Here, the definition of 'workplace' is turned on its head with a luxury hotel sensibility informing loungerooms, dining rooms, restaurants, fashion outlet, boutique, library, showroom, meditation room and woodworking area. The aesthetic is cornerstoned throughout by quality, with materiality, art and lighting exquisitely realised. "The only way to keep up the original intention is to live up to it. We pay tribute to the artisan spirit of those spending years crafting artefacts with heart and hands," says Joe Cheng, CCD founder.
The central curved corridor of red brick, for example, is handmade by artisans and is both inviting and warm to the touch. Arranged as alternating layers, the bricks forming the arch weave organically through the space to form a circular motif and entrance. As the primary building material of Shenzhen, the terracotta bricks bring cultural and historic references. "In exploring the development of design, instead of simply pushing for technical innovations and breakthroughs, sometimes we have to step back and think about our roots. Consequently, we started to pay attention to giving back to nature," says Cheng.
Contextually founded on the symbolism of the horse of Chinese culture, where power, beauty and freedom are equally embodied. The spiritual significance extends to the Chinese zodiac, where people born under the year of the horse are high-spirited, active, energetic, enthusiastic and cheerful – all of which makes them good to work with, according to the University of Washington's study of the Chinese Zodiac.
Exploring this concept through art, CCD brought in its in-house art advisory team CCD WOWU Art Consultancy. The result is a scattering of large and spectacular pieces including sculpture and paintings of considerable weight. Sitting at the crossroads between contemporary and traditional Chinese art, the selection equates to gestural strokes rather than thematic inclusions. As such, the horse motif becomes innate to the whole.
Related: Book review of Concrete Jungle
Greenery, plantings, arranged flowers, moss, and a flower shop style room open to the dining room, where the office's flowers are arranged as an ongoing part of daily life, bring a tropical coolness to the whole. Known as the sea of flowers, the room is designed to allow contemplative inspiration as a romantic surprise outside the ordinary.
"It is a pleasure to commune with flowers everyday. The flower room is a source of energy, and a backyard of happiness and inspiration. Surrounded by plants, the staff can read, draw, or write without distraction," says Cheng. Moreover, with flowers and foliage on hand, the mood can be changed for celebrations with an abundance of red flowers or, when luck and prosperity are called for, yellow will dominate.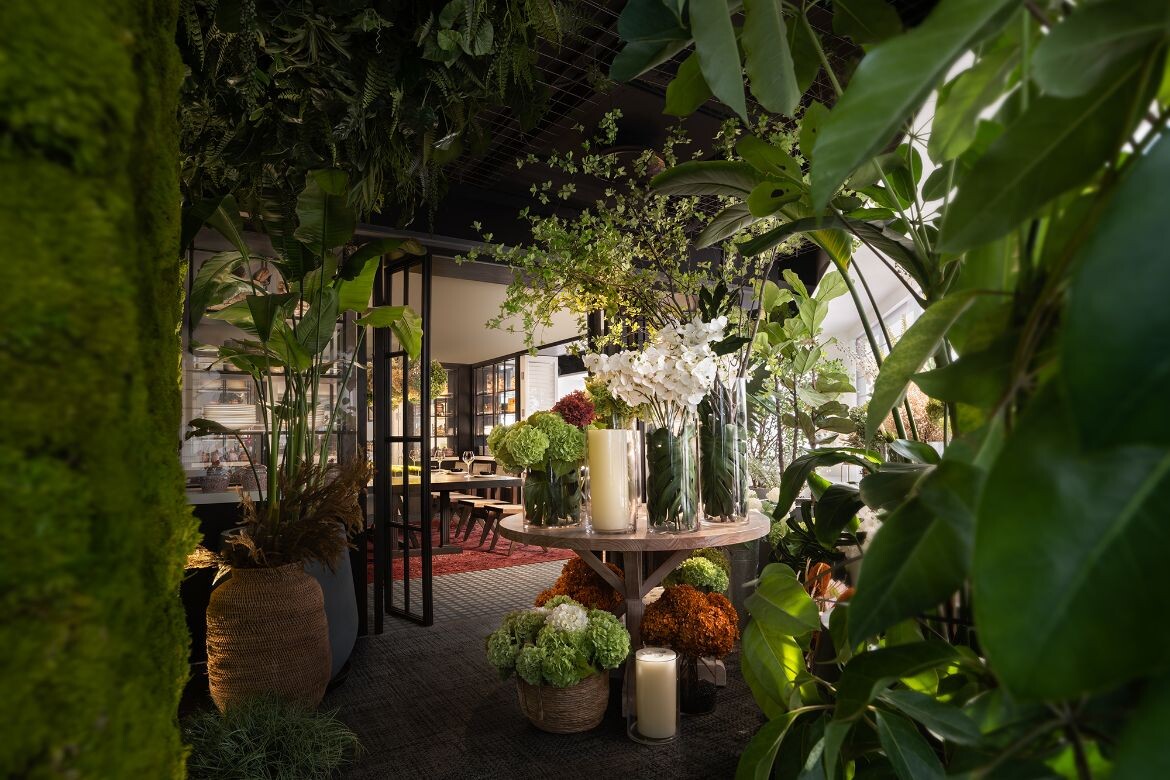 The greenery, while definitely ticking all the biophilic boxes, also removes any connection to the typical workplace. Rather, the space is filled with plants including massive living moss installations and green walls. Cheng is very specific about the way nature influences a space and sees it as a way to create psychologically positive surroundings: "Through a reasonable division of space, the cycle of time is broken, allowing people to walk in between, stroll, and get lost. When time stands still yet light changes subtly, the rhythm of space, the qualities of light, colour, and textures, and even the scent of the greenery – all connect to the most primal self, free from the slavery of time."
Part of the inner sanctum is a phenomenal sample showroom with myriad material options. At the heart of this space however is a traditional woodworking studio where a craftsman works on detail designs and project maquettes using traditional woodcarving skills.
Far from the traditional workspace, the CCD design actually does what it sets out to do. This is not a cafeteria style addition with jauntily coloured chairs and a hangout zone but a proper space that is luxurious, accommodating and thoughtful. The level of luxury is in fact exceedingly high, with bespoke furnishings, rugs, art and material opulence coalescing as they would in one of Cheng's hospitality projects such as Club InterContinental (Shenzhen Dameisha Resort), Conrad Bangkok and Sheraton Los Angeles. Most importantly, it allows the firm's staff and clients to feel the joy of their design acumen as a real lived experience.
CCD
ccd.com.hk
Photography
Wang Ting and Qiu Xin
We think you might like this story on Craftworks by CHT and SORA, a workplace that is anything but usual.