Here on the Indesignlive editorial desk we've been receiving many exciting new hospitality projects. It seems the universe is sending us hyper experiential dining concepts and hotel escapes – and of course we can't get enough!
We've rounded up five recent projects that have stood out to us for their meticulous and sophisticated design approach, and installations and art pieces that cleverly and imaginatively transport you to another realm. Let us tour you through the highlights right here. Scroll and enjoy.
1. The Royce hotel by SJB
SJB has executed the design on The Royce in Melbourne, transforming the site into a luxury boutique hotel experience that takes its design cues from the opulence of Rolls Royce.
You can find elements of that Rolls Royce legacy throughout – elements such as its Parthenon-like grille are conjured through repeating motifs in railings and nickel detailing. You get a generous glimpse of this in the sweeping staircase that stretches from centre of the Showroom Bar, transporting you up to the hotel's Library and Ballroom.
The rich, glamorous and many-layered material palette also makes direct correlation to the Rolls Royce car through carved carpets in mauve and silver tones, polished Macassar Ebony, lacquered timbers, polished nickel and leather upholstered furniture. More here.
2. Crafted Wonder at Sketch, London
The immersive installation of Crafted Wonder was launched with this year's London Design Festival. Hosting the installation was The Glade, a fairy-tale forest setting, which Carolyn Quartermaine and Didier Mahieu envisaged as a fantasy of maximalist design.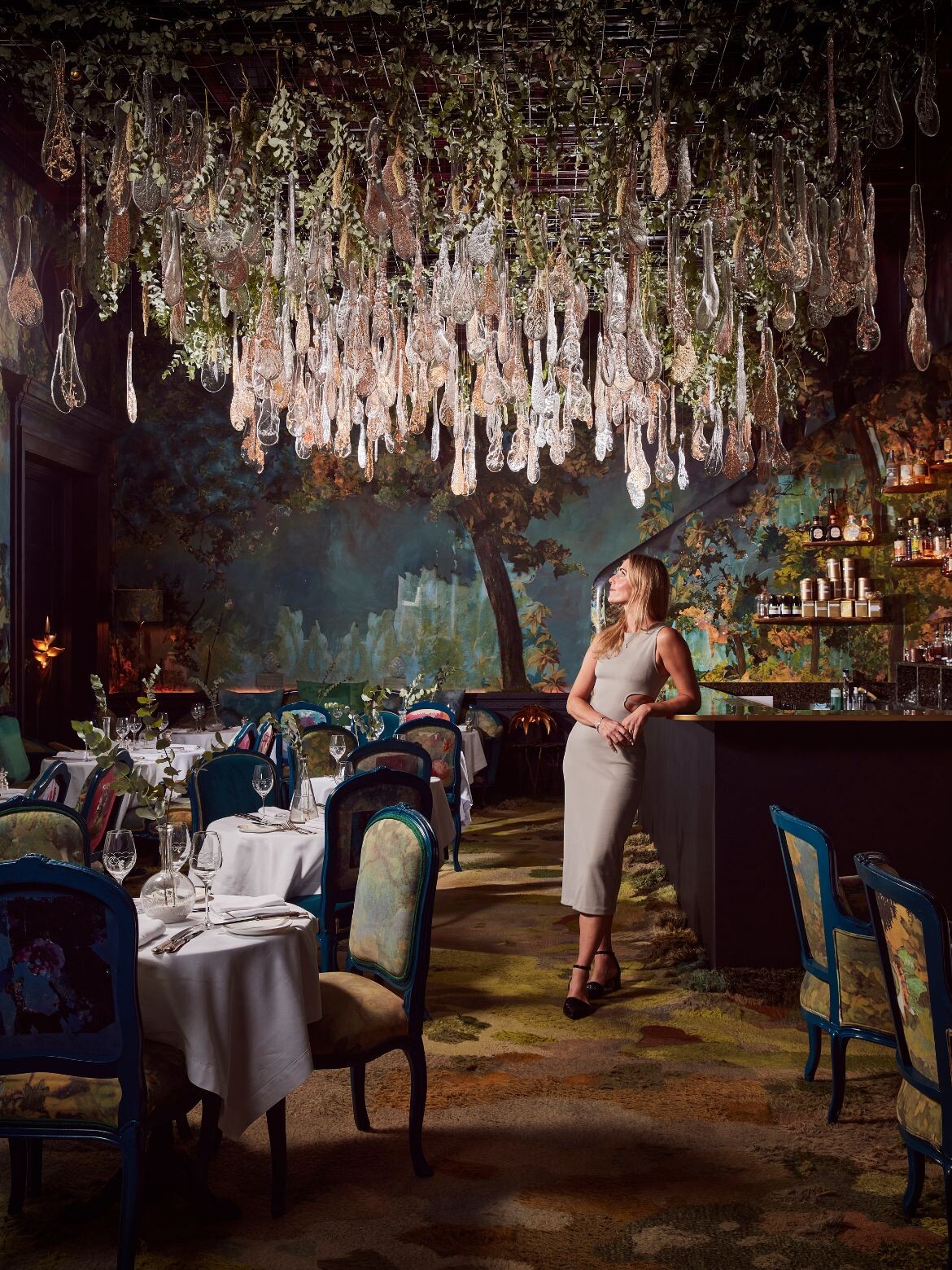 Over the 20-year history of Sketch, the restaurant, The Glade has increasingly become more verdant with this iteration an explosion of hand-painted velvet furniture, luminous purple, pink and blue velvet chairs, tufted and textured carpets in muted forest floor inspired reliefs, carved timber detailing, mirrored accents, artisanal wallpaper and hand painted curtains.
Crowning the whole for Crafted Wonder was the splendid, gold detailed Herbarium, a most extraordinary lighting installation by Lasvit. Spanning 4×6 metres, and comprising 240 externally lit, gilded glass components, the nature inspired lighting feature was handcrafted to harmonise with its enchanted forest surroundings. More here.
3. INDE.Award winning Laizhou Bar by RooMoo Design
Laizhou Bar comprises a whisky tasting area, VIP room, bar area, kitchen, bathroom, and outdoor seating area. The site has been assembled using 6,000 pieces of discarded wooden barrels dismantled from the whisky barrels of the distillery. The dome structure on the top surface formed by these discarded wooden barrel pieces highlights this area as the centre of the space. 
RooMoo Design studio has indeed interpreted the project to represent the brand but also created something new from old.
The double-ring structure on the top of the indoor tasting and bar area forms an infinite visual impression, echoing the distillery's green and environmentally friendly whisky production methods. Read more about this INDE.Award winning Social Space.
4. Jacqueline restaurant by Rockwell Group
Located within in Barcelona's Eixample district, the character of Spain has been embodied in the materiality of tiles, which are explored as sculptural areas of relief, the bold forms are rhythmic, glossy and highly tactile. And, textiles, which are wildly figurative and patterned throughout. Bold needs to be reiterated here, with colours that are deep and rich given over to entire rooms of red, aqua, teal and gold.
Quintessential to the city of Barcelona is the clean details and forms of the Art Nouveau movement, these are transformed in Jacqueline as repetitions and patterns to be broken by the spontaneous and surreal forms of Picasso's artworks.
Indeed the project takes inspiration from Picasso's portraits of his muse, and second wife, Jacqueline Roque, with details from the artworks being reinterpreted as furniture and finishes. Read more.
5. Capella Sydney by Make Architects with interiors by BAR Studio
Entering through the grand doors to what was once the original entry to the Department of Agriculture building on Farrer Place, guests are greeted by Aperture. This is Make Architects' momentous arrival atrium and central courtyard, with a soaring glass ceiling and spectacular art work, Meadow by Studio Drift. Specific to the site, a series of floating organic flowers create an inverted landscape of mechanical flowers that open and close in a playful choreography of delightful whooshing and popping kinetics.
Drawn from Drift's examination into how an inanimate object can mimic those changes that express character and emotions, they have created a kinetic sculpture that reacts as a blooming flower does to the sun.
To facilitate this reaction, integrated sensors translate the presence of the visitors into different 'moods': "The robotic flowers blossom by mixing the light colour and the colour of the fabric that in itself has a colour gradient. All flowers together create the experience of a botanical creature that naturally engages the viewer in symbiosis," they say. Read more.
We think you might like this article about what's next on the Queensland hospitality frontier.