Retaining as much of the original interior as possible and working hand in glove with Make Architects, the BAR Studio interior for Capella Sydney is timelessly elegant with a fabulous layer of art.
Occupying an entire city block in Sydney's sandstone district adjacent the Quay, Capella has made its home in the heritage-listed former Department of Education building.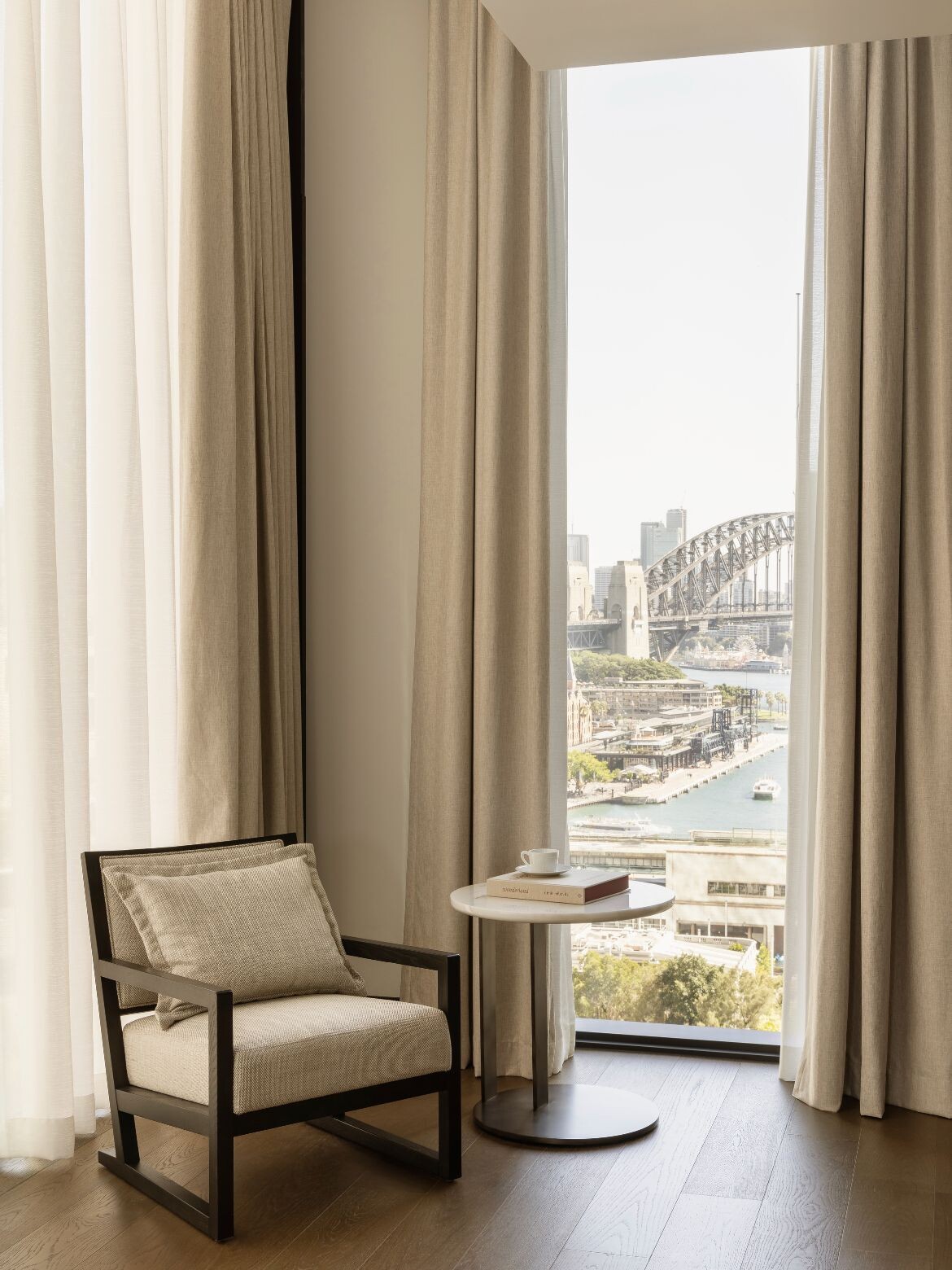 Merging Australian architectural heritage, contemporary art and luxurious yet restrained details, the interior design is both homage to historic detail and acknowledgment of contemporary luxury travel needs.
"The heritage building that houses Capella Sydney and its original functions provided us with the underpinning for the interior design," says Stewart Robertson, co-founder and creative director of BAR Studio.
Related: Make Architect's architectural creation of Capella Sydney
Responsible for designing the 192 guest accommodations, ranging from the 195-square-metre penthouse suitem to the modest 41-square-metre standard King rooms, the designers were also tasked with all public spaces including The Living Room and the McRae Bar.
The McRae Bar is named for George McRae, the Scottish Australian Architect responsible for the 1912 Department of Education Building during his tenure as Government Architect.
They also designed Aperture, Brasserie 1930, meeting and conference rooms, and wellness facilities including the award-winning Auriga Spa featuring a 20-metre swimming pool, fitness studio and yoga platform.
Occupying a total of more than 20,700 square metre the hotel is large but not unruly, with design strategies in place to keep the experience engaged and intimate throughout.
Entering through the grand doors to what was once the original entry to the Department of Agriculture building on Farrer Place, guests are greeted by Aperture. This is Make Architects' momentous arrival atrium and central courtyard, with a soaring glass ceiling and spectacular art work, Meadow by Studio Drift.
Specific to the site, a series of floating organic flowers create an inverted landscape of mechanical flowers that open and close in a playful choreography of delightful whooshing and popping kinetics.
Drawn from Drift's examination into how an inanimate object can mimic those changes that express character and emotions, they have created a kinetic sculpture that reacts as a blooming flower does to the sun.
To facilitate this reaction, integrated sensors translate the presence of the visitors into different 'moods': "The robotic flowers blossom by mixing the light colour and the colour of the fabric that in itself has a colour gradient. All flowers together create the experience of a botanical creature that naturally engages the viewer in symbiosis" they say.
Indeed, art is a key factor throughout with commissioned pieces mixed with an exceedingly well curated collection. The major commission in the McRae Bar, for example, comprises hand painted murals by Gumbaynggirr Bundjalung artist Otis Hope Carey. These make a fabulous statement of First Nations Culture and contemporary art.
Equally at home in high performance surfing, Carey infuses his traditional mark making with his dune and surf heritage. "It's always such an energising feeling coming back home for a few days after being away on a surf trip; it definitely keeps me grounded coming home. Whether I like it or not, that natural spiritual connection I have with the ocean and the land has been given to me as a gift through my heritage, and it's something I embrace to the fullest and something I'm very proud of," says Carey (Wild Goat Gallery).
The public spaces of the hotel are arranged around the central courtyard with large frames of dark timber and metal lining the openings. It is a device used in both public and private areas of the hotel, to both delineate separate spaces.
"Frames, arches and portals, together with the layered design, aim to create a space that feels like it has always been here and evolved over time, but is at once fresh and modern," says Robertson. Once through the portals, the materiality shifts subtly between venues while maintaining a cohesive foundational palette of grey stone and timber.
Designed for a quiet, relaxed ambience, The Living Room is light, and light filled with the large existing windows a feature of this charming area. Conversely the McRae Bar, says hello with an outlandishly fabulous feature light, commissioned by The Artling, the Don de L'Amour artwork 'Eternal Light' sits over a Mark Douglass light fitting, also custom designed by BAR Studio.
The remainder is patterned and layered with a rich palette drawn from the original building to include black and white marble checkerboard floor, large antique mirrors and BAR Studio's fabulous tables.
These elements continue to Brasserie 1930, where the framing has been extrapolated into decorative elements such as the arches surrounding the grey and white checked windows and the arches created to provide an enfilade of rooms within the expanse. In shifting the perception of scale in this manner, each of the dining areas feels intimate and proportioned to the whole.
The inclusion of a painting, Watiya, 2014, by Western Desert artist Mitjili Napurrula is inspired. Simone Haag's touch is most apparent in these public areas with delightful objects of whimsy and decoration filling shelves and voids. These embellishments provide an essential last layer to the project with sculptural form, texture, colour and character binding the layers beautifully.  
Furnishings are a thoughtful mix of bespoke pieces designed by BAR Studio, with either leather (JMT Leather) or fabric upholstery (Tianjin Sunhill Fabrics) and specified proprietary pieces from B&B Italia, Living Divani and Poliform.
In creating the various suites, BAR Studio has created a series of tableaux that follows the visual rhythm of the hotel, with a base layer that shifts subtly with each room via connected and stand-alone pieces signatured to each area.
Taking advantage of the large architectural lanterns on the roof of the original building, the spa rooms and pool are each infused with natural light. For the pool area, this is a span of some 20 metres of diffused natural light. BAR Studio have compounded this, by picking up on the idea of how a lantern works.
To this end the walls and ground surrounding the pool are finished in white marble that picks up and reflects the soft light into a glowing interior atmosphere. Conversely, the spa rooms, comprising a series of large sculptural cubes are warmly timbered and dark with the diffused light from above absorbed into the room's extremities.
Elegantly proportioned and arranged, the guest rooms continue the neutral palette of timber, soft grey-hued stone and natural wall coverings, with notes of tan leather, graphic carpets and bespoke light fittings.
The design signature of bold frames, in dark wood and metal, continues to define elements of the existing building, while demarking rooms without truncating space. Taking its cues from campaign furniture, that is flexible pieces of furniture made for travel in bygone days, the wardrobes and minibars are freestanding.
Like all good hotels, Capella has been designed to surprise and delight with new discoveries every visit. To this end, art and design are both overt and discrete, such as the work by First Nations artist Judy Watson, which occupy the revisited brass frames of original notice boards (Freeman Ryan Design).
Similarly, the age of industry is subtly referenced in the steel framing in guest rooms. Moreover, it is a delight to see this Grande Dame of Australian Architecture brought back into the light.
BAR Studio
barstudio.com
Photography
Timothy Kaye
Art Curation
The Artling
Objets d'art and styling
Simone Haag
We think you might also like this story about KILN at Ace Hotel Sydney by Fiona Lynch Studio.