Design tourism has always shared the stage with fine dining, but when it comes to something as extraordinary as the three-star Michelin restaurant Sketch in London, something exceptional was really the only option. Indeed, owner Mourad Mazouz and head chef Pierre Gagnaire opened the restaurant together as 'a destination for experimentation' in 2002 and have not once rested on their laurels since.
Stepping up even their already astounding interiors, this year sees the immersive installation of Crafted Wonder launched with this year's London Design Festival. The installation runs until 16 October 2023.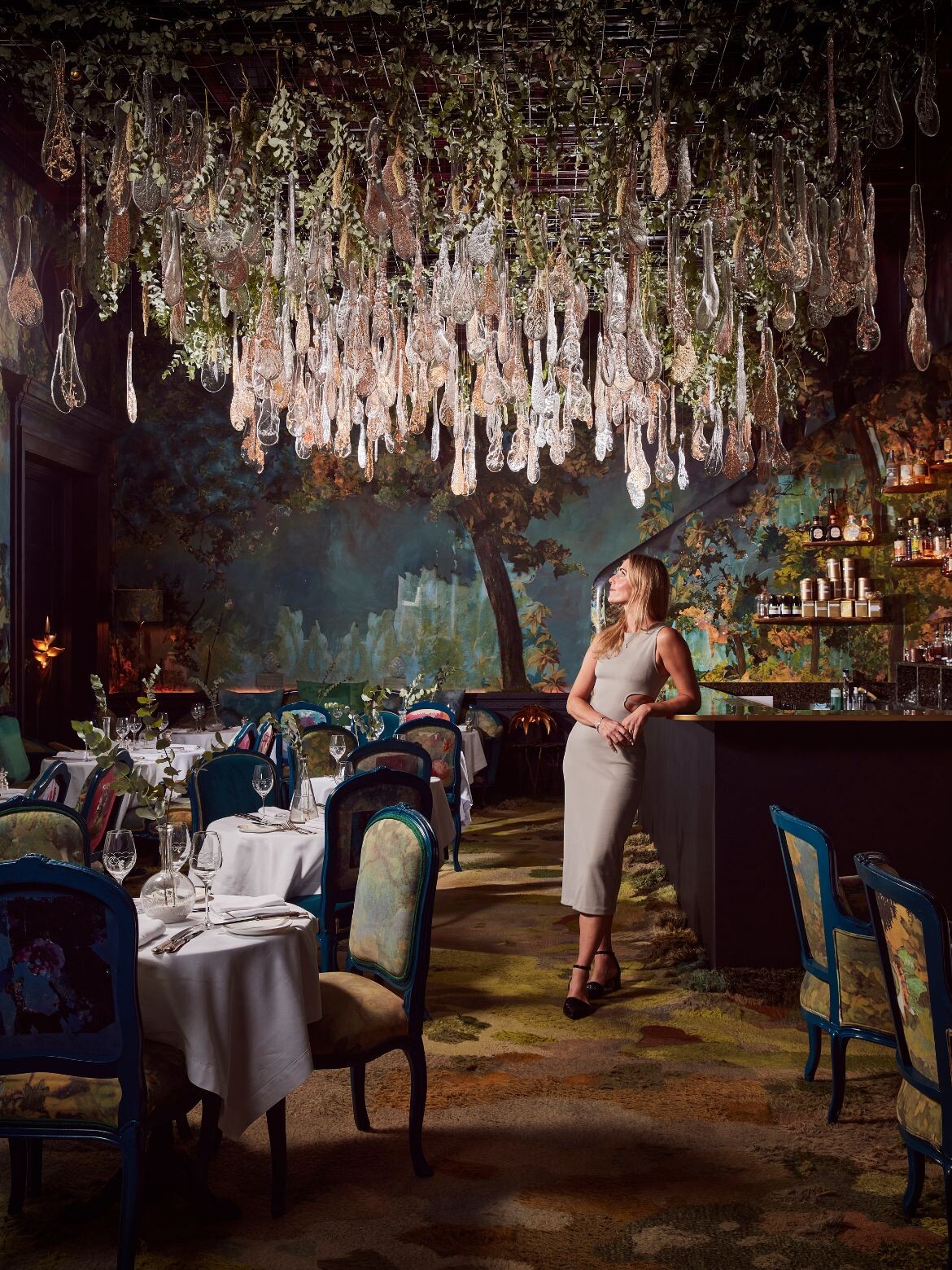 Hosting the installation is The Glade (one of the three dining areas with Sketch), a fairy-tale forest setting, which Carolyn Quartermaine and Didier Mahieu envisaged as a fantasy of maximalist design. Over the 20-year history of the restaurant, The Glade has increasingly become more verdant with this iteration an explosion of hand-painted velvet furniture, luminous purple, pink and blue velvet chairs, tufted and textured carpets in muted forest floor inspired reliefs, carved timber detailing, mirrored accents, artisanal wallpaper and hand painted curtains.
Crowning the whole for Crafted Wonder is the splendid, gold detailed Herbarium, a most extraordinary lighting installation by Lasvit. Spanning 4×6 metres, and comprising 240 externally lit, gilded glass components, the nature inspired lighting feature is handcrafted to harmonise with its enchanted forest surroundings.
Using a glassmaking technique whereby molten glass flows over dried flowers and leaves, the heat turns the flora to ash while capturing their impressions on the glass surface. "Our glassworks are surrounded by wild nature. In this countryside, we can find the roots of glassmaking as well as Lasvit. What we wanted to do in Herbarium was to capture this wilderness so anyone can take home a piece of this landscape, a piece of the Bohemian meadow as well as a piece of nature frozen in glass," says designer Mária Čulenová.
Čulenová, alongside Petra Junová and Štěpán Gudev, has conceptualised this installation.
Visualised as a painting, The Glade designers were given free rein to create a room that would place patrons in a world of fantasy. Taking their starting point from a bel epoch postcard, the interior was transformed with mirror topped tables that reflect the cacophony of decoupage, hand painting, textiles and flocked surfaces of the room, which is quintessentially a forest fantasy.
At the heart of the room is a 200 year old Belgian oak bar that twined like a tree through the space, with branches rather than shelves.
Both Crafted Wonder and The Glade continue Mazouz's push for design and art to always be at the heart of this restaurant: "Each and every designer and artist brought something to Sketch; this is what Sketch is – continuous, evolving, and impactful collaborations," he adds. "If you ask me, the most impactful project is always the latest. Each project and reflection is an exciting process to share with artists and designers."
Herbarium is featured as part of Crafted Wonder, in The Glade at Sketch, London. It runs until 16 October.
Lasvit
lasvit.com
Sketch London
Sketch.london
We think you might like this article about Spectra, the contemporary Queensland furniture exhibition.