"Inspired by Cuban alleyway bars and buzzing boltholes, Casa Chow exudes a high-energy vibe layered with textured materiality." Mikaela Walker, business director of Collectivus, couldn't sum it up more perfectly. Continuing its relationship with Pellicano and FnB Collective, Collectivus and Unita have delivered Casa Chow in Brisbane – a fit-out of refined imperfection.
Drawing inspiration from Latin and Chinese design cues and the restaurant's Chifa (Peruvian-Chinese) cuisine, Collectivus has conceived a space that offers a visual narrative in its Latino inspired architecture.
The soft, curved design of the space continuously guides the eye, applied from the smallest of joinery details right through to the structural form of the space. Yet there's an element of precision to the flowing form of the space.
As Walker says: "With a spatial strategy promoting fluid connectivity and seamless transitions in food service, the space is carefully considered to welcome guests with enthusiasm and generosity at any time of the day or night."
Related: Ewert Leaf's Moonhouse restaurant
While the designers' attention to detail is immaculate, the restaurant itself embraces the vision of "perfect imperfections". Yet, it's hard to find fault within its warm-toned French-washed walls.
The bespoke furniture, manufactured by Unita, offers a subtle treat for the eyes through its curvaceous form and a rustic palette of light beiges and soft greens – reminiscent of Cuba's alleyways.
"Bold design choices are reflected with pops of colour, neon lighting and ostentatious curves throughout," says Walker. "This is offset with a rich palette that imbues warmth through distressed paint details, earthy tones and vintage fixtures. Forms influence flow with a multitude of dining zones, each connected and distinguished by custom detail."
But the dazzling key feature is the distressed shutter feature wall, made of salvaged Balinese doors. And after dark, these bifold doors and the windows open up to the street, bringing the outdoor seating's greenery and bamboo paneling into its folds. By night, LED lighting shines through the free-flowing space, splaying the furniture with brilliantly coloured hues.
"The design outcome is a fun yet authentic space that works visually, materially and acoustically to capture the energy and dynamism of the team's contemporary Chifa-inspired cuisine." Walker couldn't have said it better! Saludos.
Collectivus
collectivus.com
Unita
unita.com
Photography
Cathy Schulser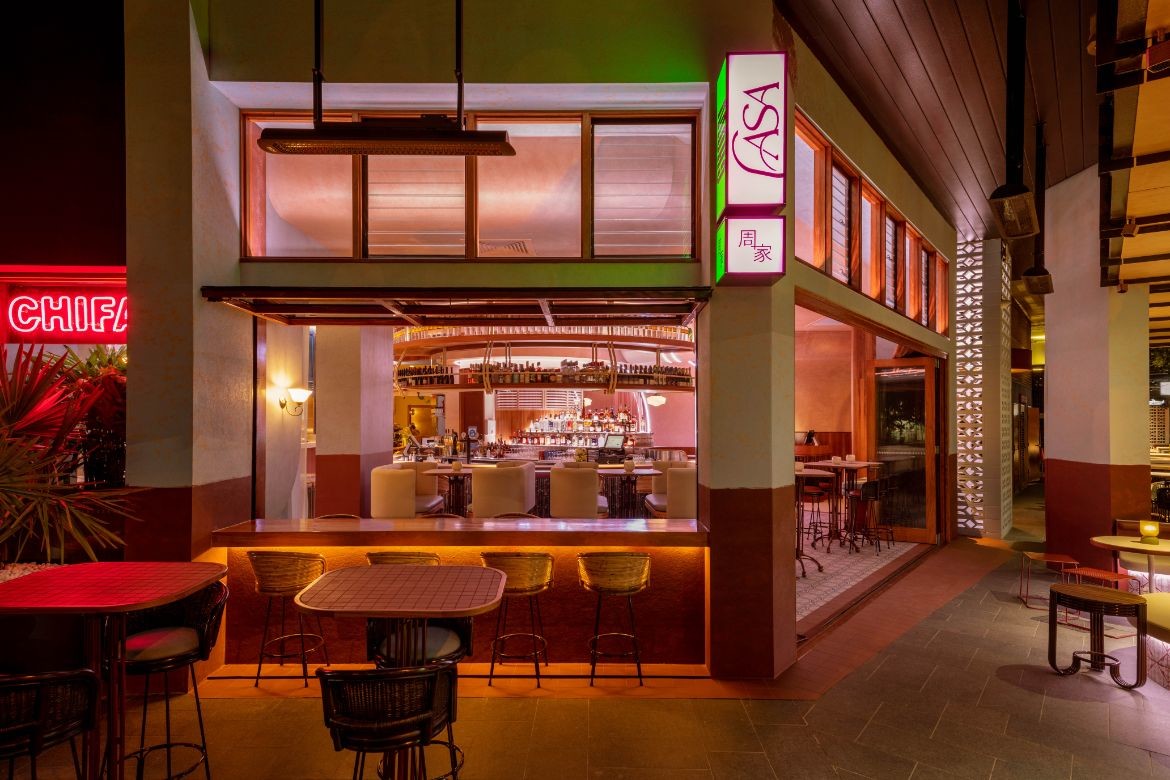 We think you might like this story on Collectivus' creation of an immersive wellness escape at Eden Health Retreat.