These are times when change is well and truly beyond our influence. As we adapt to a new normal, architects and designers are rigorously re-evaluating the ways interiors should be designed. And the workplace, in particular, is receiving a lot of attention, as many people return to the office after extended periods of working from home. Any design responses need to champion flexibility and adaptability in order to facilitate the social, physical and emotional health and wellbeing of all office workers.
So when the owners of the Jing'an Kerry Centre in Shanghai's Jing'an district approached Linehouse to convert its rarely used indoor pool into a shared multi-functional area, it was with the building's office tenants in mind. As Alex Mok, who established Linehouse with Briar Hickling in 2013, explains, "The client wanted a flexible social space that could be used by their tenants to create more informal, agile ways of working. This area would be treated as an extension of the office to accommodate events, talks, town hall gatherings and small to large meetings."
Mok and Hickling's resulting design is an excellent study in adaptive re-use and the importance of delivering an interior that's tailored to meet the needs of its end users. This isn't the first time they've undertaken such conversions: they previously turned an opium factory into a co-working space and, more recently, renovated a former textile factory to become a teahouse.
In this instance, their driving concept positions the drained pool as the space's hearth. In this respect it resonates with a domestic quality and joyfully recalls the sunken lounges or 'conversation pits' of trendy 1960s homes. This was an opportunity for Mok and Hickling to play with different levels within the floor plan. And by installing steps that double as seating on either side of the pool, they've further delineated the space and also ensured the hearth is as user-friendly and practical as possible.
A curved double-sided banquette hugs one end of the pool, while a semi-circular café is positioned at the opposite end. The overall formation echoes the central elliptical skylight and creates a visual balance, not to mention a strong focal point. This is emphasised by round pendant lighting that adds a theatrical element and timber fins that radiate from the skylight and 'fold down' in places to create screens.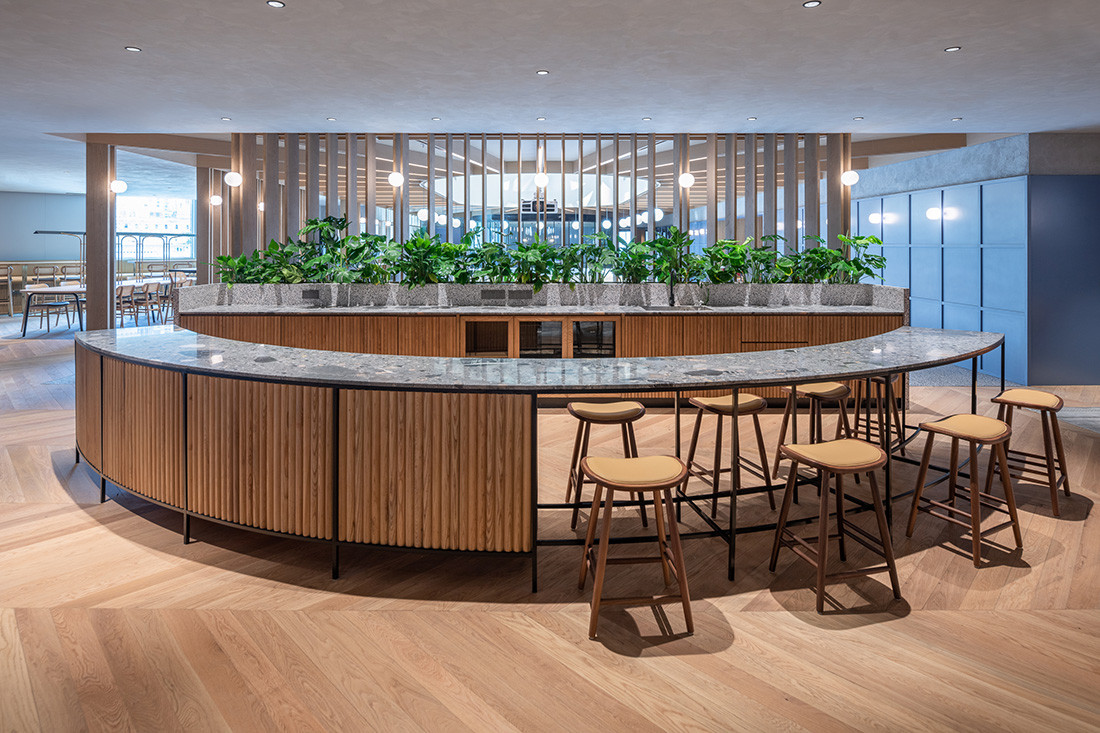 "We were fortunate the client recognised the potential in using the existing pool to create a new architectural space," says Mok. "More importantly, it adds value to each office tenancy and creates the chance for connection between workers from different companies, which would not have happened without this conversion." It's a stunning transformation made all the more inviting for Linehouse's plush material and colour palettes. Both exude the practice's characteristically fashionable, modern style, lending the space a mix of high-end appeal and unfettered warmth.
Speckled blue vinyl covers most of the floor, including the hearth, and provides the scheme with a surprisingly neutral base. It perfectly complements the stepped seating's pale pink cushions and banquette's camel-coloured leather upholstery, as well as the variety of freestanding coffee tables, stools and armchairs in pale blue, tan, grey and magenta. Mok and Hickling also extended this colour palette to the surrounding break-out areas and glass-enclosed boardroom to ensure a sense of cohesion.
Their decision to use wainscoting adds yet another unexpected element, with the greyish blue panelling contrasting nicely with the existing concrete walls. The fit-out is meticulously detailed in this respect and the outcome undeniably good looking, without compromising on function or efficiency. The different settings make it easy for workers to choose how they want to work and the moveable furniture and wide circulation paths accommodate social distancing as well as individuals' need for retreat.
Three 'phone booths' lined in patterned wallpaper provide a greater degree of privacy. They sit adjacent to a series of meeting rooms, plus a training room, that used to be the pool's former change rooms. These areas are covered in wainscoting profiles in various shades of green, from pistachio to emerald, juxtaposing with the hearth's more subdued palette.
Workers can certainly embrace a flexible way of working and the use of elegant, understated colours and predominantly natural materials has a calming effect. It's crisply clean in aesthetic, generously nuanced in concept and ultimately offers end users a welcome break from their everyday office environment. Mok and Hickling have delivered a social space that successfully champions human-centric design.
Photography by Dirk Weiblen