In the space of 18 months, the role of the office, and work, has changed for good as new priorities for people and organisations have led to a transformative moment in workplace design.
Teams are now dictating how, when and where they want to work, and organisations are under increasing pressure to provide workspaces that offer experience-based value. In order to compete, they must turn their attention to design that places intention at its core and provides a platform through which their people are empowered with autonomous choice.
The pandemic has awakened fresh possibilities for how we work by unlocking new measurements of productivity without the obligation of '9-to-5' presenteeism in an office.
WeWork, Eagle Street, Brisbane
Individually-tailored flexibility is king and entrusting teams to choose their most productive time, setting and nature of their working environment is the new currency when it comes to attracting and retaining talent. According to EY research, 70 per cent of CBD workers want to work flexibly post-pandemic, with an average preference of 3.3 days in the office per week.
With this hybrid work model, balancing a sense of connectedness with flexibility will deliver the richest and most attractive employee experience.
Acknowledging that the workplace now exists beyond the four walls of one central, physical space is a major step towards inevitable change. The future of work will be shaped by a fluid workplace experience that blends the home, a central hub and third space that best suits one's needs – where work and life can seamlessly integrate. A combination of locations coexist within any given day as the ecosystem of 'workplace'.
WeWork, Spencer Street, Melbourne
Employee expectations of the office are shifting and a 'flight-to-quality' is being observed in the battle for top talent. As organisations adapt, a renewed emphasis on prioritising meaningful experiences, great amenities and wellbeing is reinforcing long-standing principles of good design: floor plans that maximise access to natural light, the integration of biophilia and seamless technology.
This paradigm shift challenges us to create a safe and inclusive environment featuring a diversity of spaces that can be highly personalised and prioritise meaningful team connections, mentorship and collaboration.
Across 700+ locations worldwide, WeWork's office design philosophy centres on emerging needs around creating connection and enhancing the employee experience, reimagining the way workspaces are designed to bring people together and help them be successful.

WeWork, King Street, Sydney
Our approach comes from understanding how architectural expression can impact these elements – offering a diversity of settings for different types of work, while maintaining sight lines and a sense of collegiality. These include a blend of private offices and shared spaces that include bookable meeting rooms, social breakout zones and lounge areas, intimate nooks, quiet focus rooms and phone booths to provide comfortable sanctuaries for conducting private calls and video chats, or simply a moment's retreat.
Thoughtful, intentional design is key in creating human-centric workspaces that support individual lifestyles and the way we want to work.
The growing trend towards flexible real estate is driving new demand for subscription-based or pay-as-you-go memberships that unlock the potential of agile and highly mobile teams – from start-ups to large, established global organisations.

WeWork, Sussex Street, Sydney
Booking a workspace or a meeting room as you need it means employers can swap longer term conventional leases for adaptable space that can change and grow with them, enabling them to spread their workforce across cities or multiple countries. What's even more exciting is the ability to "work from anywhere" and access hundreds of safe and beautiful workspaces all around the world with a single membership card.
The appeal of flexible office spaces is also about the sense of community and corporate culture that the bedroom boardroom lacks. The social interactions and the collaboration that happen serendipitously are invaluable. Curated spaces that provide a familiar comfort, material tactility and integrated technology offers the support and resources people need to be productive and to feel professionally gratified.
As businesses adjust to new ways of working, the future of work will be designed to create experiences for people to connect. Connection and a sense of belonging is still at the heart of a contemporary, productive and happy work life. More than just a place to go, the workplace ecosystem is an opportunity to build culture and connect employees to a company's purpose.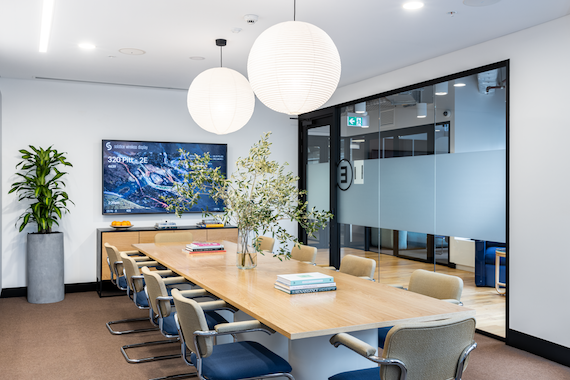 WeWork, Pitt Street, Sydney
WeWork
wework.com