One glimpse of Y-Loft City in its milieu of antiquated neighbours is enough to know that the city of Changzhi, in China, hasn't seen anything quite like it before. Responding to the rapid urbanisation of its industrial enclave in the hinterland province of Shanxi, China, the mixed-use urban development comprises three new multi-residential towers, built atop of a non-gated, community oriented retail village, immediately identifiable from any pre-existing contiguous building by their decidedly modern design dialect.
Y-Loft City's juxtaposition with the conventional residential typology of the area is entirely intentional. Designing specifically with members of the Y generation in mind, Superimpose Architecture had to convince both the client, property developer Changzhi Changsheng Real Estate, and relevant government authorities that the development ought to deviate from the status quo, in order to differ from the "drab European-style developments" that dominate provincial China's new-built residential skyline.
Integral to Superimpose's design direction was the project objective to target and appeal to a younger generation of homeowners. Feeding into the broader Changzhi CBD masterplan, also designed by Superimpose, the architects responded to this Y-Loft City specific challenge in both macro and micro scales of design, harnessing simple tools — such as plan layout, building orientation, material selection, design for small living, and indoor-outdoor connections — in order to improve usability, liveability, general appearance, and connectivity with the other sites within the masterplan.
The plan layout intentionally opens up to the surrounding sites with schools, a hotel, cultural hubs and hospital; The residential towers have been rotated, shaped and positioned to increase uninterrupted views out from each single living space while simultaneously orientating each apartment to maximized sunlight exposure; Light and bright materials have been used to contrast with the dull surrounding developments; A loft-concept has been applied in order to achieve more living space per square meter and a variety of unique balconies have been added to each residential unit in order to provide identity to the tower and valuable outdoor space to each inhabitant and unlike other nearby developments. Unlike the majority of developments with balconies, this developer has agreed with providing strict rules on how inhabitants should remain to use their balconies as outdoor space.
Keeping the construction budget low was key to achieving an inexpensive and affordable development for the Y-generation. By using the balconies as sculptural elements, the project could refrain from expensive façade materials and from poorly detailed façade beautifications often seen in surrounding developments. Instead Superimpose opted for a simple yet refined material palette of white facades with contrasting dark aluminium window frames and panels, together with slightly reflective glass. The balconies have been cladded with white perforated aluminium.
"Y-Loft city is not only meant as an answer to this particular design challenge, but also aims to question how to develop residential areas in rapidly growing third and fourth tier cities in China," says Superimpose.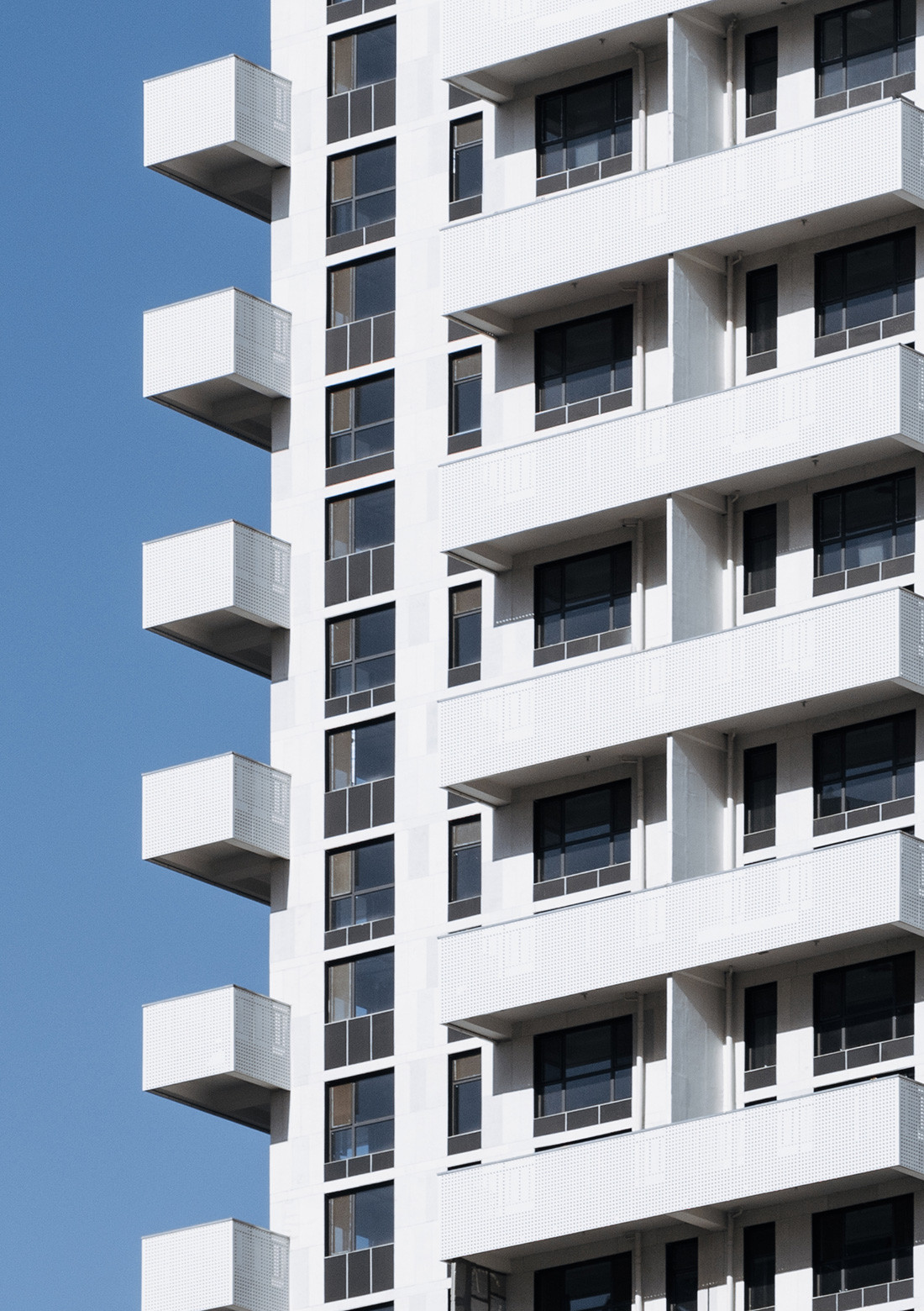 Can new residential projects be more attractive and take inspiration from the quality of life and community, rather than only focussing on profit making models? What else can architects do for the evolution of the residential community? How should designers and clients collaborate and cherish existing cultural resources to create a new social life, new integrated communities and a new normal in the Chinese hinterland?
These are all questions Superimpose Architecture is committed to exploring in the near future, and we're intrigued to see what comes as a result.
Photography by CreatAR
---
You might also like this…