The final instalment of Woods Bagot's transformative project at the Continental Sorrento, better known as the 'Conti', is the Aurora Spa and Bathhouse. Set against the geothermal mineral springs of the Mornington Peninsula, this wellness hub aims to be a sanctuary of tranquillity.
Woods Bagot chief executive and lead architect on the project, Nik Karalis, sheds light on the redesign concept of the Conti, describing it as "an amalgamation of the best of European with the whimsy of Australia." The Aurora reflects this unique blend, demonstrating an elegant fusion of continental grandeur with Australian coastal charm.
The material palette of Aurora, as described by Sarah Alessi, associate principal and lead interior designer at Woods Bagot, pays tribute to the ancient ritual of bathing. The design parallels the aura of a Mexican cenote with materials such as limestone and copper.
As guests enter, they encounter a copper-clad apothecary counter — a nod to the material's historical association with water vessels. This central piece adds an intriguing layer of antiquity to the overall bathing experience.
Related: Darebin Intercultural Centre by Sibling Architecture
A ten-step bathing ritual is the guiding principle for Aurora's suite of facilities. These facilities, including mineral-rich pools, a sauna, a steam room, a salt room and a 'glacial mist' chamber, offer guests a multitude of therapeutic experiences.
"The core idea was manipulating the various chemical states of water, from liquid to agitated bubbles, to steam and ice," says Alessi. A range of curative water therapies, such as hydrotherapy, hot-cold contrast therapy, halotherapy and geothermally heated mineral baths are available for guests.
Low lighting, textured terrazzo finishes and brass accents characterise the bathhouse ambience. A copper wall artwork depicting the native Centella cordifolia, a herb known for its skin-revitalising properties, further enhances the wellness aspect of the bathhouse.
Aurora offers guests a wellness experience steeped in history, taking its cue from traditional bathing practices associated with transitory accommodation and thermal wellness facilities, a concept that dates back to the 7th century with the first Japanese Ryokan.
The Aurora Spa and Bathhouse is part of a more extensive $120 million revitalisation of the Continental Sorrento. This massive overhaul manages to retain the historic character of the hospitality icon, which is constructed from locally quarried limestone, while bringing it up to date with modern amenities such as a restaurant, public bar, beer garden, conservatory, speakeasy, pool club, and the spa and bathhouse.
Woods Bagot
woodsbagot.com
Photography
Trevor Mein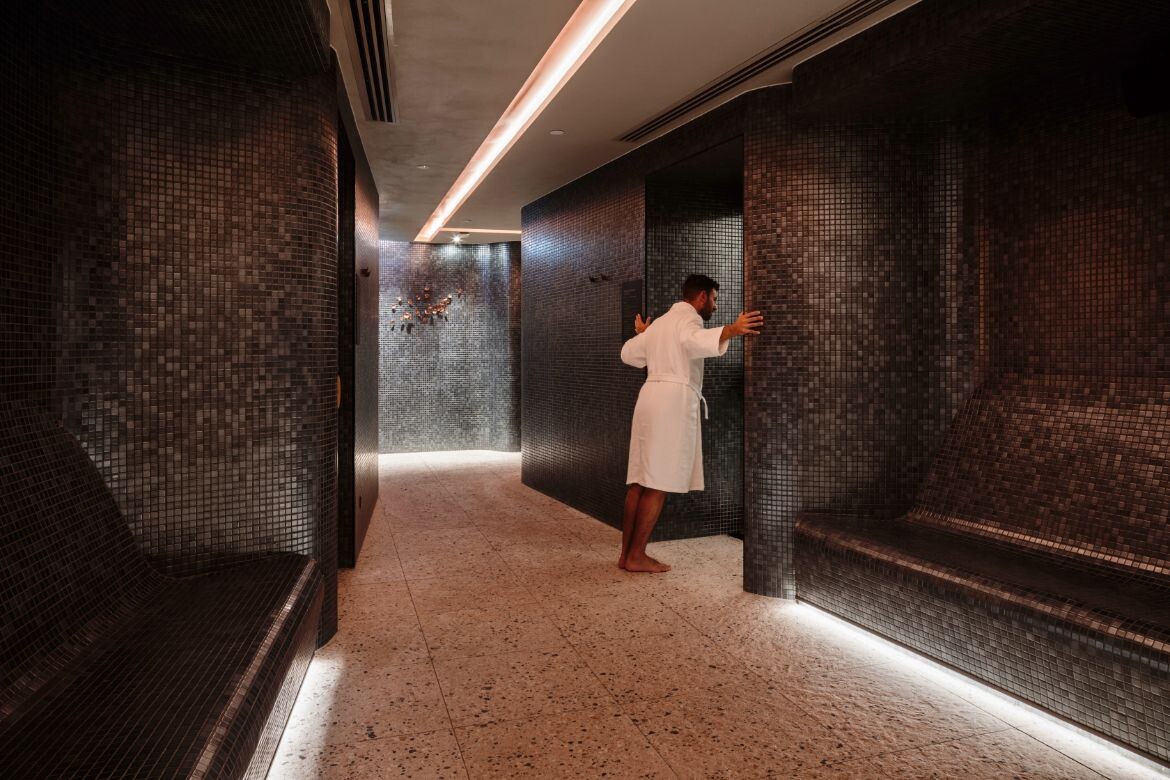 We think you might like this story featuring Woods Bagot's work on the heritage pub of Bassendean.