Wanting more than a pub and bottle-shop, the client, ARK Group, worked with Woods Bagot to reframe the suburb of Bassendean via the role that a fine pub plays in re-establishing community. Established in 1829 as West Guilford, the suburb was renamed Bassendean in 1922 and took its new name from the property of WA's first Colonial Secretary, Peter Brown (or Broun), which in turn was named after his family's property in England.
ARK Group was looking for an outcome with long term value that would reposition their own brand and action an evolution within the neighbourhood. To this end the original hotel at Bassendean was selected as the site of one of Perth's oldest settlements.
"The town of Bassendean was looking at new investment, and the ability to really appeal to a new generation of people. As such, the client and Woods Bagot working together saw this as a real opportunity to reframe what Bassendean really is," says Eva Sue, Woods Bagot principal.
The town itself has only just embarked on a town centre masterplan renewal strategy. This means the cultural economic shift is taking place right now with young families moving in and greater emphasis being focused on community: "This will be a catalyst to attract a new generation and for Bassendean, as a town and council, to continue their evolution and future positioning," explains Sue.
Related: Portarlington Grand Hotel by Technē
Key to these deliverables was a refit of the entire building to both safety standards and room use. The result is nine zones including six bars, two courtyards, balcony and snug. "Each of the different spaces have a different character that really celebrates another part of the history and past users of the space, to get a slight shift in energy," says Sue.
Rather than stripping back the entire interior to the shell, however, the removal was curated to allow historic layers to be revealed such as a datum of red brick below an otherwise rendered wall: "There's a reductive element in taking away to reveal the building, the aesthetic, the stories, and bringing that authenticity back. Without knowing what was behind, but knowing that we did want to expose things, took a leap of faith from our client. But we unearthed fireplaces and struts and beams with the markings of the makers, who were also local," says Sue.
Woods Bagot also celebrated the makers of the past: "We saw the value was to really bring back the beautiful bones of the building, rather than designing something to cover it up."
Designed to be inclusive, the hotel is organised as a series of bars, restaurants, lounges and casual cross over areas. Historic elements are woven through the design, or used to prompt a certain direction, but it is far from a museum. Instead, quirky aspects such as the wallpaper from the former accommodation is referenced in the bathrooms now occupying that area. Fun and light-hearted, the design nods to an era without feeling old-fashioned.
This is a fine line that Woods Bagot treads with ease and can be seen in the detailing throughout. The lattice work on the staircase, for example, is original, while the added handrail is entirely sympathetic but clearly new.
This pairing of heritage with new is layered throughout with the main bar in particular a standout. Here, a large oak bar is clearly both contemporary and sympathetic to the historic nature of the hotel, it is also built to withstand another fifty years of service. The side wall, however, is a combination of timber wall panelling and an antique sideboard that has been repurposed for bottle display.
Mining the local library and council office for historic images of the town and its citizens, the Bassendean is alive with history as locals point out relatives and newcomers get their bearings by learning the town's history over a pint.
Furniture has been kept intentionally simple and of the bistro ilk, with lounges and banquettes giving a softer option. The space, however, is vast and, while designed to flow seamlessly, shifts tonally as new areas are entered. The speakeasy vibe of the upstairs corner bar, for example, is conveyed through a darker timber bar and warm burgundy tones in the carpet detailing, tiles ottomans and wall panelling.
One of the delights of the Bassendean is Daphne's Snug (named for a local). Riotous green floral wallpaper is countered by a deep green leather banquette with timber panelling framing both the papered walls and the original leadlight windows. And on it goes — this is a Hotel to be discovered with time, with new favourite meeting spots to be found, places to lunch with the gang, other places to meet new friends. In short, it is a pub for the community and very well done.
Woods Bagot
woodsbagot.com
Photography
Dion Robeson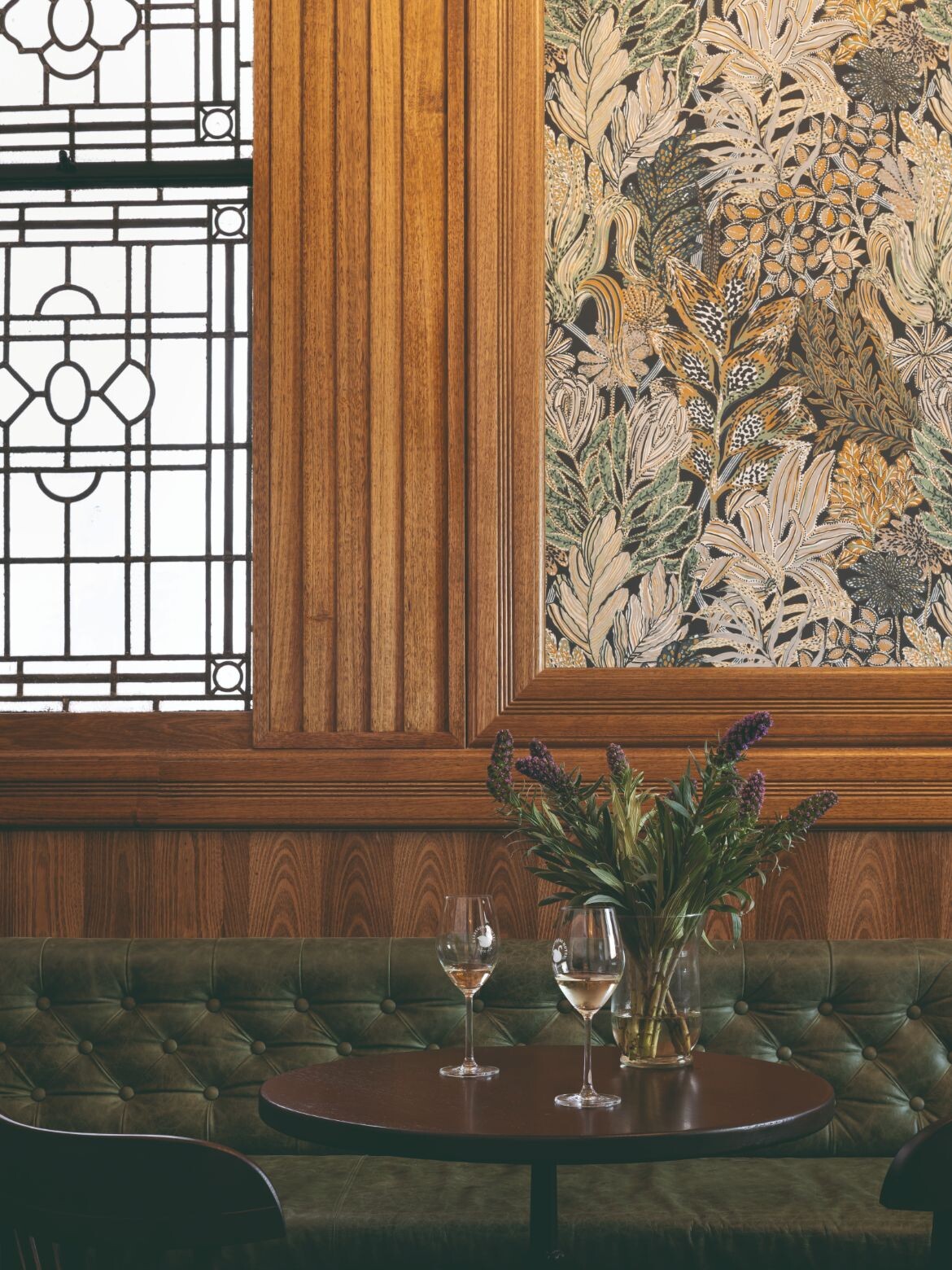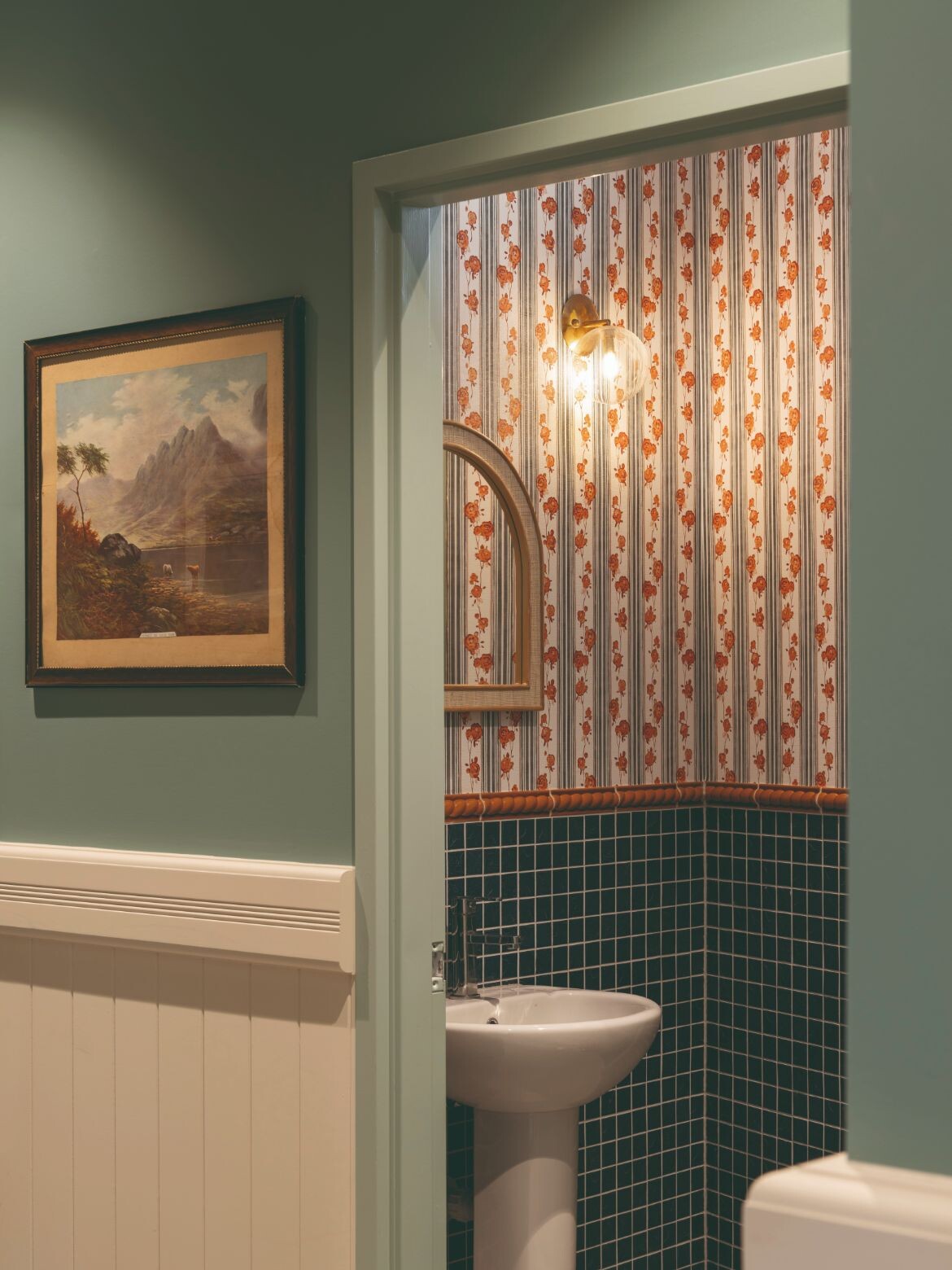 We think you might also like this article on Butler Brisbane by Hogg & Lamb.