Hospitality spaces and projects come in many forms and skins, but as time has continued to progress, they have become places for us to indulge, socialise and above all, enjoy.
2021 saw a number of hospitality projects open up to the public, each with their own design language, form and feel. We at Indesignlive would love to show you a bunch of the best hospitality projects of 2021, but please understand this is only a small snippet of what is on offer and what has been created in the year that was for patrons to visit.
Without any further ado, let's get started shall we?
State of Kin was sounded out by Three Pound Group to rework this iconic Perth venue, with an unmatched heritage location. The client held a desire to add an intimate streetfront section to the bar and eatery that referenced the existing bar and the building's historic character, while also bringing its own unique identity.
The practice wanted to honour the bones of the building, but give it the contemporary refresh it required. What has resulted is a harmonious juxtaposition between heritage and modern, with the contemporary injection bringing a number of new visitors through the door.
---
HERO ACMI – Chris Connell Design
Inspired by Jacques Tati's 1967 film, Playtime, this casual restaurant is clearly inspired by the arts. The portraits that line the walls are of heroes from across the spectrum of art, music and film and these become the backdrop to the dining experience.
A colour palette of greys, whites and blues has been employed and the relaxed ambience presents as a place where patrons can relax at any time of the day and night. With seating for 150 inside and a further 100 outside, ACMI HERO is a place that can cater for a party or an intimate dinner for two.
In all, HERO ACMI is a special place for socialising, meeting and dining. A place to meet for a coffee, a glass of wine or a three-course meal – all within the beautiful surrounds of a bespoke interior.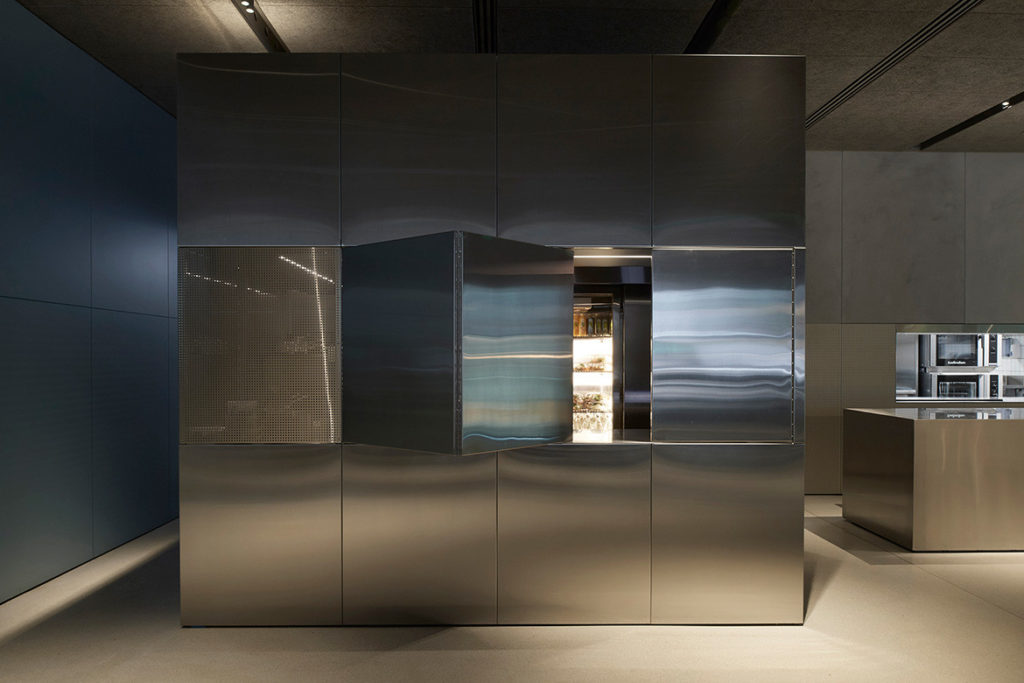 ---
Atomic Beer Project – YSG Studio
Completely transforming a derelict mid-century brick building in Redfern, YSG Studio has brought a Pan-Asian flair to the Atomic Beer Project headquarters. The practice was required to create a state-of-the-art microbrewery accommodating fermentation vessels (viewed from any angle), to provide cool room storage plus an open kitchen and shared dining environment, and to encapsulate Redfern's tough street history with the retro tech of Tron in the design aesthetic.
The two level building provides a place of function and aesthetic for a craft beer company that has carved its own space amongst the floundering craft beer market. Click the link to read up in full.
---
The Lounge at UNSW – Bates Smart
Giving UNSW staff a place to unwind and indulge, Bates Smart have created an opulent space that allows for collaboration and connection. The brief required the practice to create a meeting place with a club-like atmosphere, where staff and colleagues could meet and discuss work, debate and mingle in relaxed surroundings while enjoying a quality food and beverage offering.
In a signal of approval from UNSW staff, ​​the various areas – including the interior lounge space and an outdoor terrace – are booked out months in advance and staff members have taken to this new style of working life with gusto.
With such an interior, and the best of hospitable intentions, this project has achieved outstanding success.
---
Opening amongst the initial COVID-19 hysteria in early 2020, this deco-futurist hospitality venue located in Melbourne had a rather quiet opening. But, with some time and a few restriction changes, Poodle flips tables on an almost hourly basis each night, with 200 patrons coming through the 52-seat bar each night.
Inspired by its immediate context, Bergman & Co. have developed a narrative around authenticity, effortlessness and nostalgia. A procession of linear terrace archways and doors frame increasingly introverted dining situations, each lit in the similarly intimate promise of an increasingly Rembrandt-like glow.
Bronze, marbles, leathers and deep chocolate timbers provide a princely textural bass note, while graphic contemporary art and the more brazen humour of decorative elements lend excitable moments of personality.
We think you might like this article about Hyatt Centric by Architectus and Hecker Guthrie.