Imagine Italy's ancient grottos and spas, New York's private clubs and Thailand's health retreats, then roll them into one, infuse them with a touch of the SOHO House model and add the distinctive Gurner Group flavour. Voila, you have Saint Haven.
This is an Australian private members club like no other – and we're not just saying that. Gurner Group CEO Tim Gurner and his team have set out to establish a club that eschews the 'old establishment' and provide members with a space to socialise, work and play, with a particular focus on wellness, anti-ageing and bio hacking.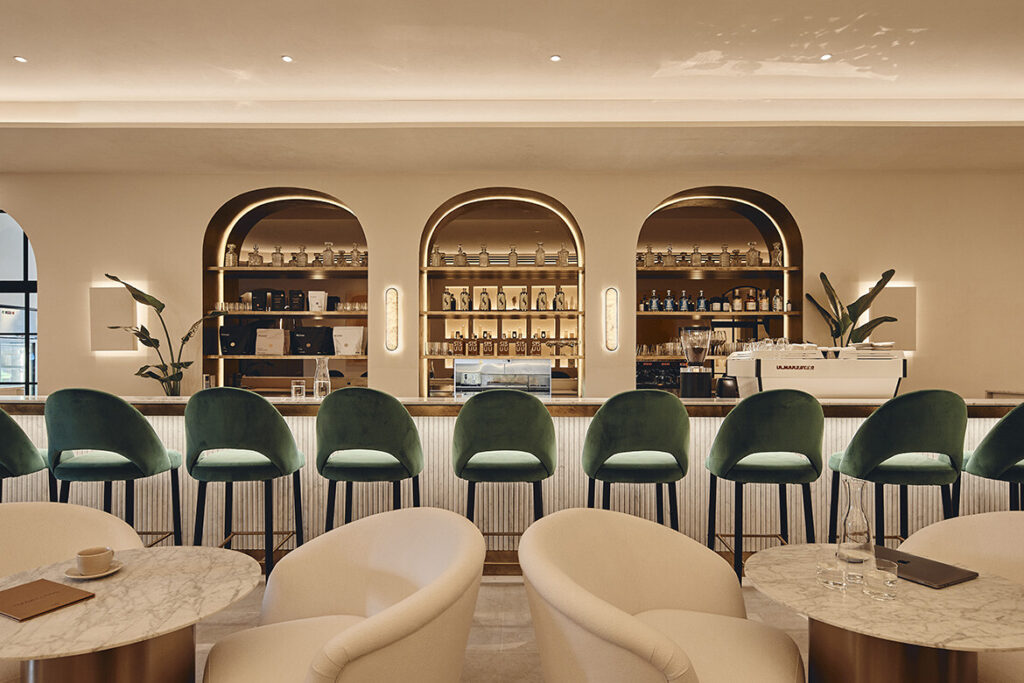 "This is not a club for Instagram profiles, this is a very private club for members that fosters special relationships and connections shared together over a mutual goal of creating the ultimate life," says Gurner. Indeed members must pass through a five-stage application process before being welcomed into the Saint Haven fold.
Designed by Gurner Group's interior design director, Simon Brugaletta, the myriad spaces – from the hospitable welcome areas which include dining and retail, through to the private consult rooms, the ancient bathhouse, gymnasium facilities and more – take their design cues from the world's most coveted wellbeing destinations.
Related: Rocket Climbing by Kuzman Architecture
There is a distinct Italian-ness to the spaces with their soft, light-absorbing palette of finishes and Brugaletta, as he walks us through the project, comes back regularly to the idea of the 'embrace'. Haven-like spaces that embrace you, at times encouraging enlivenment, and at others, engendering quietude.
A key highlight is the 'Path Of Life' – functionally speaking a hallway which leads you from the arrival zone down towards the change rooms, bathhouse, gymnasium and more. What it feels like is a chamber of transition, taking you from one state of being to the next,  its concave ceiling details and mirrored walls creating a breathtaking kaleidoscope of infinite arches.
A beautiful detail is the 'communal water cooler', which Brugaletta has taken to its zenith in an almost spiritual experience: the ripples of water pool beneath the suspended water dispenser, ricocheting off the surrounding walls in a magical array of shadow and light.
Gurner, who travelled extensively to visit and test out the world's best health clubs, says: "I knew the time was right for Saint Haven when I was confident we could deliver the best possible experience – I wanted to push the boundaries of what is possible for private clubs and wellness offerings…"
Saint Haven's members can access everything from the latest bio-hacking and anti-ageing technology, to relaxation, breathwork, mindfulness, strength and conditioning, and recovery treatments alongside an organic wholefoods restaurant and personalised six-star hotel-style service. All alcohol-free by the way.
The Saint Haven approach to recovery and anti-aging encompasses science-backed programs and world-renowned technology and equipment. It's not all futurism though, there is also a degree of ancient wisdom present too.
To give credence to the concept, Saint Haven has an ancient bathhouse with purified ice-cold plunge pools and thermal mineral-infused pools, sauna and steam rooms; extensive gym facilities fully fitted with Technogym equipment and an immersive performance cycle studio; a menu of anti-ageing treatments ranging from IV infusions, cryotherapy, hyperbaric oxygen therapy, and red light therapy; breathwork classes in the meditation cave and practitioner treatments across multiple health disciplines.
"Many of the treatments available at Saint Haven are habitual for me now, and they have given me the clear mind, mental energy and physical strength necessary to create, grow and lead a multi-billion-dollar business over many years while continuing to enjoy my life," says Gurner.
It's worth noting that service at Saint Haven is everything, and every staff member within the club has been hand-picked for their field-leading expertise. Having met a few of Saint Haven's team mid-tour, we can attest to their knowledgeability and genuine enthusiasm for Saint Haven's ethos and the facilities which deliver on its intent.
"When creating Saint Haven we set out to bring together the effectiveness of bio-hacking and anti-ageing – the result is a holistic and exclusive space that will genuinely improve the lives of members…" says Gurner. Let the wellness journey begin.
Gurner Group
gurner.com.au
We think you might like this story on Metung Hot Springs by Splinter Society.