While working out in the gym has a certain following, there are other ways to get fit, stimulate the mind and strengthen the body. Yes, I'm talking about climbing or bouldering. Not rock climbing in Arizona or scaling the heights of the Himalayas but heading to Footscray, an inner-city Melbourne suburb, for a spot of bouldering at Rocket Climbing.
Rocket Climbing is the latest venue for pursing indoor climbing and bouldering activities and through an exemplary design by Kuzman Architecture this new destination is open for business and making its presence felt in the industry.
Clients Des Huynh and Lieu Trieu worked closely with Kuzman Architecture's director, Sandi Kuzman, and architect, Anna Black, to achieve a vision that has transformed a non-descript warehouse into a purpose-built and -designed facility that engages all the senses and provides exceptional multiple amenities.
"Des and Lieu came to us with a clear vision: to create a serious climbing gym that is inspirational and uplifting in both program and design. As Des came from a design background, it was a true collaboration between architect and owner – and as a result there was no compromise on quality and outcome," says Kuzman.
From the outside, there is visual engagement with the interior of Rocket Climbing through large windows that showcase the activities inside. Upon entry, tiled benches and joinery are front and centre, while block colours define the different reception and cafe zones. The material of choice is plywood and this has been used extensively throughout: on the bouldering walls, as custom joinery in the cafe and merchandising areas and for seating and in shelving modules. Rectangular tiles in white, cream and maroon cover the freestanding benches as well as the splashback in the cafe, while light blue laminate adds a pop of colour on the cabinetry.
The ground floor is designated as the bouldering space and also includes amenities, while a new mezzanine level was incorporated for the many practice spaces comprising Kilter board, Moon board, Campus board, Hang boards, and Circuit board. There is also a weights and training gym.
Related: The seven leaders of wellbeing in 2022
The two levels are connected by a curved custom-made steel stair and on the mezzanine landing there is a viewing platform from which to survey the climbers below. The aesthetic, while industrial, is refined with exposed painted timber joists and steel providing the necessary structural elements that also complement the interior style.
The brief for Kuzman Architecture was to provide a design that would be individual, contain multiple areas for training and gym, a cafe, amenities and change facilities, include bike parking, reception and equipment hire, storage and a merchandise shop. Simply put, Rocket Climbing was to be a great place to meet, get fit and hang out. This has been achieved in spades, where health and wellness, fun and entertainment are realised in equal measure.
Kuzman explains further: "There were some obstacles to overcome with this project: the warehouse shell was a dark characterless space with a relatively small footprint. We made no attempt to disguise the rudimentary factory, but rather inserted refined industrial elements within. The design intent was to keep detailing light, identify zones with block colours and accentuate volumes to give a greater sense of space. For a small space, Rocket packs a big punch!"
Rocket Climbing is filled with colour and opportunities abound for discovering inner strength, as the adventurous scale the heights and carve pathways on myriad climbing walls. Kuzman Architecture has delivered a stellar project for its client that makes a visual, not to mention physical, impact on those who visit. Climb every mountain indeed!
Kuzman Architecture
kuzman.com
Photography
Sharyn Cairns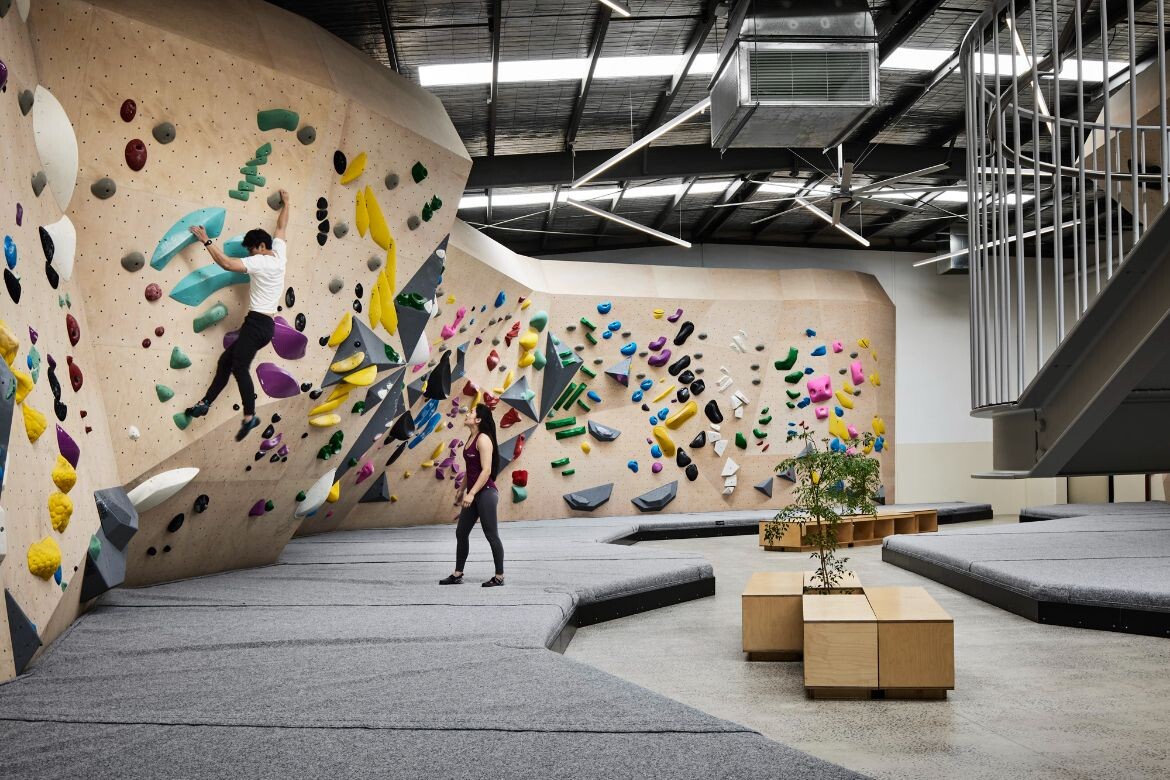 We think you might also like this story on AM:PM by Made For.