It all began in the mid-1990s—'it' being activity based working—when Interpolis, with the help of Veldhoen + Company, so famously revolutionised its systemic operations and, in doing so, enlightened us with progressive ways of working. A quarter century has since passed and activity based working is still very much the buzz about the workplace. Its infiltration of business operations and corporate cultures throughout the world was slow and steady at first, with momentum escalating dramatically in more recent years—the catastrophic advent of coronavirus being yet another catalyst adding fuel to the macro-scale shift.
In the quest to become agile, ambiguity, change and collaboration have become integral in a day's work. As designers, strategists and curators of space, we began experimenting with workspaces—inventing typological hybrids; taking to flat and open programmes, rendering private offices practically obsolete; binning seating plans to implement hot-desking instead—perpetually aspiring to realise the perfect the activity based working environment. But, of course, no one size fits all.
As Kellie Payne, director and workplace strategist at Bates Smart, astutely noted in Indesign #83, "we shouldn't ever be at a place where we've finally 'solved' workplace,".
That said, there are countless case studies of purpose-designed activity based working environments throughout the world today. Of such cases in point, the following design projects—in which space goes above and beyond as an enabler of collaboration and ABW—are ten of the most inimitable office fitouts we've seen.
BresicWhitney offices by Chenchow Little Architects
With BresicWhitney as client, Chenchow Little Architects designed three distinctive offices for the boutique real estate agency, establishing a distinguished presence for the business in three separate locales. The three offices are unique in that each takes inspiration from its neighbourhood—either Darlinghurst, Hunters Hill or Rosebery—reflecting the character of its surrounds. All the while, an improvised and ever-changing circulation experience underpins each space, instilling a sense of endless discovery.
"The offices are envisioned as a village or townscape set within their tenancy envelope," says Stephanie Little, co-director of Chenchow Little. "The designs are a crafted and delicate composition of elements – the result of applying a macro-scale strategy to the micro-scale."
Uber Perth offices by Geyer
In the case of Uber's Perth headquarters (and its first Australian outpost), designed by Geyer, this involved 'de-corporatising' the workplace by breaking down the traditional office environment in order to create flexibility.
"We're so used to working with corporates," says Geyer's Perth- based design manager, David Rey. "And all of a sudden, we had this brief come through for a cool, fun place that was inviting, could support team growth, but also signifies to people that Uber has grown up as a company." The scheme makes the most of an irregular floor plan by providing different settings, including small retreat spaces with hanging swing chairs and a meeting area that doubles as a dining room, all of which accommodate hybrid working practices, from autonomous research to group brainstorming.
"Team members don't work from assigned desk spaces, so we had to give them a new workplace that supports their existing working style, essentially creating an environment where each person feels like they can go from working on the sofa at home to doing the same thing at the office. This 'work anywhere' idea was integral to the overall workplace dynamic, which is why having the ability to move between open and enclosed spaces is really important to them."
TH01, by Deferrari+Modesti
The TH01 project, developed for Targetti, historical Italian lighting company on the occasion of its 90th anniversary, is located in the headquarters of Florence.
The idea of the project is to create a wunderkammer; a.k.a. an attic of wonder, a space full of elements, unexpected and surprising. TH01, conceived as a dynamic and flexible container, is in fact characterised by volumes with different, distinct and interconnected characteristics and functions, in which each element plays an important role in telling the story of the company's history, values and products.
The various volumes alternate in a play of textures, colours and materials that take shape and change clothes through a wise use of light. It thus becomes a space where each element dialogues with the others and with industrial architecture in a play of light and shadow according to a precise luminous scenography.
K2LD Studio, Melbourne
Architecture and interior design practice K2LD's new office on Melbourne's Exhibition Street is an elegant reminder of how workplace design can encourage teamwork and cultivate talent. But even more than this, the new studio offers up a valuable lesson on the potent effects of scale.
With a team of 55 and growing, K2LD founder and co-director Tisha Lee recognised a pressing need to develop a space for her team that reflected the practice's promise of 'creating spaces for people to thrive'. No pressure, then.
Candlefox HQ, by Tom Robertson Architects
Candlefox is a young company working in the education space. Having quickly outgrown its headquarters, it was time for an upgrade.
Tom Robertson, of his namesake practice Tom Robertson Architects, was brought on board to breathe some life into the workplace design.
Part of the design process was bringing in Candlefox's company philosophy. "The company is young and very energetic. It was important that this was embraced in the architecture. The office is now a great opportunity for employees to socialise among themselves, and entertain clients," shares Robertson.
Space10, by Spacon & X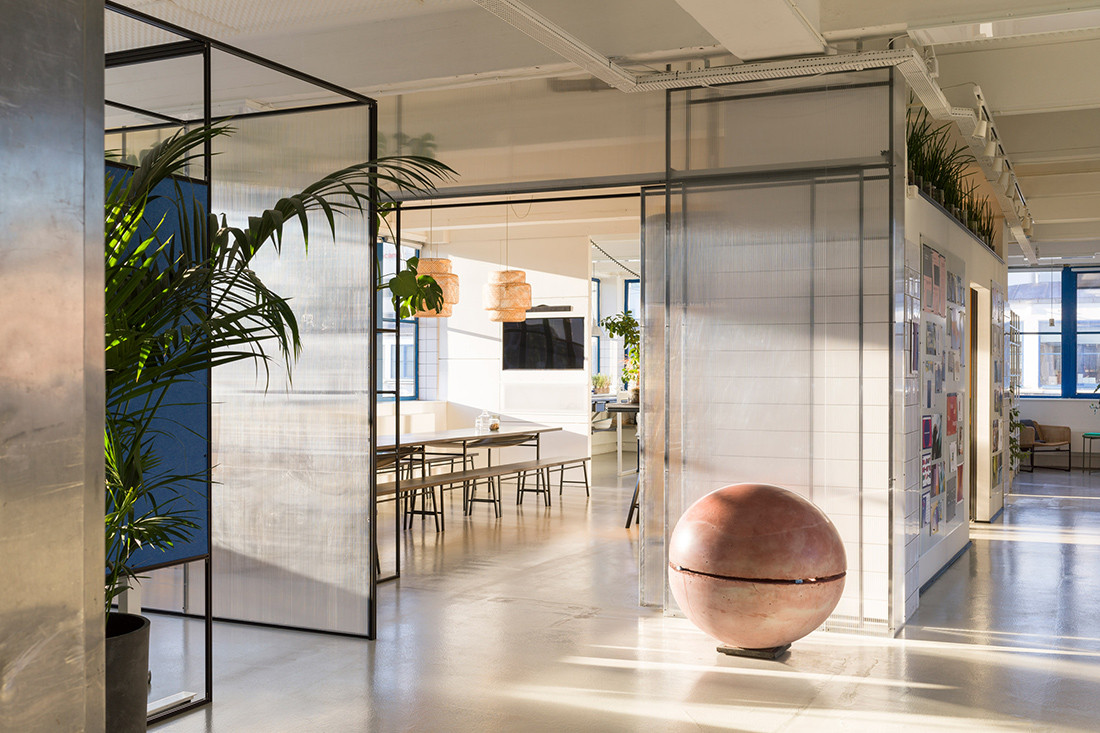 IKEA's research lab Space10 has traded in the "chaotic" open-plan design of its head office in Copenhagen for a more flexible workspace divided with mobile partitions, by local studio Spacon & X.
Located in Copenhagen's meatpacking district, the former fish factory became Space10's three-storey office building three years ago, when the company stripped down its interiors to form an open-plan layout.
However after soon finding that the open-plan didn't suit its workers, Space10 enlisted the help of Danish design studio Spacon & X to create a "new typology" of office design. The design needed to forefront wellbeing and productivity, as well as accommodating its growing workforce.
CBA 'Axle', by Woods Bagot
Commonwealth Bank has long been an innovator in workplace strategy. Now, with the Axle building in Sydney's South Eveleigh, it offers a template for the future of 'work' working in Australia.
Axle, by Woods Bagot, is a building focused on "teaching, development and spaces that are focused on intellectual exchange". The collaborative spaces flow easily into the more focused spaces on the periphery, as do the various work settings. On the upper ground level, for example, is the Club space, rather like a business lounge. This offers settings for quiet, contemplative work, a tech-free retreat with calming ambient music. Then, at its edge, it eases into a café area with settings for informal meetings.
Sackville Studios (a.k.a. NTS Space), by studio edwards
A collaboration between Never Too Small (NTS), and architecture/design practice, Studio Edwards, the brief for NTS Studio was: how can NTS-a media company dedicated to celebrating design for small footprint living-make better use of the their downstairs studio space and create a workspace. Sackville Studios is what Studio Edwards delivered.
Four steel framed pods inserted into an existing warehouse shell to create a flexible workspace that is both adaptive & can be easily removed post-tenancy.
Each of the studio pods is designed with minimal interference to the fabric of the existing building. Fabricated from steel components that could be bolted together by hand so as to be dis-=assembled / re-located when required as the warehouse space is leased from the building owner.
Workrate offices, in Amsterdam, Beyond Space
Beyond Space has created a flexible office interior for a security company in Amsterdam using a colourful grid system that allows the user to change the layout when needed. Informed by an endless repeating grid system, the studio used a structure made from beams and columns to knit together two office floors.
The rigid grid was constructed from aluminium to create a structural framework that gives the client the freedom to organise and reconfigure the space within it, by dismantling and moving walls as needed.
"Should the nature or ambitions of the company change, the grid offers flexibility. Walls can easily be dismantled and rebuilt on another point in the grid," Beyond Space said.
AOK Projekthaus, Blocher Partners
For AOK, Baden-Württemberg's largest health insurance provider, and committed to maintaining a future-oriented and employee-friendly working environment, new office spaces were planned.
The interior design concept foresees an interplay of communication, exchange and privacy; in other words, an interaction between work, conversation and networking, movement, open and private space, with the human being always at the centre of focus. This mix enables the free design of the environment and allows employees to structure their working environment anew each day, according to their needs.
---
You might also like…