With conversations around new modes of working not abating anytime soon, ARM Architecture's dynamic office for Kane Constructions can't be overlooked. Located in Melbourne's inner-city suburb of Richmond and spanning almost 1400 square metres, the new headquarters is a striking mix of sculptural forms and bold graphics.
ARM Architecture's workplace design lead, Tanya Hillman: "Our brief was to deliver a distinctive, functional environment that steers away from tradition, while retaining an air of professionalism and leadership. Celebrating the concept of 'journey' was integral and the result is a space that challenges conventions and incites possibility." Indeed, there's much to appreciate about the design, which comprises over 100 work points, including flex desks, focus rooms and dedicated offices.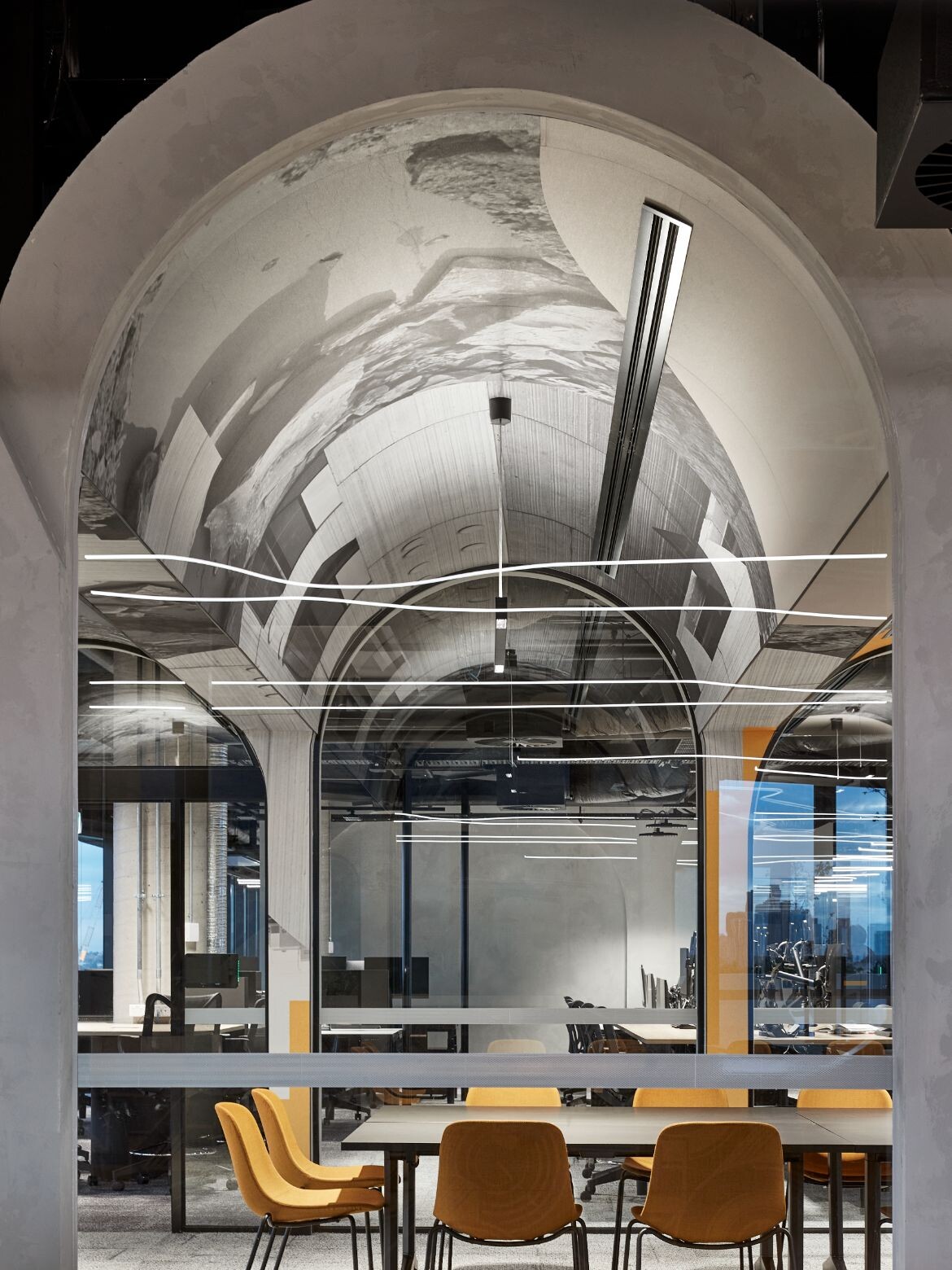 Perhaps the fit-out's most inspired feature is a series of sturdy architectural pavilions that work to anchor the open plan. These centrally positioned, arched, marquee-like structures sit below the existing ceiling, creating envelopes that provide a sense of intimacy in an otherwise cavernous space.
Custom designed acoustic panels, featuring a tableau of past Kane Constructions projects, line the pavilions, lending the scheme an edgy, industrial aesthetic in keeping with its inner-city context. Specially designed lighting adds to the effect, with linear fittings that ebb and flow throughout the space echoing Richmond's busy network of train and tram tracks.
Related: Bengaluru workspace design
A variety of settings support different ways of working and a distinct move away from a siloed work environment has allowed employees to feel more connected. "We were inspired by the company's goal to create a dynamic, mixed-use workplace that accommodates varied groups and teams," explains ARM director, Jesse Judd. "One that encourages connectivity and engagement in a central location with flexible requirements as we navigate this new world of hybrid working."
All work points are multifunctional and digitally-enabled, while flexibility is offered via sit-to-stand, fixed height and standing height desk zones. To further support feelings of connection, a communal social space is located at the heart of the plan, designed as an extension of the informal meeting spaces. It's separated from the workstations by a stunning yellow stone-clad statement joinery counter, around which team members can meet to chat, drink coffee or simply get away from their desk.
The dark, moody palette is modern, cool and very appealing, with strong textural qualities that make the design as curious as it is inviting. There's certainly something to discover at every turn, while the scheme's high functionality makes it the perfect workplace to come back to, whether day after day, or week after week.
ARM Architecture
armarchitecture.com.au
Photography
Shannon McGrath
We think you might also like this article on Flex Office by Six Degrees Architects.