COVID-19 has radically changed the way we work – from arriving at the same desk or workstation every day at the same time, to moving in and out of a space to suit one's individual working style. Flexible/shared offices have taken off as part of this trend. At Flex Office, the client, Hickory, also occupies a floor in the low-rise development. Approximately 500 square metres of ground floor space became the purview of Six Degrees Architects.
Complete with high ceilings (4.5 metres) that allowed for some mezzanine areas, the Flex Office was conceived for those looking for temporary work space. "It could be a company based in Sydney who needs more temporary space in Melbourne for a few weeks, or even for a few months," says architect Mark Healy, director of Six Degrees. Alternatively, the space could be used by those looking for a boardroom for occasional meetings rather than having colleagues or clients come to one's home – hence the name Flex Office.
So, from the outset, the brief given by Hickory — a sizeable building company — was for both flexible spaces and, importantly, a variety of areas to work from. These range from nifty booth-style offices conceived for one person honing into a Zoom meeting or taking a phone call to communal office areas that can accommodate as few as a couple of people or up to ten.
With these offices, there was also a need for a kitchen and lounge area. This is part of a move, since the onset of COVID-19, to ensure a higher standard of amenity. Here, one can find a wellness centre as well as an area for Pilates.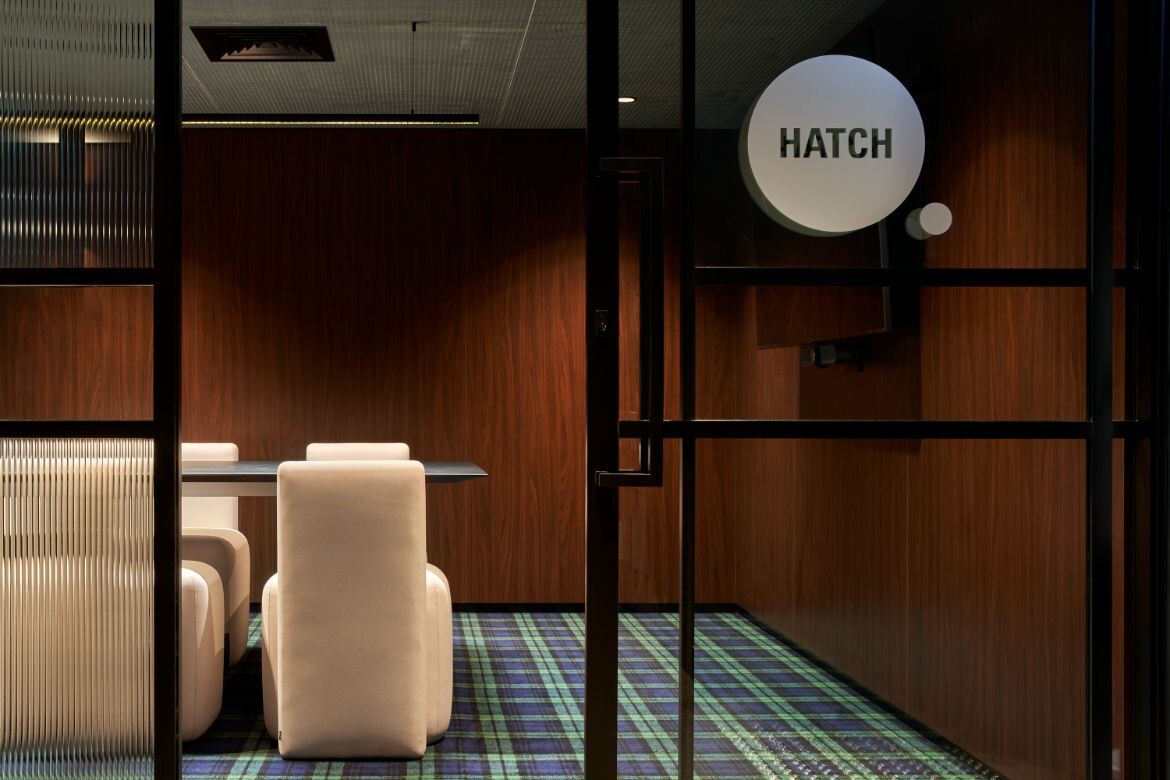 While traditional offices feature an endless amount of white-painted plaster walls, Six Degrees Architects loosely divided the ground floor with glass and steel, with some reeded glass allowing for privacy. "We also included curtains in some of the spaces, such as the boardroom. Some may prefer to have a completely transparent meeting space, while others may prefer greater transparency from the adjacent communal kitchen," says Healy, who was conscious of allowing for as much natural light through the ground floor as possible.
And while this a serious office fit-out, it also bears some of the more whimsical features Six Degrees Architects is known for. There are plaid carpets, for example, in the singular booth-style offices allowing for acoustic control as much as creating a more light-sided way of going to work.
For Six Degrees Architects, one of the main challenges was to create sufficient privacy with a generous dose of glass walls and doors, while still allowing for acoustic control – hence it also included some timber panelling to soften the interior and reduce noise.
While a reception area might have been the norm in most offices, at Flex Office it's one of those things that COVID-19 has also eliminated. "It still has all the amenities of a traditional office but there's a greater looseness in the time schedules and the way these spaces are used," adds Healy.
Six Degrees Architects
sixdegrees.com.au
We think you might like this story on certified carbon neutral Australian architecture firms.