A go-to artist for architects of significance, Marion Borgelt's recent exhibition, Rhythms, Chords, Cadences (Revisited), celebrated her unique lexicon of symbols and motifs, simultaneously personal and universal, which define the essence of her art.
The captivating exhibition delivered a beautifully curated selection of new paintings and sculptures that delve into the realms of light, impermanence, and perpetual change, showcasing Borgelt's unparalleled artistic weight.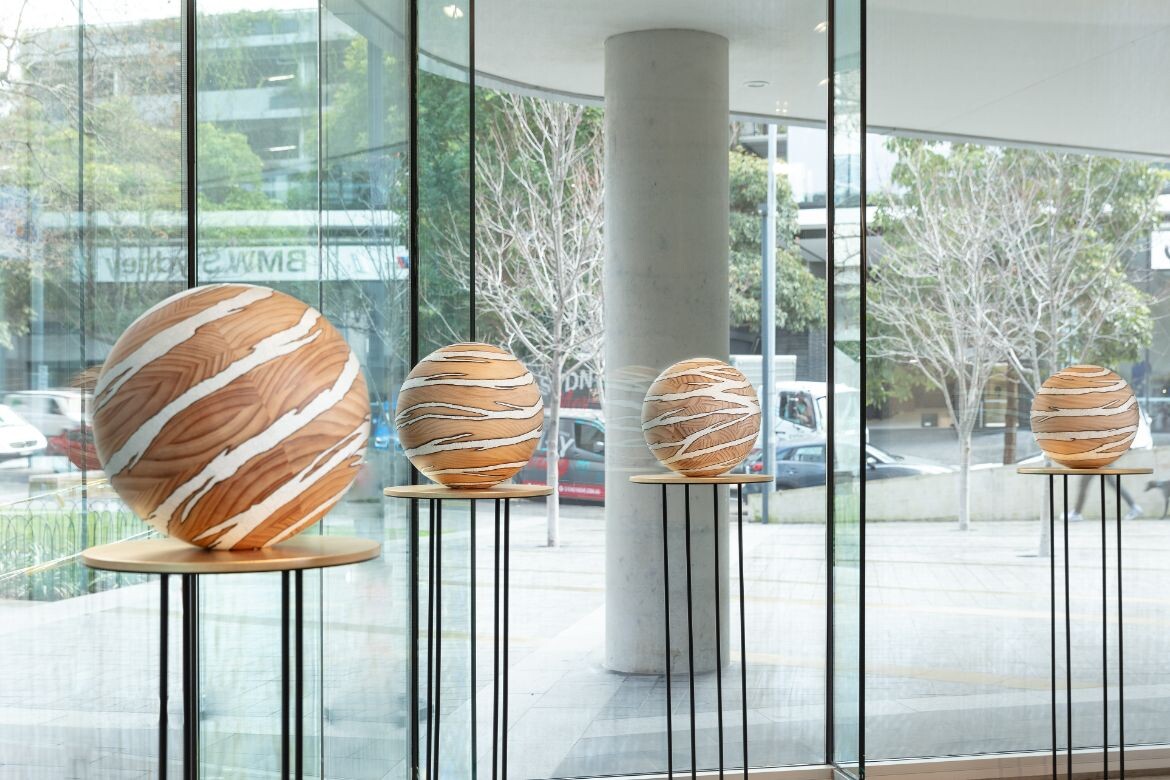 Working beyond artistic boundaries
As an Australian artist, Borgelt has crafted a legacy that extends beyond artistic boundaries, embracing universal themes such as life cycles, cosmology, optics, and phenomenology. With an astute understanding of these themes, Borgelt weaves them into her artworks, resulting in meticulously crafted pieces that activate the senses.
Blending the realms of two and three-dimensional art, she orchestrates a dialogue between the human-made culture and the natural world, the structured and the organic, microcosm and macrocosm, and the ever-present interplay of light and darkness.
Unconfined to a singular medium, Borgelt's work explores a harmonious convergence of diverse materials. Her creative palette includes beeswax, canvas, felt, glass, pigment, stainless steel, wood, stone, and organic matter.
This multifaceted approach enables her to adapt her ideas to the specific context of each project, resulting in interventions that are characterised by their originality and sensitivity. Her work thereby navigates varying scales and encompasses numerous series, each resonating with a personal language that unveils the metaphysical aspects of time and transience, offering glimpses into the expansive world beyond our immediate surroundings. Amid this rich diversity, a unifying thread persists – a thematic interplay of opposites.

Florette, Persian Prism No. 3.
Within Borgelt's artistic expression, the lexicon of symbols and motifs remains a cornerstone. Through her intimate engagement with an extensive material palette Borgelt refines her concepts to meet the demands of the artistic space she occupies.
Her interventions are characterised by an intrinsic originality and sensitivity, reflecting her understanding of the interaction between art and environment. Recent years have witnessed the integration of motorised elements into her work, introducing a kinetic, time-driven dimension that further emphasises her exploration of flux and impermanence.
Borgelt's work is held in the collections of prominent national museums, regional institutions, universities, and corporations both within Australia and abroad. Her exceptional contributions were acknowledged in 1996 when she became the inaugural Australian artist to be honoured with the esteemed Pollock-Krasner Art Fellowship.
This prestigious recognition was followed by a Visual Arts and Crafts Australia Fellowship, underscoring her profound impact on the artistic landscape. In 2020, Borgelt's luminous career reached new heights as she secured the Muswellbrook Art Award.

Lunar Circle: Figure J.
An enviable commission list
The hallmark of Borgelt's career also lies in her notable commissioned works, each a testament to her creative ingenuity. Musical Spheres (2020) for 123 Pitt Street, Sydney, while Lift Lobbies Morpheus (2019) adds a touch of artistic elegance to Macau, China.
Cascadence (2018), residing in Tower One, Barangaroo, Sydney, exemplifies the seamless blend of art and architecture. Borgelt's commissioned works traverse various landscapes, from the lobby reception of Crystal Club, Crown Towers, Perth (2016), to the artistic imprint she left in Yangon, Myanmar, with Liquid Light: Sule Triptych and Lunar Descent: Nos. 4 & 5 (2016).
These are just glimpses of her prolific output, as seen in Liquid Light: Horizontal Triptychs 3 & 4 (2013) at 20 Bond Street, Sydney; Candescent Moon (2011) at 101 Collins Street, Melbourne; Liquid Light: 56 Degrees (2009) in the lobby reception of Crown Towers, City of Dreams, Macau; Round Up Maze (2005) at Shear Outback, Hay; Time and Tide (wait for no man) (2004) at JP Morgan, Sydney; and 55 Ring Maze (2000) at Arthur's Seat, Mornington Peninsula, Victoria, among others.
In essence this latest exhibition, Rhythms, Chords, Cadences (Revisited), stands as a testament to Borgelt's enduring creative journey. Her ability to seamlessly merge the realms of philosophy, symbolism, and materiality is unparalleled, echoing the rhythms of life itself.
As her career unfolds, Borgelt continues to shed light on the interplay between art and existence, leaving an indelible mark on the artistic landscape – a mark that resonates with the cadences of human experience and the ethereal dance of light and impermanence.
Marion Borgelt
marionborgelt.com
Gallery Sally Dan-Cuthbert
gallerysallydancuthbert.com
Artwork photography
Courtesy Marion Borgelt and Gallery Sally Dan Cuthbert
Installation photography
Simon Hewson Fatografi
We think you might like this article about Ross Gardam's award-winning lighting design.