It has been said great inspirational ideas and the pursuit to work smarter/harder come from being in a positive and nourishing environment. This has become increasingly realised in recent years by workplace designers and commercial developers alike in End of trip facilities, which enable employees to fit healthy, active lifestyles around busy professional lives.
Today's End of Trip facilities are a future-proofing strategy for commercial building owners to retain tenants and secure new ones, while helping tenants to remain at the forefront of workplace health and wellness. By encouraging their staff to embrace healthy living, the tenants benefit through lower absenteeism, improved staff retention and increased productivity. Enabling wellness is now part of an active business strategy for most corporates.
While bicycle racks in the basement are appreciated, they are often not enough. CBRE's Australia Occupier Survey 2019 found that building owners need to offer services such as wellness initiatives (on-site gyms, exercise classes, healthy food options), personal services and childcare facilities to attract businesses, differentiate themselves and offer more than just a place to work. Here are 5 exemplary EOT facilities that are leading the shift.
ONE at 101 Collins Street by Gray Puksand
101 Collins Street holds a special place in Melbourne's design history. The CBD tower was a pioneering commercial project of the early 1990s, with an ambition to resemble a luxury hotel more than a typical office block. This meant a focus on a concierge experience, a grandness of scale and the highest attention to detail.
After 30 years, Gray Puksand was approached to continue this aesthetic with the design of a new end-of-trip facility that would be respectful of the building's celebrated context. Working within the constraints of an upper basement level, this new facility comprises 44 showers, around 500 bicycle parking spaces and 600 lockers.
RISE at 101 Collins Street by Gray Puksand
Where ONE has a dark palette and square forms, RISE has a light and natural palette and soft curves, creating a strong distinction between the two. RISE also incorporates biophilic design elements, such as skylights, plantings and natural materials, to imbue the space with a sense of calm. "We felt it was important to focus on user experience and positively engage all the senses," says Dale O'Brien, lead designer and senior associate at Gray Puksand.
RISE is the first of its type in a commercial office tower and setting a precedent for the way forward. The end-of-trip facility is helping workers at 101 Collins to achieve and maintain a healthy lifestyle, which has consequential benefits for employees and tenants.
Market Lane by Elenberg Fraser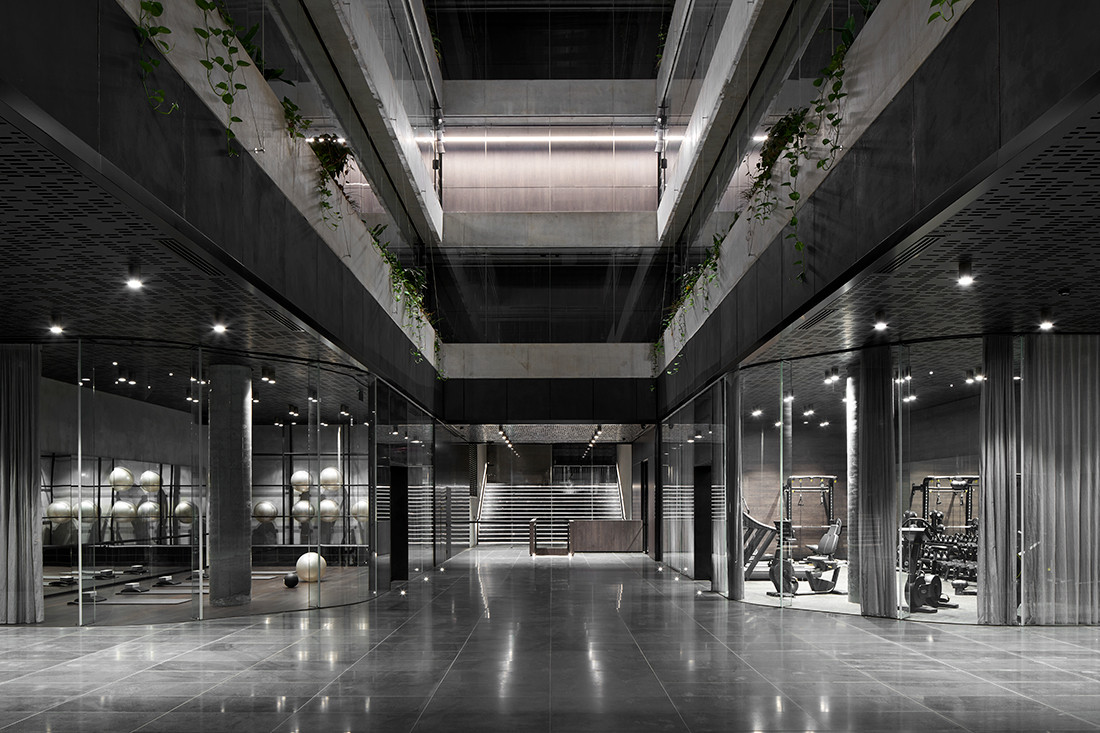 In the basement End of Trip facilities at Market Lane, two luxurious public bathrooms, a boxing workout area and sculptural bike storage facilities are situated. Taking advantage of the subterranean location to create an immersive experience, Market Lane's opulent bathrooms are furnished to pamper. Inside, metallic accents and refined lighting sit against a rich backdrop of chocolatey natural stone. Importantly, aesthetic considerations meet clever cleanliness in this enclosed wet area. The bathrooms elegantly minimise touch, with contactless handwashing stations and steel plates mounted to the bottom of stall doors, to be operated by foot. A palatial hydration station sits at the entrance; a singular tap set into a tiled alcove, activated by sensor.
"This whole zone underneath is a place for people to pause and just take a moment for themselves," says Emma Nunan, associate interior designer at Elenberg Fraser. "It's away from the bustle of the outside world, to help bring a bit of ritual to the everyday."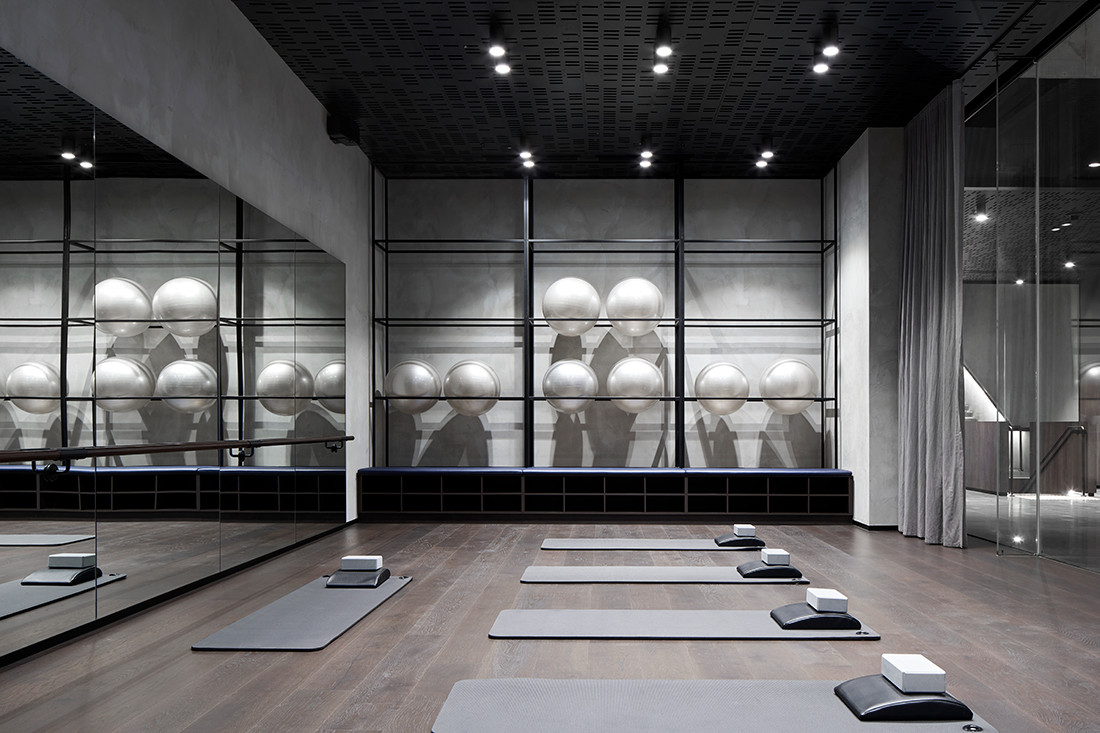 Zephyr Lounge at Memocorp by Stella Collective
Located in the basement of Memocorp, The Stella Collective infused the 1000m2 space with a trademark ultra-cool elegance, transforming the once dark and cavernous basement into twenty-five private bathroom suites, sophisticated meeting rooms and a very special luxury lounge.
Embracing its subterranean locale, Stella created a truly immersive environment. Dramatic touches such as luxurious green velvet drapery paired with elegant dark timber flooring are theatrical and delightfully cocooning. Sumptuous finishes, gleaming with brass and an array of crafted furniture in the lounge transport office workers a million miles away from the stressors of corporate life.
Chifley Lifestyle at Chifley Towers by Gray Puksand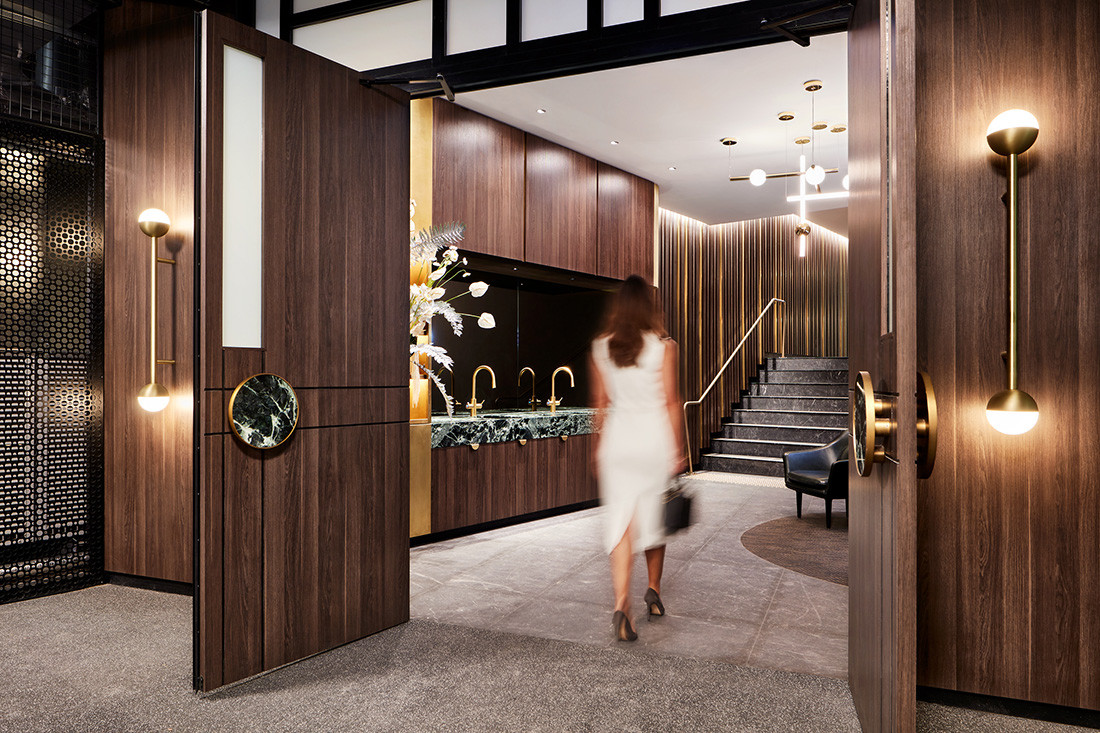 Sydney's Chifley Tower recognises the art of wellness in enhancing workplace positivity and satisfaction with its state-of-the-art EOT facility, known as Chifley Lifestyle, designed by Gray Puksand. "It had to be beautiful," expresses Rob Worsley, Head of PRIME at Knight Frank Asset Management Services. "Chifley's Manhattan-style architecture is distinctive on the Sydney skyline. It was important to be true to that architectural intent, but in a contemporary way."
The design team at Gray Puksand responded with its distinct creative flair to craft an exquisitely detailed and sumptuously sophisticated space. Through a meticulously curated selection of materiality and tones, Chifley Lifestyle end of trip is an elevated, all-inclusive space that considers the primary needs of the users. Not only is it aesthetically beautiful, Gray Puksand has carefully approached this project as a place that sustains active bodies, busy lives and work-life balance.