Nothing disrupts the status quo quite like a global pandemic. Melbourne's particularly stringent, lengthy lockdown during 2020 meant those who could worked from home – resulting in an almost year-long dissolution of the nine-to-five. Time in which to closely examine the mechanics of remote working, human behaviour and public interface.
As we gradually return to the office, our expectations of shared space are permanently redefined. Beyond blue-sky notions of wellness, we require demonstrably health-driven environments and rigorous hygiene programs. How might design respond?
Though conceived prior to the unfolding health crisis, Market Lane is an exemplar of salutogenic principles at work. Crafted by Elenberg Fraser in partnership with Hickory Group, the building provides amply for a full existence incorporating nature, fitness, productivity and leisure.
"Today's workforce is all about flexibility and comfort, especially now we've spent so much time in our homes," says Vicki Karavasil, associate architect at Elenberg Fraser. "So the challenge is really to ask ourselves, coming out of all this, what would we want in a workplace? What will have us genuinely excited to come in every day?"
Market Lane makes a luminous first impression through a striking art installation at the foyer, visible from its industrial South Melbourne street. Created by Elenberg Fraser and Mark Douglass Design, an undulating ceiling comprising hundreds of slim LED light fins, reminiscent of fish scales, glows and changes colour according to customisable internal programming.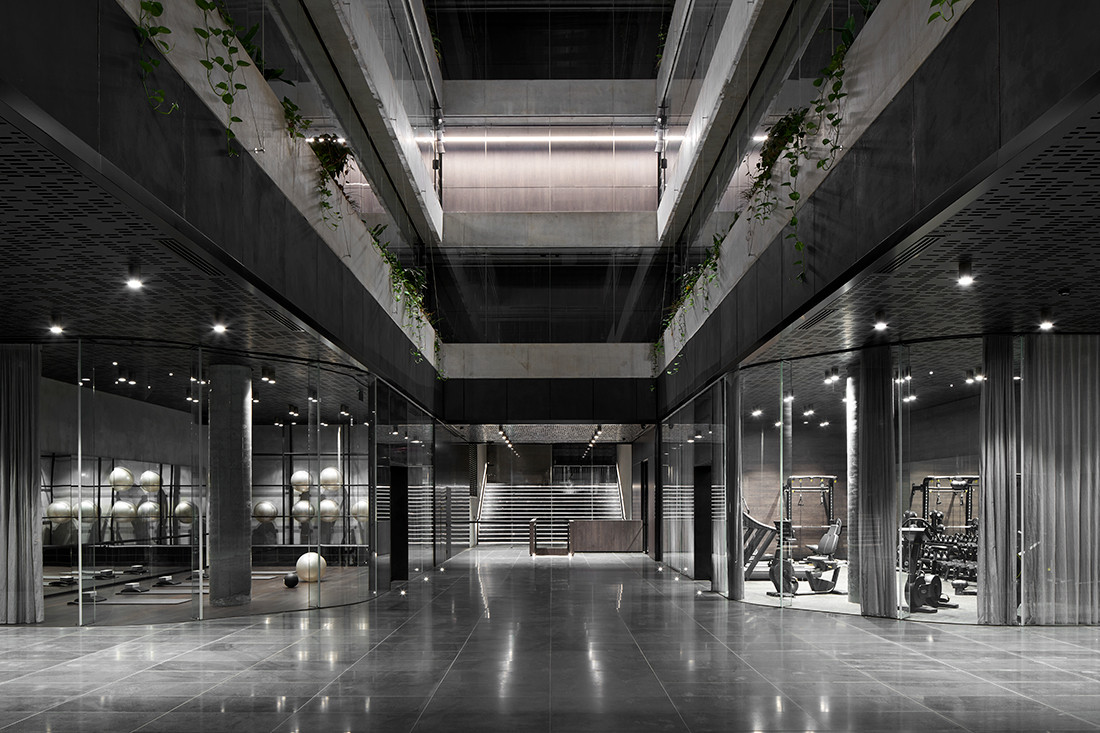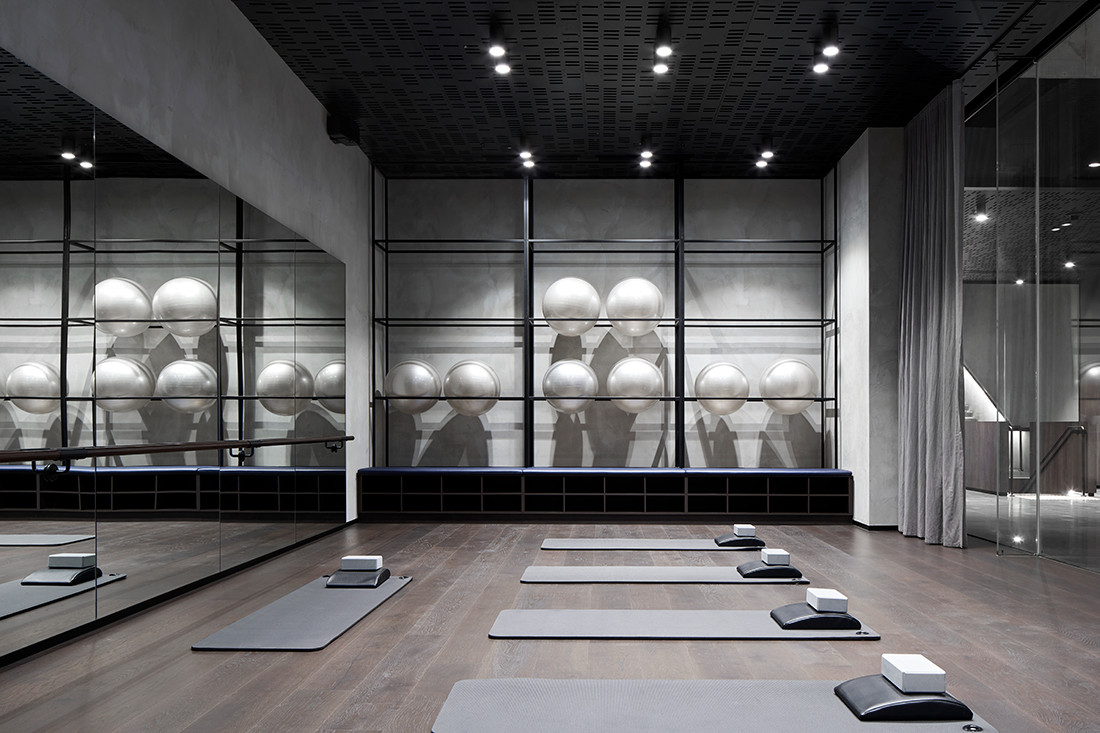 Further inside, the ground floor arrival is flanked by rooms for flexible fitness and exercise, encouraging organic social interaction between building patrons. Multiple street entrances and operable windows further promote natural cross-ventilation and fresh air intake throughout, a crucial strategy in the prevention of community transmission.
The structure opens into a vast atrium lung at its core, where lush tendrils of Devil's Ivy creep along a steel trellis, and plants line each internal level. This green gesture, created in consultation with landscape architects OpenWork, is one visible indication of the deeper biophilic approach informing many of the unseen details at Market Lane.
All services are automatically monitored via app, including energy and water usage reports made public to tenants with the intent of uniting the community in minimising consumption. This inbuilt, measured efficacy continues into the area below ground, where two luxurious public bathrooms, a boxing workout area and sculptural bike storage facilities are situated.
"This whole zone underneath is a place for people to pause and just take a moment for themselves," says Emma Nunan, associate interior designer at Elenberg Fraser. "It's away from the bustle of the outside world, to help bring a bit of ritual to the everyday."
Taking advantage of the subterranean location to create an immersive experience, the opulent bathrooms are furnished to pamper. Inside, metallic accents and refined lighting sit against a rich backdrop of chocolatey natural stone. Importantly, aesthetic considerations meet clever cleanliness in this enclosed wet area. The bathrooms elegantly minimise touch, with contactless handwashing stations and steel plates mounted to the bottom of stall doors, to be operated by foot. A palatial hydration station sits at the entrance; a singular tap set into a tiled alcove, activated by sensor.
The building's key tenants are vocal advocates of its inventive working model. Workplace concierge Flex is strategically co- located on the ground floor hub, embedded among the dynamic offices it manages; while Market Lane's collaborative project builders, Hickory Group, are headquartered on its top floor.
Their enviably skylit premises are accessible via glass lift, extending the visible lightness of the built form. As to be expected for the mavens of manufacture, this floor is flush with premium detailing. In fact, many of the building's custom elements, including tailor-made feature lights, precise joinery and perforated steel panelling, were specially developed by the Hickory design team. The luxe fit-out is matched by Elenberg Fraser's thoughtful spatial mapping and practical utility, with service lifts positioned directly opposite the sample room, to facilitate ergonomic handling of heavy materials and divert deliveries from reception.
If this inspired building has a crowning glory, it would surely be Hickory's series of unique meeting rooms: lozenge-shaped, self- contained glass pods positioned outside on the rooftop, entirely separate to the main built mass. These place staff among landscaped surrounds, in direct view of the city they work to shape. So natural is the flux of work and leisure at Market Lane, that an informative visit may feasibly segue into an encounter with Hickory's senior leadership team, confabulating over house-made negronis on their rooftop terrace.
"Even after the year we've had, our people often say they'd prefer to come and work from here – it's a beautiful place," reflects one Hickory director. "And when clients come through they are so impressed. Welcoming people into our space, it's a big part of the way we do business."
Photography by Damien Kook