Coming at a pivotal moment in the grand scheme of workplace philosophy—and aligned perfectly with Indesign #83, our 'Workplace Progress' issue—Frame Publishers' Where We Work is a visually and intellectually provocative reference tool for interior designers, architects and businesses alike.
Comprising a dynamic selection of 51 groundbreaking design case studies from Seoul to São Paulo and everywhere in between, the hardcover publication speaks to the universal concerns of today's working world. As we attempt to comprehend the post-pandemic workplace the showcase of projects curated by Frame, though all conceived in the pre-COVID world, consummate in a pertinent and insightful prospectus for where and how we might work from here on out.
The book is divided into four chapters, each aptly dedicated to examining a specific and elemental aspect of modern workplace design—community, flexibility, identity, and wellbeing—and brimming with cases in point. At the conclusion of each chapter the publishers have derived a pointed and insightful outtake, synthesised from the chapter's exemplary featured projects.
Featuring works by the likes of Onion, Simple Space Design, Aim Architecture and more, including the extensively covered workplace design by I IN for Warp Studio, the chapter Designing for Community explores how designers around the world are drawing on elements of residential and urban design to curate workplaces that cultivate inspired, communicative, healthy and productive communities of work.
"As office culture shifts in both gradual and precipitous ways, it's important to incorporate spaces that put staff's needs first and help co-workers build a sense of belonging," is Frame's apt conclusion of the chapter.
Many of the projects and themes in each chapter are arguably interchangeable, even if more inclined toward one over another. The chapter Designing for Flexibility is unsurprisingly dominated by projects that speak to themes of activity-based work, modular furniture and workspaces, sustainable materiality and acoustic design.
The line between the chapters Designing for Community and Designing for Identity is perhaps the most blurry of all. Unique and visually impactful spaces fill the pages of the latter chapter, drawing on examples of workplaces where a company's product and/or values have formed the genesis of design. A personal favourite from this chapter would have to be the project dubbed Ideal Gas Lab, in Taipei, by Waterfrom Design.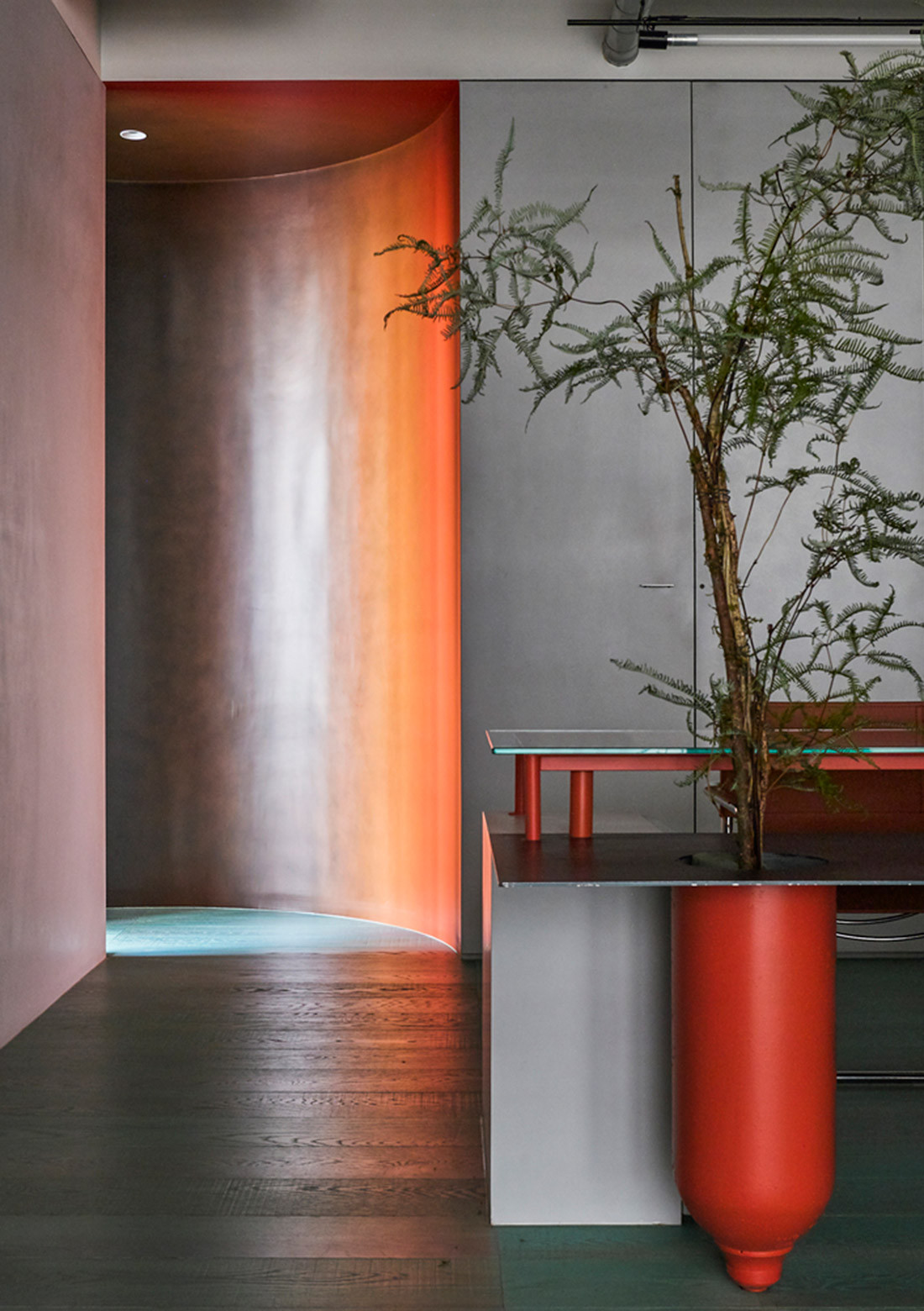 In designing the new workspace of tech company Jing He Science, local studio Waterfrom Design abstracted the idea that, depending on environment pressure and temperature, gaseous compounds can become solid or liquid. Devising the colour scheme from this concept, the designers employed materials common to the industrial gas production chain and the laboratory, refining them to form the structure of the office. The result is an office with an inimitable sense of place and an industrial design aesthetic that has been highly resolved.
Designing for Wellbeing is a chapter featuring the Australian projects Axle, in Sydney, by Woods Bagot and Cobild, in Melbourne, by Mim Design. In this chapter biophilic design strategies and connection to nature feature heavily, as well as soft forms, pleasant palettes, inviting materials and increased social spaces. Frame ends the chapter by stating, "adding play to the workplace should no longer be seen as a distraction, but as a source of respite and inspiration."
All in all, the themes and insights throughout Where We Work are familiar and, in the scheme of things, are interrelated with one another. What Frame has done astutely here, however, is pull together a diverse showcase of these principles in practice, culminating in a collection of inspiring case studies, each with its own point of difference.
---
You might also like…