As lead architects on Ipswich City Council's $250m Nicholas Street Precinct redevelopment, Buchan is reinvigorating the heart of the city. It's scheduled to take place across five years, with the latest stage recently unveiled and comprising artistic illuminations projected onto the Metro B Building on Nicholas Street. Six projectors immerse the 70 metre origami-like facade in vivid colour in what Ipswich Mayor Teresa Harding describes as "bringing a little bit of Times Square to Tulmur Place."
Certainly, the projections are part of a strategy to re-engage community and encourage people of all ages back to the CBD, and to an area previously deemed unsafe after dark. By filling Nicholas Street with bright light, the precinct instantly appears friendlier and inviting. Buchan's experiential design team was also deliberate in creating projections that have local significance in order to directly connect with the people who live there.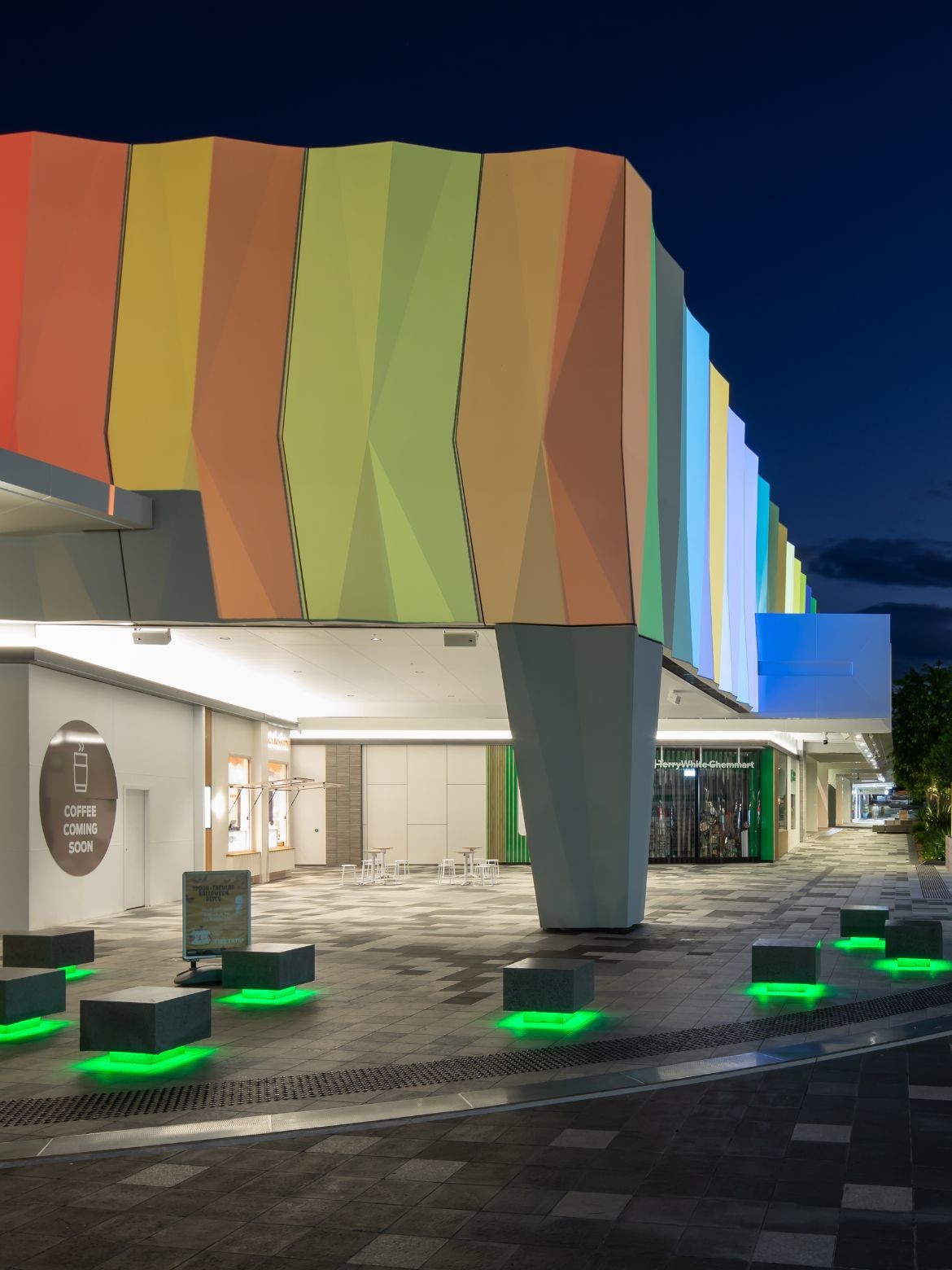 One sequence, for example, shows an iconic 'dump and burn' onto the building – a nod to the nearby Amberley RAAF base, while another shows animated historic trains from The Workshops Rail Museum in North Ipswich.
This integrated experiential technology is all about enlivening the architecture and in turn allowing the architecture to communicate place. "Experiential design adds an extra layer to form and materiality as an ongoing means of communication – through video, art, colour and motion – for the people who use these spaces," says Buchan senior designer Patrick Shirley. "The projections and illuminations are not simply screens on buildings; we have embedded the technology within the architecture."
Related: m3architecture's restoration of the Treacy Precinct
In the near future, they will serve as an interactive backdrop for upcoming festivals and events, and will also play a part in helping the precinct remain 'digitally constant'. As Shirley explains, "Retail, for example, tends to have a five to 10 year cycle before buildings are updated, but experiential design allows buildings to evolve and be responsive to change."
It's a model other councils can look to when futureproofing their designs or seeking to embed art and technology into the urban realm. Buchan has also developed an interface that doesn't require technical expertise, so clients can very much own and participate in the creation of these projections. 
The next stage of the Nicholas Street Precinct redevelopment will reveal a dining, retail and entertainment hub, with a new cinema and the historic Commonwealth Hotel expected to open mid-2023.
Tulmur Place, Ipswich City Council's Administration Building, Ipswich Central Library and Ipswich Children's Library developments will round out the project. Metro B Building sets the tone for what promises to be a dynamic upgrade, filled with plenty of opportunities for fun and enjoyment.
Buchan
buchangroup.com
Photography
Ross Pottinger
We think you might also like this article on placemaking in Perth.