Not just another cookie-cutter student accommodation block, 263-297 Broadway Lane is a game-changing student accommodation development embracing community, nature, and public amenities. Envisaged as a corner where Western Sydney meets the CBD, collaborating designers SJB with Land and Form Studios want this development to usher in a new chapter of connections, friendships, and unforgettable memories.
In an era where students are more likely to be nose-deep in their laptops, SJB has brought fresh air to student living. This design proposal understands the significance of community, the power of shared spaces and the importance of feeling at home.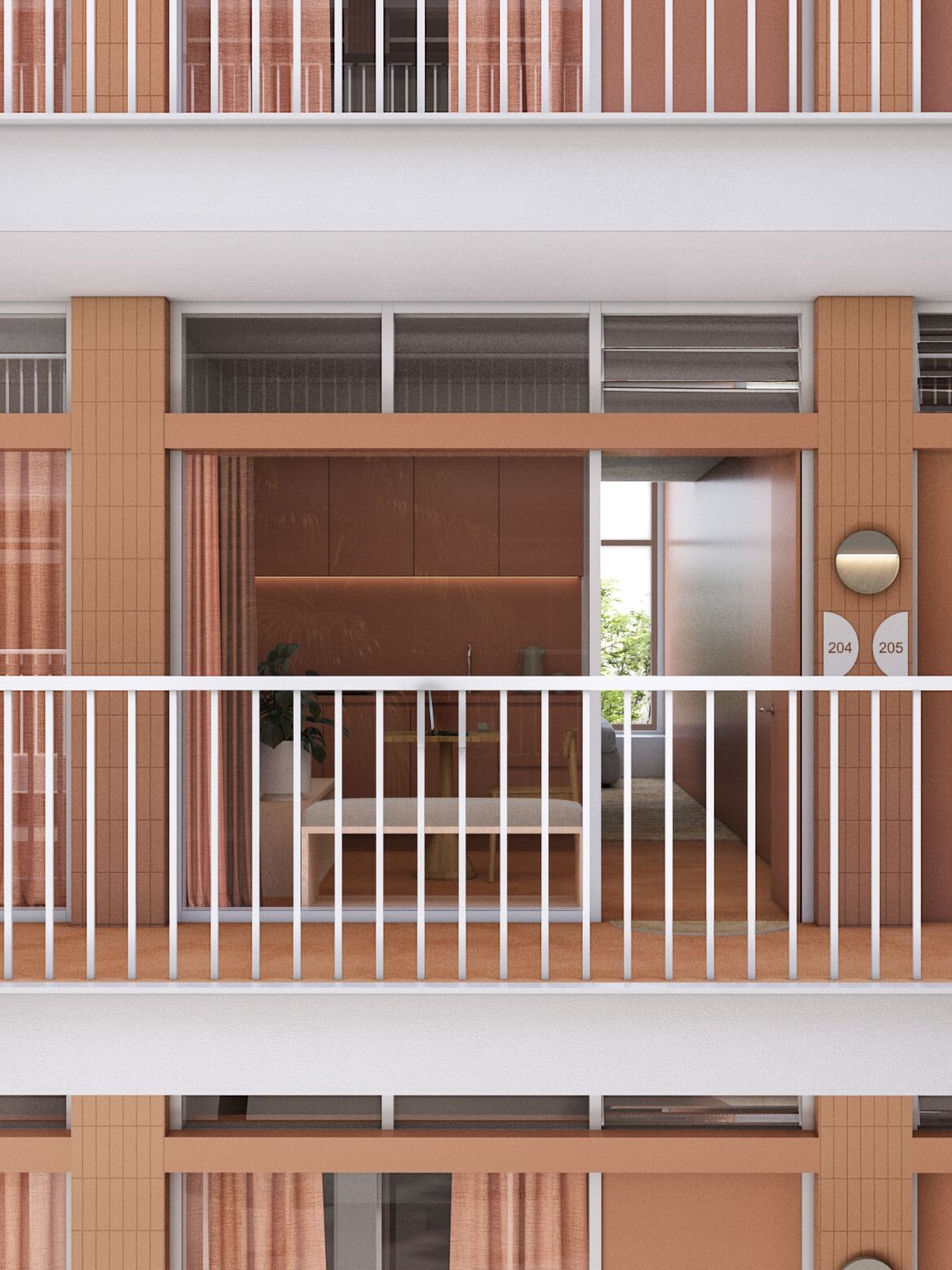 "Starting university and leaving the family home can be a paradigm shift," says Stefanie Hughes, studio associate at SJB. "It is a time to expand your social network and forge a new community. We believe that architecture has the power to help facilitate the formation of new relationships."
With this in mind, the team has designed shared spaces that invite engagement without overlapping with primary circulation, creating a sense of choice and freedom for the students.
Every detail of the design oozes thoughtfulness and intentionality. Communal kitchen and dining spaces on every level invite students to share meals and stories. Oversized and double-height living areas, flooded with north light, provide ample space for group activities and quiet contemplation. The student apartments are designed for personal expression and control over environments, with features such as curtains, blinds, operable windows and ceiling fans.
Related: SJB and housing density at Ashbury Terraces
Ro Lyer, director of Land and Form Studios, is passionate about creating an immersive, natural experience: "The landscape and public domain proposal aims to improve social connectedness and connections with nature by creating an inclusive, diverse and natural landscape experience for the community of Glebe." 
Located on the busy Broadway and at the gateway to Glebe and the University of Sydney parklands, the project is set to be a beacon of innovation and social connection. Broadway's primary student accommodation lobby frees up the Glebe Point Road frontage for prime retail tenancies. This thoughtful design further activates the streetscape and draws pedestrians in with glimpses into the central courtyard.
To enhance public space, the design includes plans to activate Grose Street through landscape and public art interventions, creating a memorable destination. In collaboration with the City of Sydney Council, the proposal includes 50 additional trees, 820 square metres of green roofs and terraces and 80 square metres of laneway activation.
When the books are closed and the laptops powered down, the shared experiences and friendships formed define the university experience. With 112 dwellings over six storeys, this reimagination of Broadway is tipped to be a significant addition to the Sydney landscape.
SJB
sjb.com.au
Land and Form Studios
land-form.com.au
Renders
Courtesy of SJB
We think you might also like this profile of SJB's Adam Haddow.