"Fashion is a passion that makes its way into all my projects" says Nickolas Gurtler, the interior design creative director of Nickolas Gurtler Interior Design (NGID). "I like to generate a feeling in a space and in this instance, also celebrating a notion of powerful femininity."
With luxury fashion retail experience running deep through his veins – he worked with Gucci in 2009 in visual merchandising – he had plenty to draw upon for the brief to create a salon with a luxurious, sexy and sophisticated feel.
"We did a lot of research into the hair world and in particular the connection that hair has to fashion and beauty. We also looked at a lot of backstage photography of cutting-edge hair being created and really liked the rawness of the backstage," he says.
From there, the studio's research led to inspiring imagery of fashion designer, Tom Ford's early years at Gucci.
Specifically, he turned to Gucci's 1996 Fall collection, dominated by sharp plunging cut-outs in blouses, strategic cut outs adorned with metal in dresses, and the later 2001 Spring collection with elements of translucency over opacity.
"We were really drawn to how powerful the women looked," Gurtler says. "We wanted the space to make the clients of Cole feel that same way by being in the space."
Armed with such bold references and along with salon owner, Mariah Rota, Gurtler and his team set out to help Cole clients feel like the iconic supermodels of the 90s, in a design never before seen.
Now complete, the transformation showcases 120-square-metres of floor space featuring eight stations and a hair extension education section.
Gucci's 1996 triangular shapes mixed with figure hugging curves is influenced in the salon's bold reception counter, while the 2001 collection is translated into the design with panels of reeded glass mimicking fabric.
Differing layers of texture in the material palette is also used to great effect. For example, NGID sourced slabs of Jurassic marble, with a wave-like pattern reminiscent of flowing tresses of hair, set against a sleek palette of black leather and chrome detailing.
"It has such an incredible visual presence," he says. "And the different visual textures have a really interesting interplay, particularly between the chrome, mirror and stainless steel."
Other highlights include custom walnut and bouclé sofas, providing a warming element inspired by the Gucci collections, plastered stucco and fluted glass.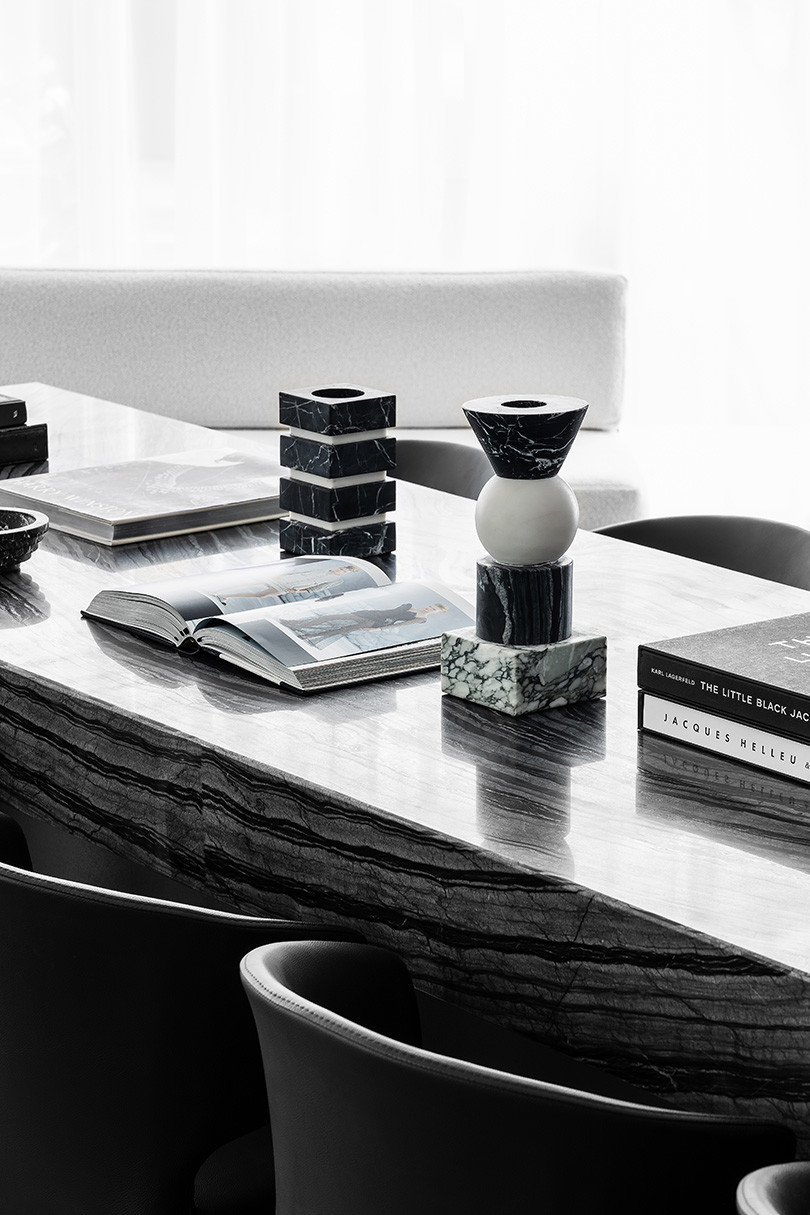 As for clients, individual stations forgo the traditional open large-scale mirrors with private, well-illuminated stations with space for clients' belongings. Concealed LED lighting on either side of the mirror is strategically designed for perfect lighting – and selfies.
"Not surprisingly, stepping into Cole Hair Studio is akin to stepping into a house of mirrors. But extremely flattering ones," Gurtler laughs. 
Along with a high-end boutique approach to display the salon's products, mimicking luxury fashion retail, the space now presents a modern-day holistic homage to the 'ritual of hair'.
Nickolas Gurtler Interior Design
nickolasgurtler.com.au
Photography
Timothy Kaye

We think you might like this story on HARMAY cosmetics store by AIM Architecture.