The completion of Meadowbank TAFE NSW marks a major milestone for leading national architecture studio Gray Puksand; the first of its major education projects in Western NSW.
The AUD$154 million project was designed to break conventional understandings of what vocational training environments should – and can – be. It was shortlisted by the Australian Institute of Architects at the 2023 New South Wales Architecture Awards in the Educational Architecture Category.
Introducing the Multi Trades Hub
The integrated model presents a fresh approach to skills and digital training, combining hands-on Construction training in the Multi Trades Hub with custom digital training in the Institute of Applied Technology.
The courses have been created in partnership with industry frontrunners such as Microsoft, CPB Contractors, UTS and Macquarie University. Students can learn practical skills as well as custom digital training in rapidly evolving subjects such as cyber defence, AI, and Business Information Modelling. The new direction aims to address Australia's growing demand for skilled workers in the construction industry as well as education regarding cybercrime and security.
Stephen Turner, partner at Gray Puksand, acknowledges that "the role of technology in skills-based vocations like construction is rapidly evolving. We have already begun to experience elements like AI which can transform many areas of learning and design. Our vision was to design a building that would deliver a unique opportunity for students to acquire advanced skills in a professional setting with the best facilities at their fingertips."
Future-proofed design that connects with its neighbourhood
Set against a backdrop of low-scale residential and industrial surroundings as well as a new school adjacent to the site, the campus has become a focal neighbourhood feature. The building contains a number of diverse learning spaces; from expansive construction workshops to specialised cyber-attack training rooms, lecture theatres, and an incorporated exhibition area. Clear sightlines and pathways span multiple levels to create a sense of open, interconnectedness whilst allowing individuality to flourish.
The design adapts to its sloping terrain, featuring four stories that ensure the fluidity of movement, focused by the central atrium. The space was designed with future redevelopment in mind and has been engineered to accommodate repositioning.
Gray Puksand partner, Barry Hackett, explains that the versatility of the space will ensure its enduring relevance as educational demands evolve over the decades.
"By incorporating this flexible approach, the project aims to address the changing needs of its users over time, while also promoting long-term sustainability by reducing the need for future redevelopment or demolition."
Guided in design by a cuboid grid which was carefully aligned with the campus layout, the shape and size of the building could integrate seamlessly into the surrounding site. This allowed for a unified and cohesive design furthered by the trapezium roof which unifies the two hubs, offering light-filled workshops and external views to boost community connection.
The cuboid structural grid extends outside the building, encompassing exterior pods on three sides of a functional cube with expansive glazed windows for transparency. The outer facade features rectangular metal panels of different lengths, resembling tiles, interspersed with small randomly arranged window openings.
Gray Puksand
graypuksand.com.au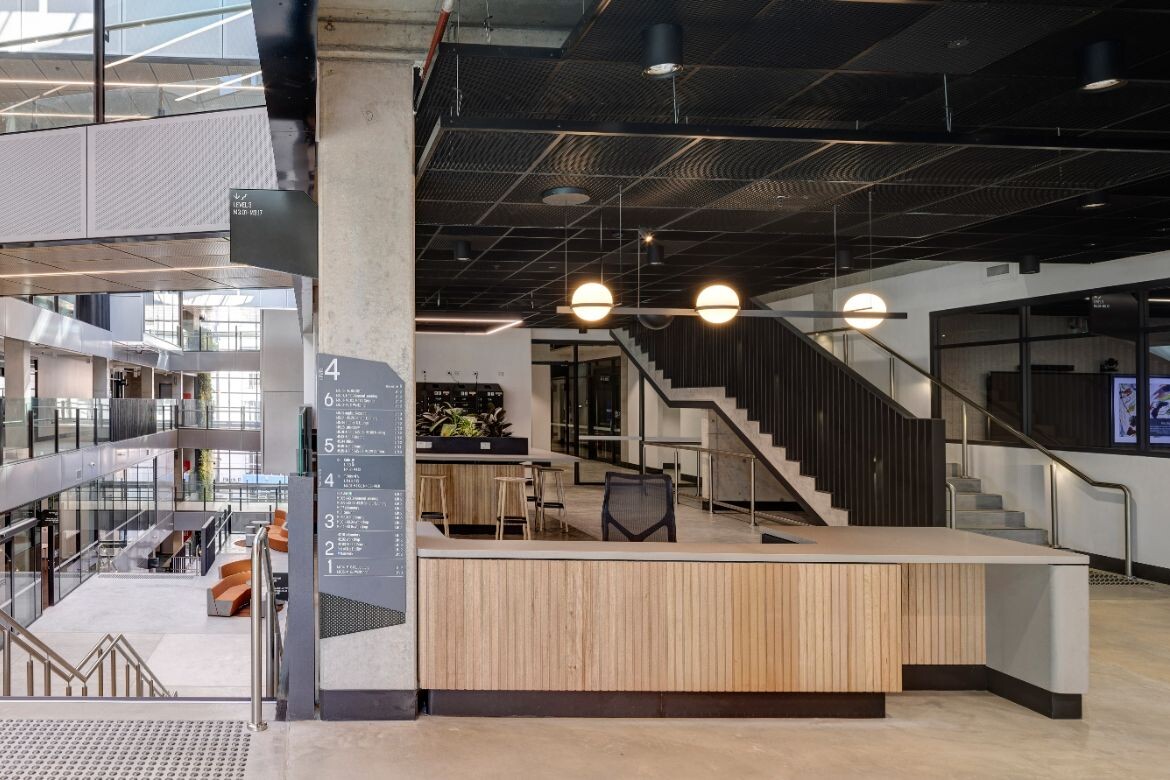 We think you might also like this story on Gray Puksand's masterful plan for Greater Shepparton Secondary College.