When coming up with a concept for the new Living Bakkali restaurant in Valencia, Spain, Masquespacio – a local design studio known for its colourful fit-outs – turned to the menu for inspiration.
One of the restaurant's partners is a renowned shisha chef from Morocco, and the menu has a focus on Arabic delights with an Iberian twist.
So, the design team created an ode to the adobe-style architecture that is found across the Arabic region.
"The idea behind the design was to recreate undiscovered architecture from Arabic countries, especially from the Middle East," explains Christophe Penasse, co-founder and marketing director of Masquespacio.
"This part of the world still has much to be discovered by the West."
In keeping with the menu – which includes a signature "Living Salad" of chargrilled eggplant salad with sobrasada (a Balearic-style sausage), honey and arugula – the Living Bakkali has been conceived to recreate the experience of walking through an Arabic town.
The brass-clad exterior has a bold street presence, with geometric patterns decorating the facade and a large circular window partially obscured by an abstract dune form that offers a glimpse inside.
Masquespacio has become known for its award-winning, brightly colour-blocked interiors – which include bright all-blue and all-green fit-outs for Italian burger chain Bun Burgers. 
But Living Bakkali restaurant is a softer, more toned back vision.
Guests are welcomed through a large arched entrance that opens to an alcove furnished with benches, which set the scene for what's to come by alluding to the public seating often found in courtyards.
From here, a simple line of rounded ceiling lamps intuitively encourages guests to move inside the space.
The interior walls reflect the organic style of the exterior. Instead of being clad in brass, however, they are rendered in micro-cement in a palette of earthy tones, which recalls the colours of the desert and highlights the beauty of the material's imperfections.
These walls are elegantly punctuated with organically shaped windows and arches that graphically evoke traditional Arabic architecture.
"One of the main challenges was the large dark space we were confronted with," reveals Penasse. "We created some fake windows that make you feel like there is a courtyard in the middle."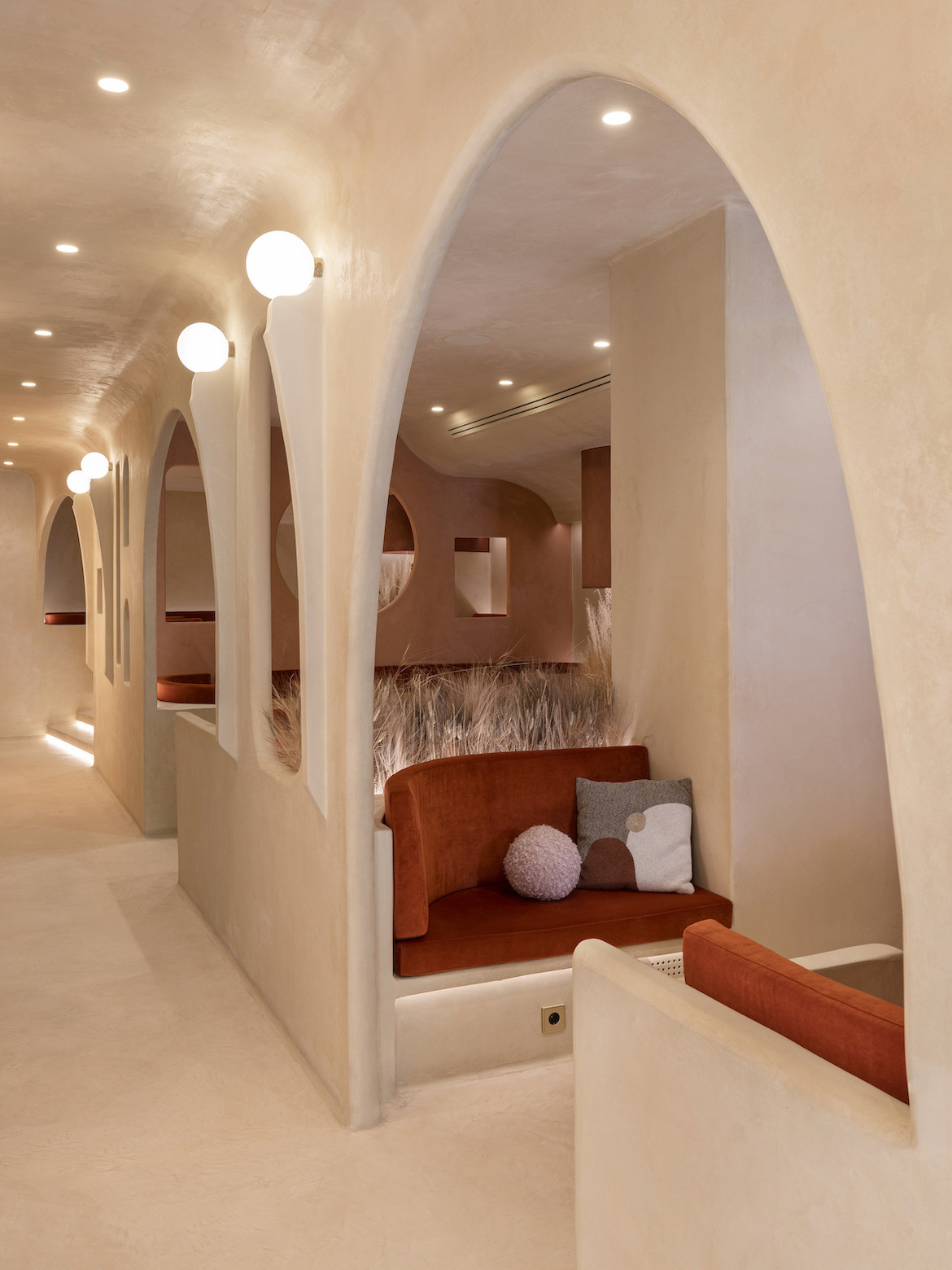 Rather than one single dining area, Living Bakkali has been divided into a series of spaces of varying privacy and intimacy.
A sense of community – like that found in tight-knit villages – is created by way of a long bench in the main dining area that connects diners and casual lounge seating that gives the sense of hanging out in a shisha bar.
Further inside the space is a larger dining room that is split into two open spaces, and another dining space set on a higher level that overlooks the lower dining room through windows.
Another, more concealed, corridor houses the bathrooms and leads to the kitchen and a private dining room.
The effect of these multiple spaces, partially obscured by arched openings and linen curtains, is to create the sense of walking through a souk or bazaar.
"Everybody can see each other and connect, even when they don't know each other," explains Penasse.
"We wanted the restaurant to be a space where you can discover a new corner every time you visit and, at the same time, encourage easy connection with new people."
Masquespacio
masquespacio.com
Photography
Courtesy of Masquespacio
We think you might like this article about Masquespacio's other designs.