Tasked by the Winning family of Winnings Appliances, to create a Japanese restaurant experience that wasn't like anything else, Kelly Ross has delved into Japanese folklore as a way of responding to the incredible cuisine of hatted chef Nobuyuki Ura.
Arguably the oldest time travel story in the world, the fisherman, Urashima Taro, descends below the sea to the Dragon Palace, where he meets Princess Otohime and is given a magical box to protect. After what seems like only several days he returns to his home village where he discovers one hundred years have passed. Everything is different.
Exploring the concept of ocean and time travel needed nuance rather than cliché, it also needed to stay within the Japanese design aesthetic. "Urashima Taro, offered an insight into the very duality we were attempting to capture. A sense of both Japans tradition and craftsmanship meeting with culture, music, and a contemporary take on many ancient practises leading us to a future we cannot yet grasp," says Ross, founder of Kelly Ross Design.
As such there are no overt nautical rope and oar detailing. Rather, given an exceedingly large and empty space, Ross has created worlds within worlds, that time travel through traditional eating houses, to Tokyo pop culture of the eighties and the here and now.
"Being an industrial space, the scale of this project was a dream come true. The obvious challenge was to create intimate spaces within this huge volume and various dining experiences within," says Ross.
More William Gibson than City Pop, the themes are cooly post-contemporary with an arch beaded curtain by artist Rochelle Hailey, defining spaces.
"The curtain represents a veil or portal between two realities or timelines. One being the past and one, the future. It is an ephemeral device to speak to the dual nature of Japan defined by both ancient history and a portal to future we do not recognise," says Ross.
Using oceanic colours and references to emphasise the seafood at heart of the menu, Ross's theatricality is allowed full reign with the inclusion of a mural (by Painted Image) painted to give the impression of a roiling wave spilling seafoam into the space.
"The mural is a means of creating a sensorial experience within the Omakasi and overall dining space. It's a way of capturing and communicating the power and magnitude of the ocean in a theatrical way," says Ross.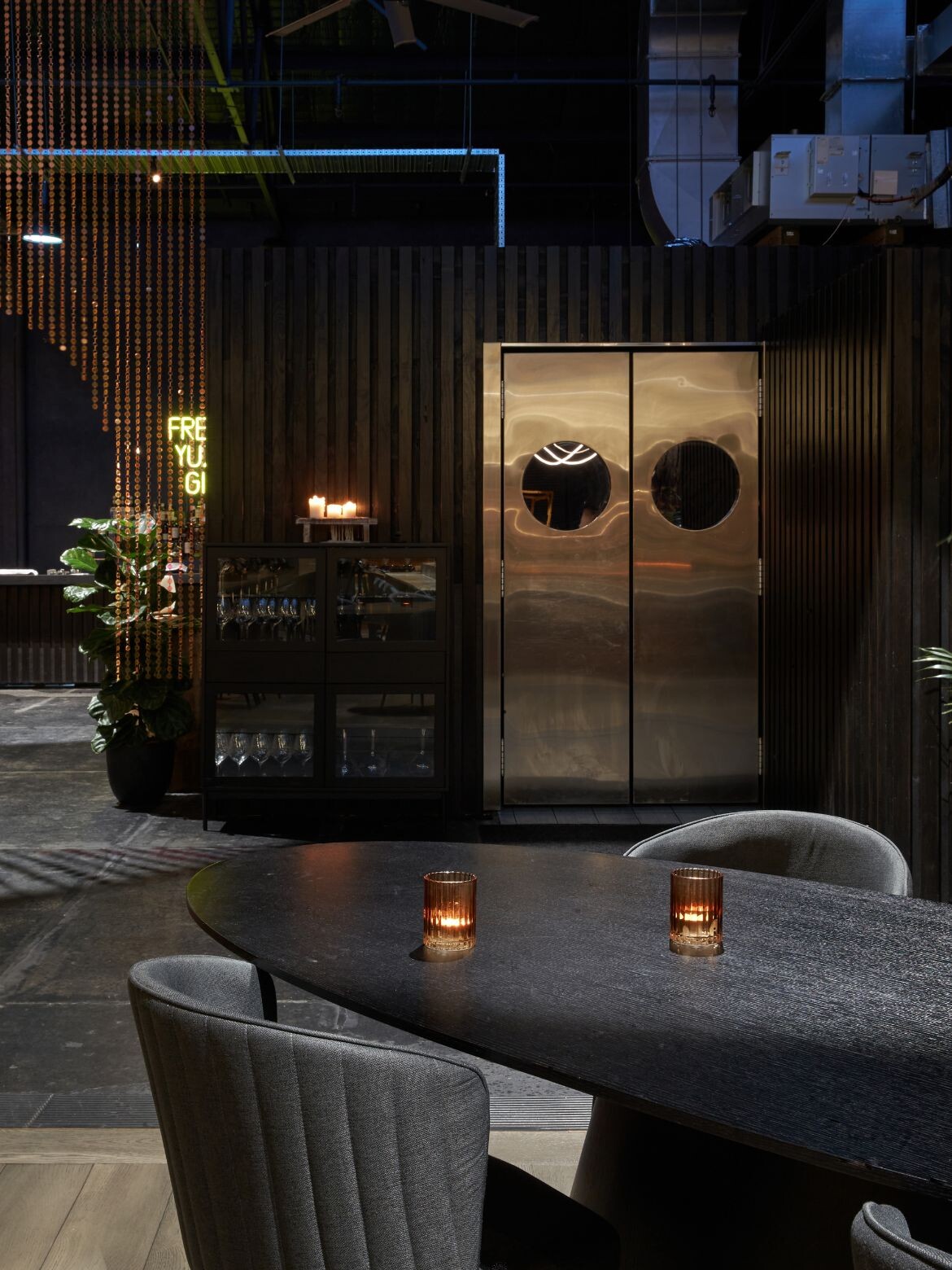 Finishing the existing industrial concrete floors with a black oxide sealant sets the stage for colour and form. The large golden lounges designed by Kelly Ross and produced by Steel and Stitch with fabric by Zepel, are magnificent, comfortable and of a scale suited to the space.
Paired with round marble tables with fine brass legs and woven cane lamps, there is a nice play between the soft velvet gold of the lounge, bling of the brass and glow of the lamp. Also designed by Kelly Ross (Steel and Stitch, Zepel), the banquette of long rounded sections of deep velvet in gold, green and blue is totally fabulous. As it should be. This is a lounge bar where lounging is celebrated in style. Arranged as booths with tables by Life Interiors and Globe and blue velvet chairs by Vorsen, the lounge stretches the full length of the bar.
Lighting is similarly exceptional with a custom Steel O light by Dion Horstmans on the exterior. Horstmans was also responsible for the bar's steel shelving. For the bar itself, lighting that references kimono design has been created by Alexis Walhoff, while the large Aura lights are by Halo Light.
The exceedingly elegant rope light installation (Anomolous) above the 12-person Omakasi heralds a bespoke fine dining experience where the patron basically says, 'I'll leave it to you'. What follows is a dining experience where a private chef prepares what is fresh and seasonal of the day.
And, if you think for a second this is sounding like something you know, think again as the cocktail bar, Club SO She Me (playful Sashimi reference) lets loose with its live DJs each weekend.
Kelly Ross Design, now based in Bundeena, is highly regarded for its diverse and varied projects including boutique hotels, foyers, restaurants, bars, clubs, pubs, retail concept stores, product launches, immersive event installation, residential homes, home-warehouses and mud brick cottages.
Kelly Ross Design
kellyross.com.au
Photography
Sue Stubbs
We think you might like this article about Woods Bagot and the heritage pub of Bassendean.