When Anton Obrezov and Alexander Gusev, chef and co-owner of Commons Restaurant first set the brief for Yuloo Studio, it was to create a space that embodied their love for good wine and fresh farm produce through the use of colour and texture. And in response, Yunna Lukinskikh, creative director and founder of Yuloo Studio, has done just that.
From the outset, Yunna and her clients were on the same page, working in collaborative harmony toward their shared goal; to create an atmosphere that warmly welcomes guests to sit and enjoy an evening of good food and great wine. "The clients felt calm because after presenting my sketches they realised that I understood the idea completely," reflects Yunna, "we became friends – every day we discussed everything from floor colour to door handle shape."
With an area measuring just 62 square-metres Commons Restaurant, Moscow, is not a particularly large space to host dinner for 40. Let alone to comfortably house a restaurant kitchen, sommelier counter, extensive wine collection, a bathroom and a wardrobe around seated guests. Mitigating the constraints of such a modest floor area while striving to achieve a balance of privacy, comfort and intimacy, Yunna used light and scale to her advantage.
"I decided to use big objects and volumes to confuse the eye somehow," says Yunna. "That is why the kitchen cube appeared – it looks like a separate room inside a room." An oval lamp measuring eight metres in length is suspended above a row of tables, running parallel to the wall, making the room seem longer than it is. Spot lamps and lighting strips set to a warm temperature help to create an ambience of intimacy.
In their brief, Anton and Alexander expressed their desire to keep decorative elements to a minimum, and Yunna was very happy to oblige. Instead colour and texture became focal points of the interior design. The bold use of wine-red on the floor was inspired by a desire inject vibrancy and colour into the space while keeping the walls and ceiling neutral. "It was hard to find the right shade for the floor and to convince everyone that it should be as bold and coloured as it is now," recalls Yunna.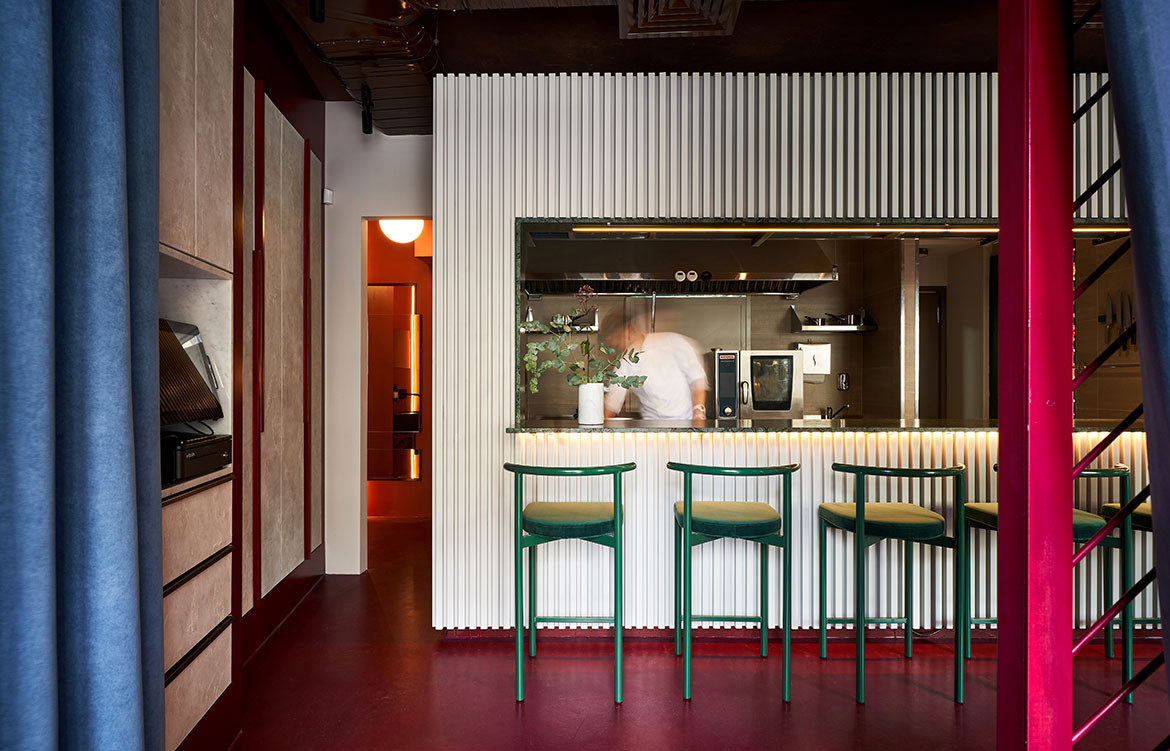 Once everyone was on board with it, the rich crimson became pivotal to the palette. Speaking of the moment she first laid eyes upon the bright-red finished Thonet dining chairs, Yunna says, "I immediately knew that this chair was created for Commons Restaurant… there was no colour sample available in Russia to see, but I had no doubt that it would fit perfectly." Countertop finishes, soft furnishings and bathroom walls provide complementary accents of emerald green and royal blue to complete the luscious colour scheme.
The existing dilapidated brick wall created problems during the refurbishment, proving near impossible to fix anything to. Embracing the inherent tactility of the space, Yunna plastered the walls where necessary and left areas of well-worn brick exposed where appropriate. Marble, travertine and wood materials were brought in as complementary textures. "I hope that guests will love that all they are going to touch here will be natural," says Yunna. The finishing touch – and Yunna's favourite design element – of the cosy Commons Restaurant is a monolithic marble slab leaning against the brick wall, lit up by a neon sign, reading 'Farm to Table', Anton and Alexander's motto.
Photography by Sergey Melnikov.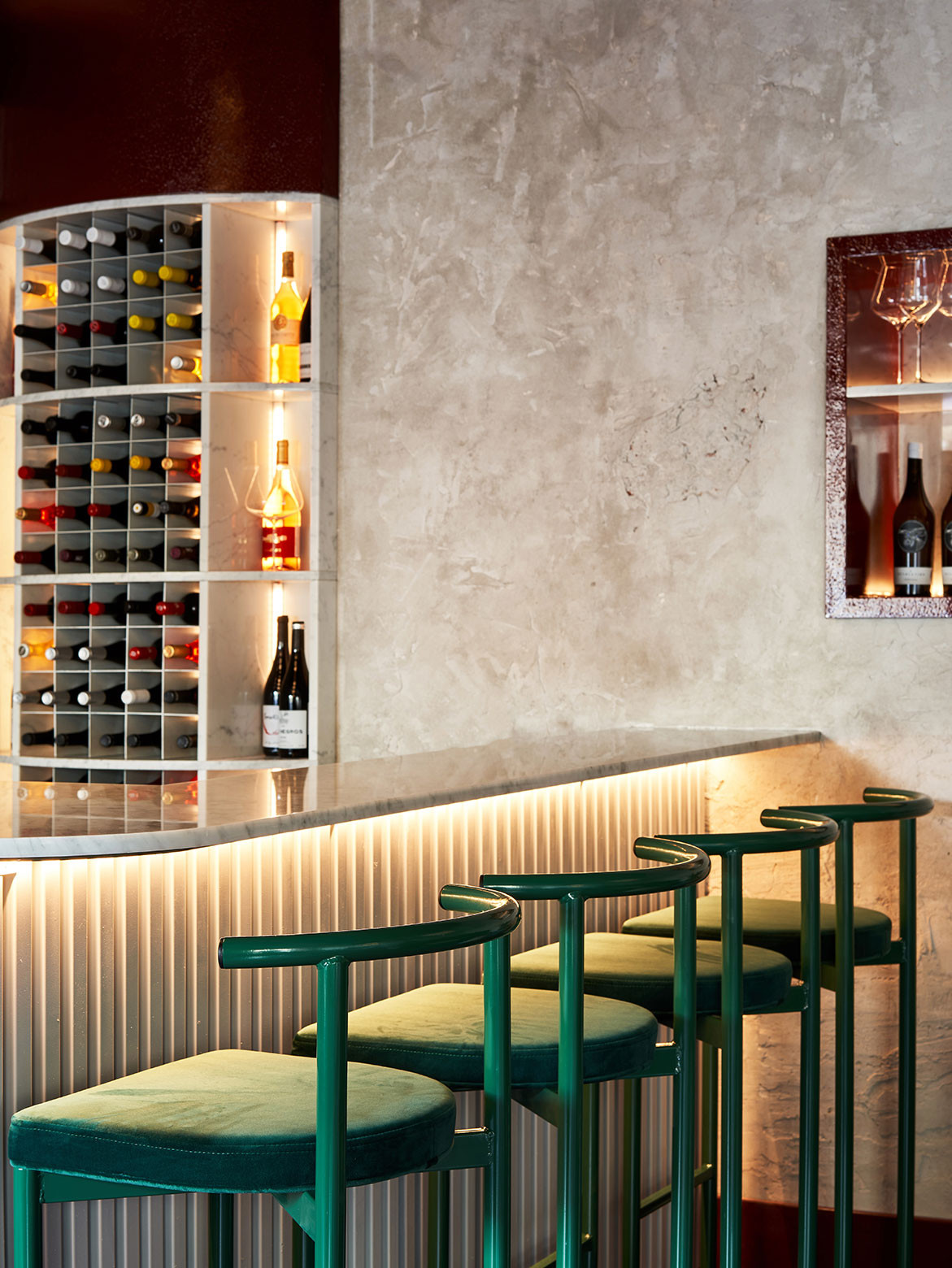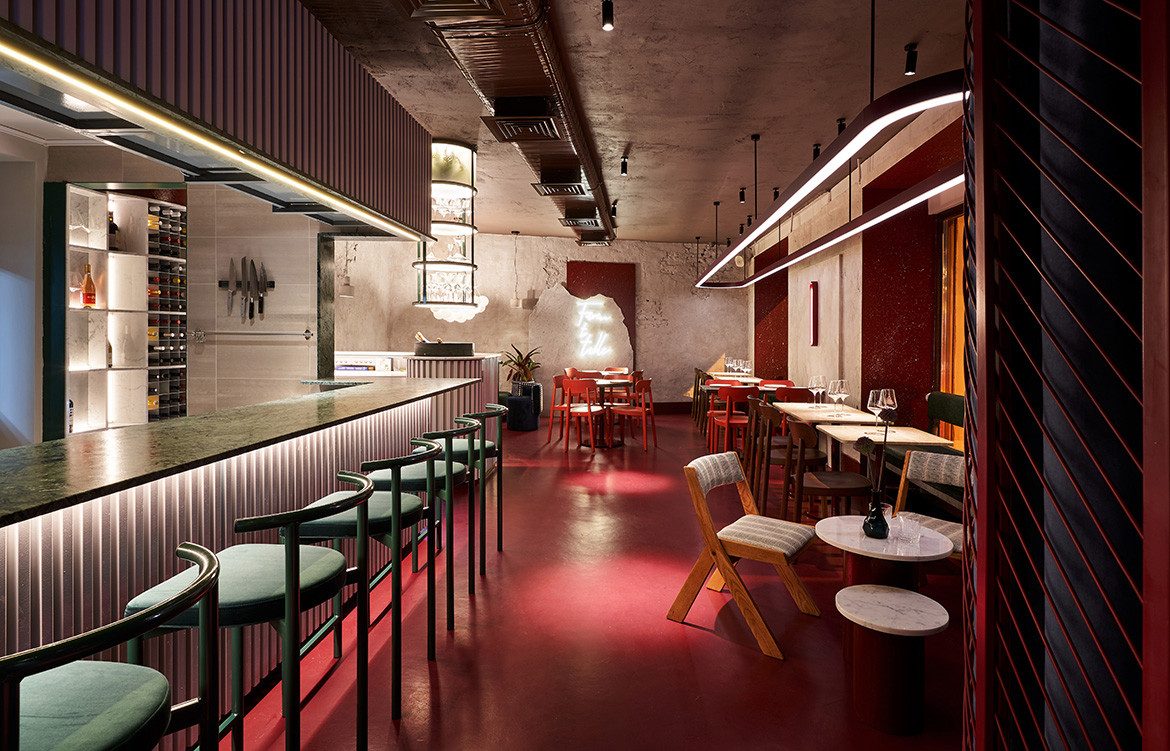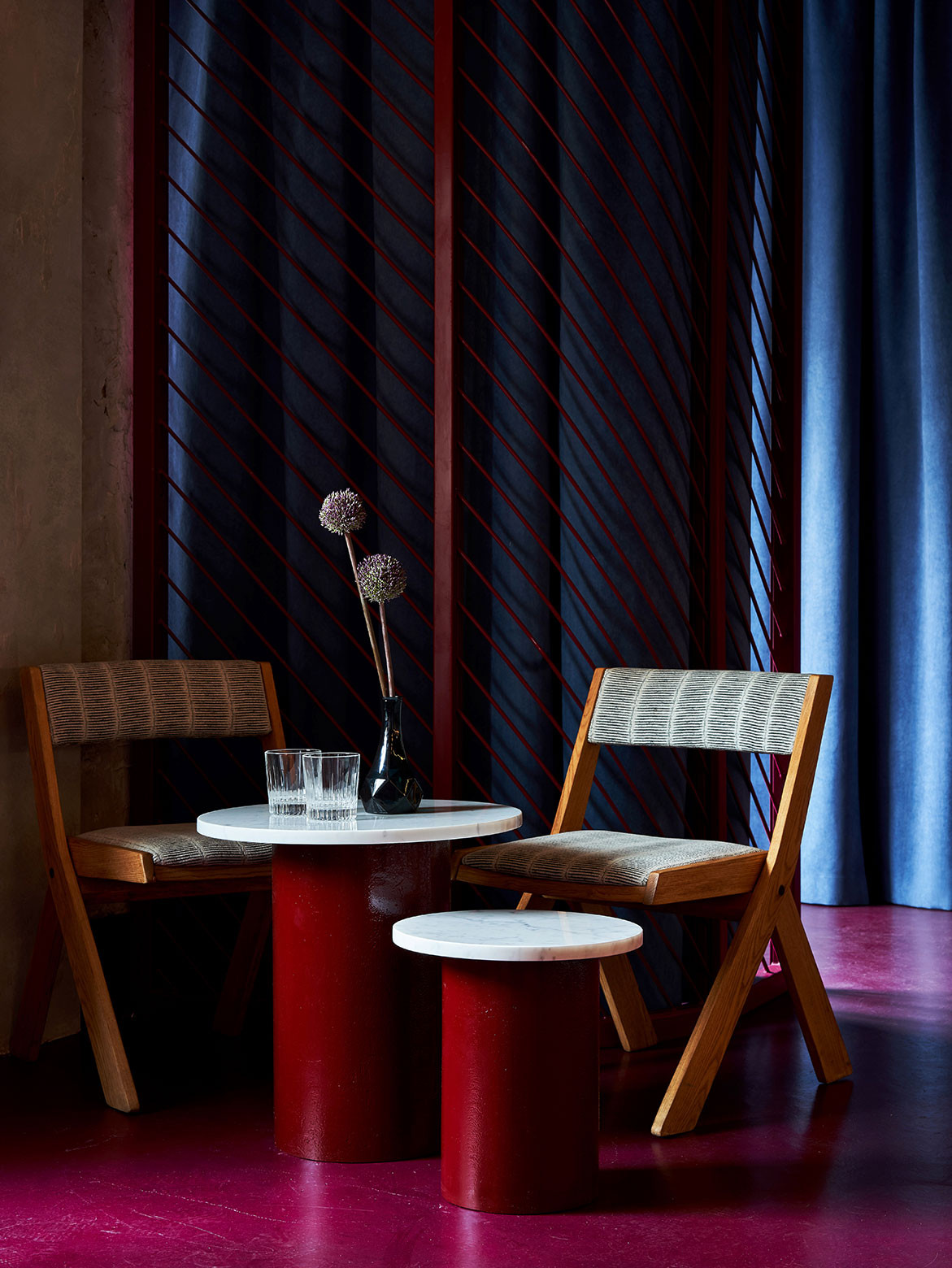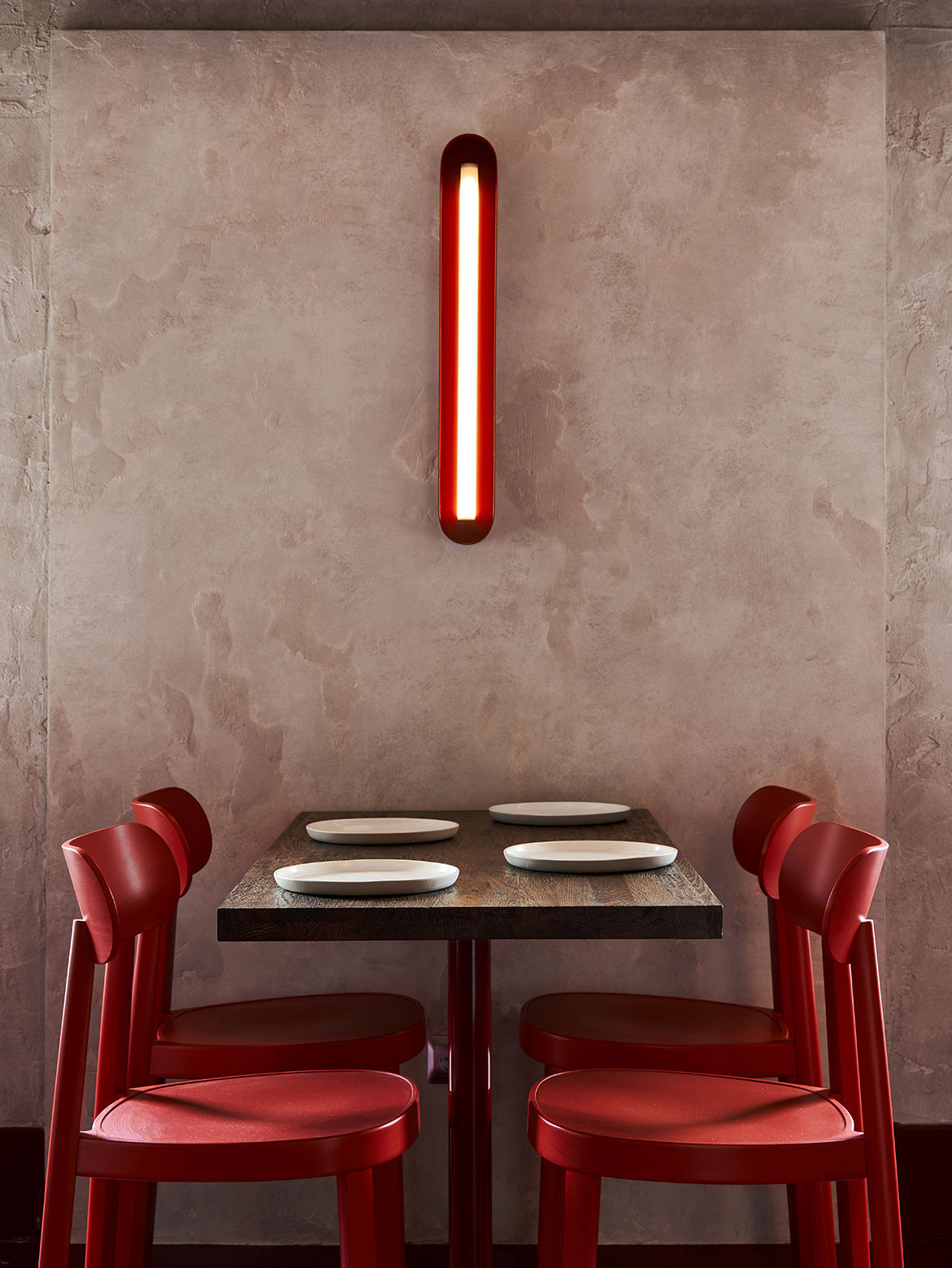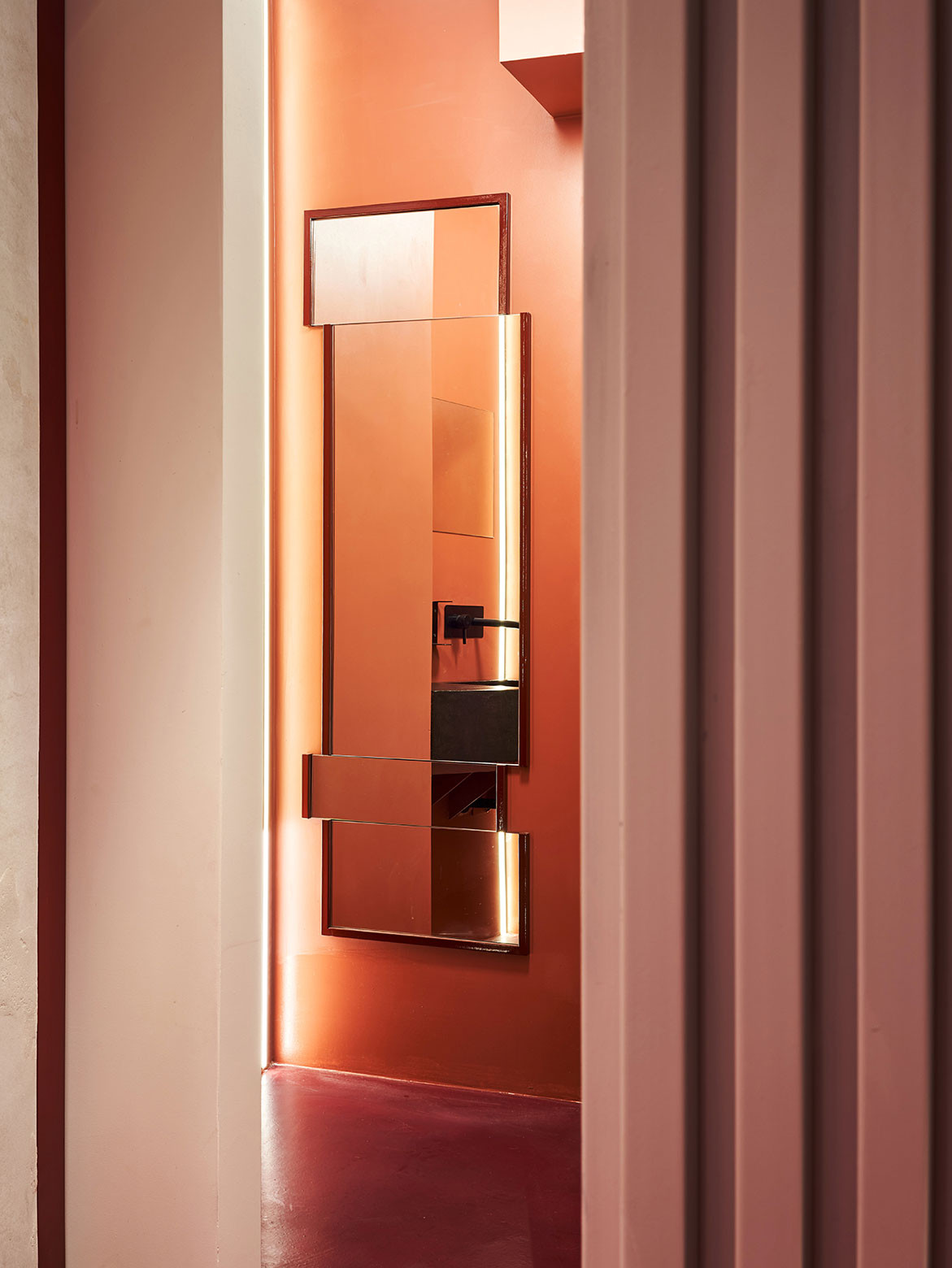 We think you would like Ovolo Brisbane by Woods Bagot. Get inspired regularly, sign up for our newsletter.