The Melbourne institution of Di Stasio has officially expanded into Melbourne's CBD with a new dining experience, designed in partnership with HASSELL. The new venue brings together the passions of Di Stasio's renowned owner and arts/architecture patron Rinaldo Di Stasio.
Wanting to create an immersive dining experience that Di Stasio is known for, Di Stasio Città incorporates several works by seminal Australian artists projected on the walls, including Shaun Gladwell's The Lacrima Chair and Reko Rennie's OA_RR. The artworks play out on hand-plastered stucco walls, while extra drama is added through a billboard-sized public piece also by Rennie – Visible Invisible – displayed on the sidewalk.
Bringing mystery and allure, Di Stasio Città has no visible signage or building number. Guests, instead, are drawn into the space by two narrow three-metre high tinted glass doors – the effect is an ambient red glow, which floods the entry. Wanting to add even more drama, the vestibule narrows, with the six-metre-high ceilings dropping down to a raked ceiling (remnants of a car park ramp) over the bar.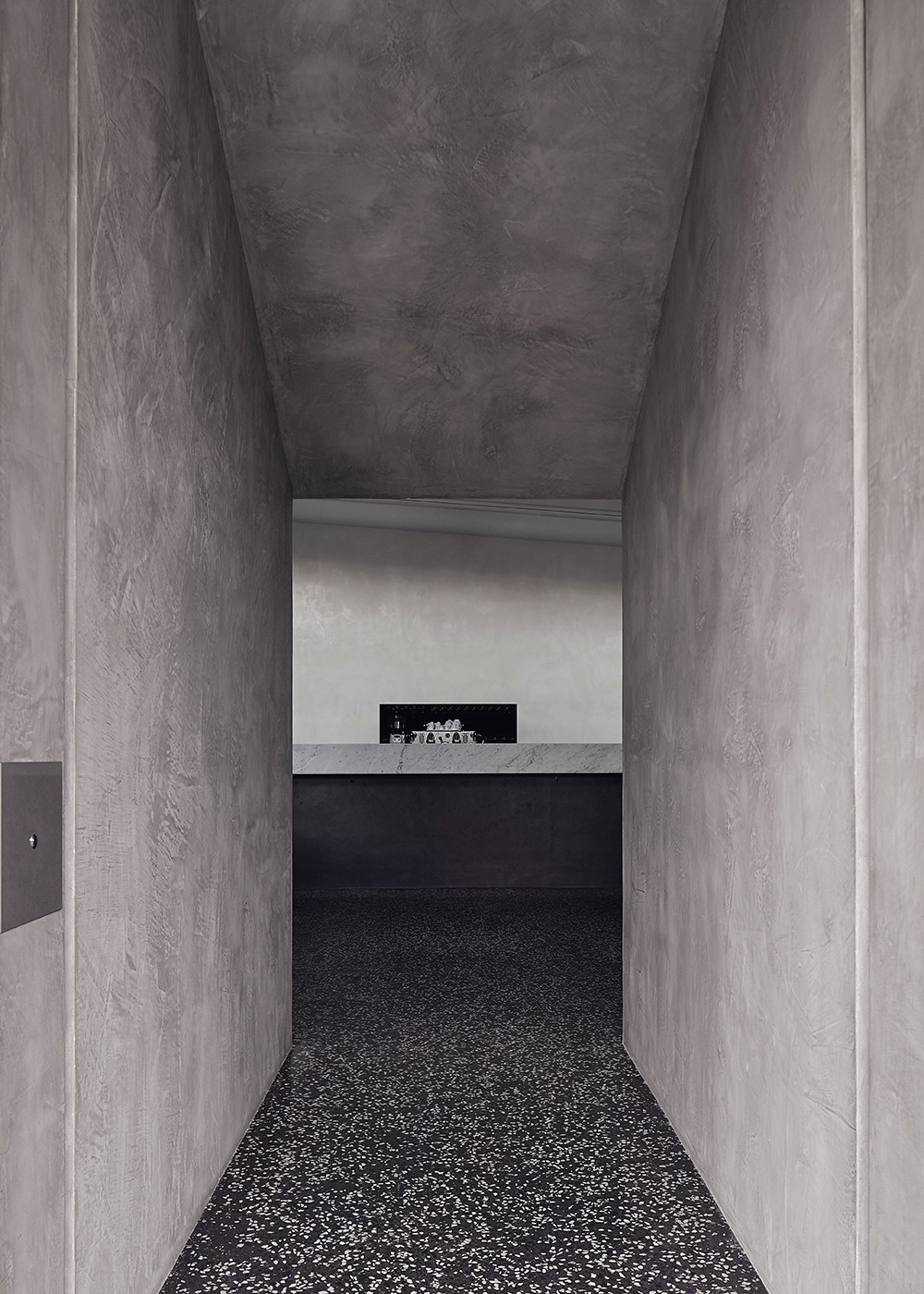 "Rinaldo has an unbelievable eye for detail and wants to ensure the everything he does within his venues have a purpose and is an experience. He wants you to know where he is coming from," shares HASSELL Associate Di Ritter.
All the design elements in the space come together to create a unique tactility. The softly hewn, exposed concrete walls and columns were developed through of process of reduction and subtle addition. "We stripped everything back to the bare bones and then gently polished them until they were smooth – but not perfect. Along with the hand-plastered stucco, this gives the space a textured, tactile feel," says Ritter.
Other features speak to a handmade and bespoke nature. The black and white terrazzo floor throughout the dining room took two tradespeople seven weeks to hand-pour. "All furniture and finishes were locally sourced – but the kitchen equipment came from four different continents and the Murano Glass chandeliers were sourced from a palazzo in Venice," Ritter adds.
Ritter confirms the design approach: "Nothing is an accident at Di Stasio Città. Everything has its place, even if you don't know or don't pick up on it. That's what makes the space so interesting and what made the entire design process so enjoyable."
Photography by Peter Bennetts.
Get more design inspiration. Join our mailing list to get the latest projects straight to your inbox.