Within the walls of a historic Perth post office, the Bodyscape Yoga Studio delivers a little slice of relaxation heaven and serenity to its clientele. Bodyscape Yoga has long been a vital part of the Perth yoga community and with these new premises there is now a space that is designed to enhance the learning and practice of yoga and also promote wellbeing.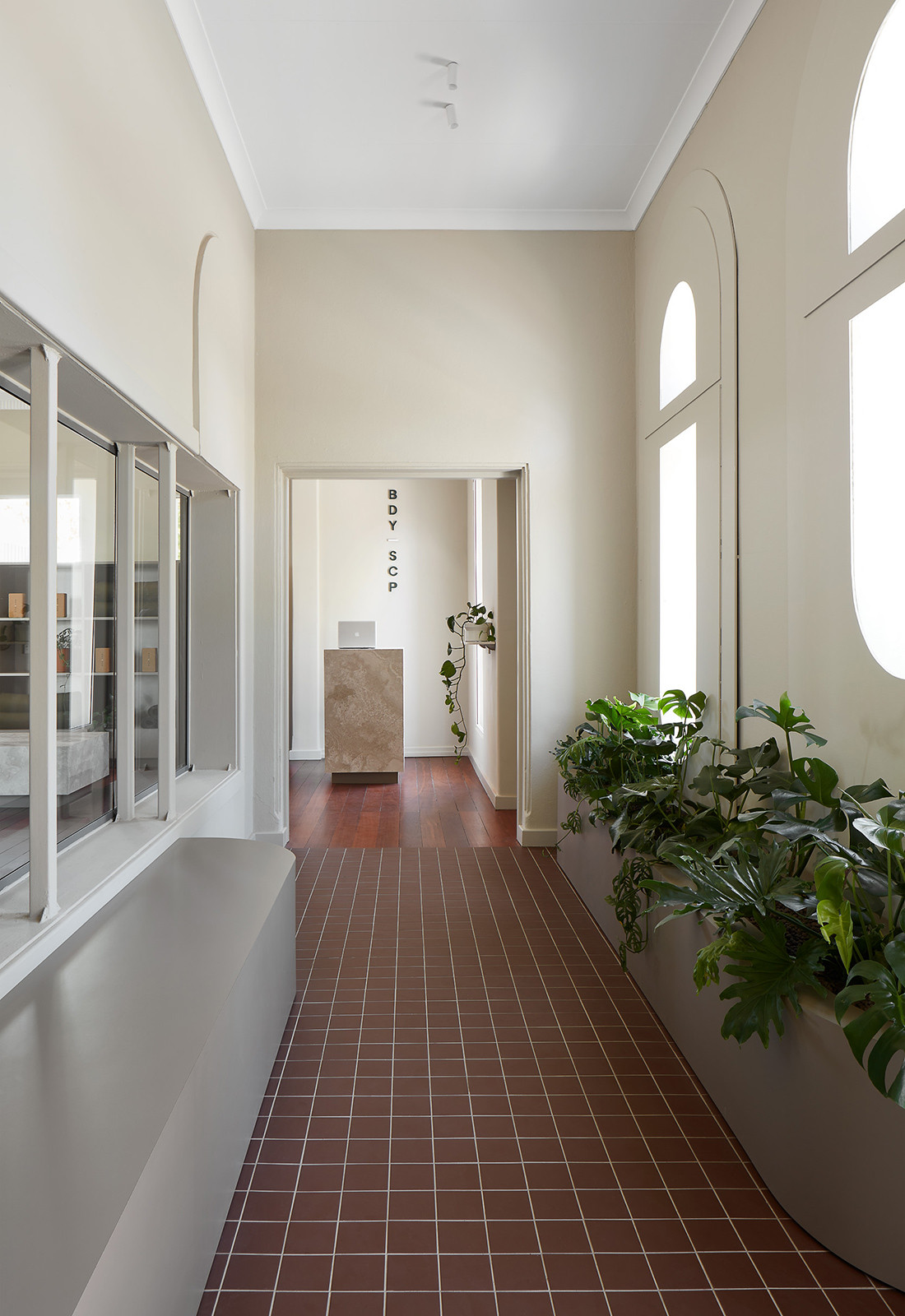 Combining the traditional with the contemporary, the team at State Of Kin has created an interior that is both simple and serene. The fit out commenced with transforming an aged office space into a sparkling new interior. The architectural bones of the one hundred year old building were laid bare as layers of aged material were peeled back to reveal the hidden architectural detail. The original high ceilings and decorative architraves, cornices and detailing were restored and now add character to embellish the new design.
Ara Salomone, Co Director (Architecture) of State Of Kin explained, "The heritage building provided a fantastic foundation for us with stunning timber floors, lots of natural light and generous ceilings. We wanted to make the spaces feel comfortable, welcoming and calm – to imbue the building with a sense of tranquility and peace – not only in the practice spaces and treatment rooms, but in waiting spaces, corridors and amenities".
There is an abundance of natural light and, together with contemporary textures and modern facilities, the studio fuses old with new to present a place of peace and relaxation. The atonal colour palette of neutrals complements the soft, organic elements such as plantings, rugs, floor cushions, a hammock and draped textiles throughout. These in turn enhance and reflect the strength and softness, the movement and stillness that embody the practice of yoga. Natural textures predominate and limestone, timber and linen are juxtaposed with reflective elements, smooth lines and clean surfaces.
Alessandra French Co Director (Interior) of State Of Kin elaborated, "All surfaces are appealing in a tactile sense, very touchable and engaging; clean lines are softened with curved edges; light and shadow dance fluidly through rooms and play off reflective mirrors to emphasise movement and flow".
The studio is a modern environment but not cold. The interior is warm and inviting and ensures patrons are comfortable whether arriving, leaving or meeting for class. The high ceilings create a generosity of space where there is freedom to move as a well distanced group and the amenities are state-of-the-art in line with the new contemporary design.
This is a place to chill out and relax and the re-imagined Bodyscape Yoga Studio by the State Of Kin team provides the perfect setting. It's always heartening to see old made new again especially when the result is such fine design.
Photography by Jack Lovel
---
You might also like…