Extrapolating the design vernacular 3 Deep developed for the Brisbane iteration, Hardy Brothers Sydney Flagship store amplifies these qualities to truly explore a unique experience.
The Melbourne store, due to complete by Q2 2023, will develop these ideas ever further: "It's an evolution in the way each store remains quite sovereign, and has its own set of contained ideas. But each footprint is a continuation, building upon layers," says Brett Phillips, 3 Deep CEO and owner.
Over the best part of nine months 3 Deep worked with the business owners to chart a new course for the business: "We defined everything from the brand's experience dimensions and how these related to target customers, through to brand vision and all of those things that you would expect a business of that calibre," says Phillips.
This, in turn, informed the theatre of experience and an understanding of how to translate brand signatures into a unique customer experience.
"Our response is really self-directed, in that, in order to bring to life the strategy, and orientate the brand in such a way for the next five years, we ask, what design cues, gestures, signs and symbols do we need to project and embody in these stores, in order to connect with the next generation of customers while repositioning the brand," says Phillips.
Effectively it is a strategy led approach where 3 Deep are not only the custodians of the strategic and creative direction of the brand, but how that vision is diffused throughout the store experience.
As the oldest, continually operated fine jeweller in Australia, it was important to maintain the apex position of the brand within the luxury space, while appealing to a younger clientele already familiar with elevated retail experiences.
To this end, 3 Deep worked within a frame of six dimensions: artisanship; authenticity; time; individualism; creativity; and the extraordinary – which is about suspending the everyday in order to really immerse people in a particular world and deliver them something that's memorable in terms of sensory engagement, says Phillips.
Embodying these virtues is a stage like setting of white on white punctuated by strong sculptural elements and moments of theatricality. A curved wall of vertical panels of bronze mirrored glass for example, encloses an inner sanctum.
"When we first came on board, the theatre of experience for customers was quite homogenous," says Phillips, whose team have countered this with an engaged and curated experience.
The inner room, jewel-like and softly glowing with reflected light, acts as a place of privilege where the theatricality of being inside the room, endorses the status of the client. That said, the whole store experience is opulent and luxuriously theatrical.
3 Deep Design
3deep.com.au
Photography
Earl Carter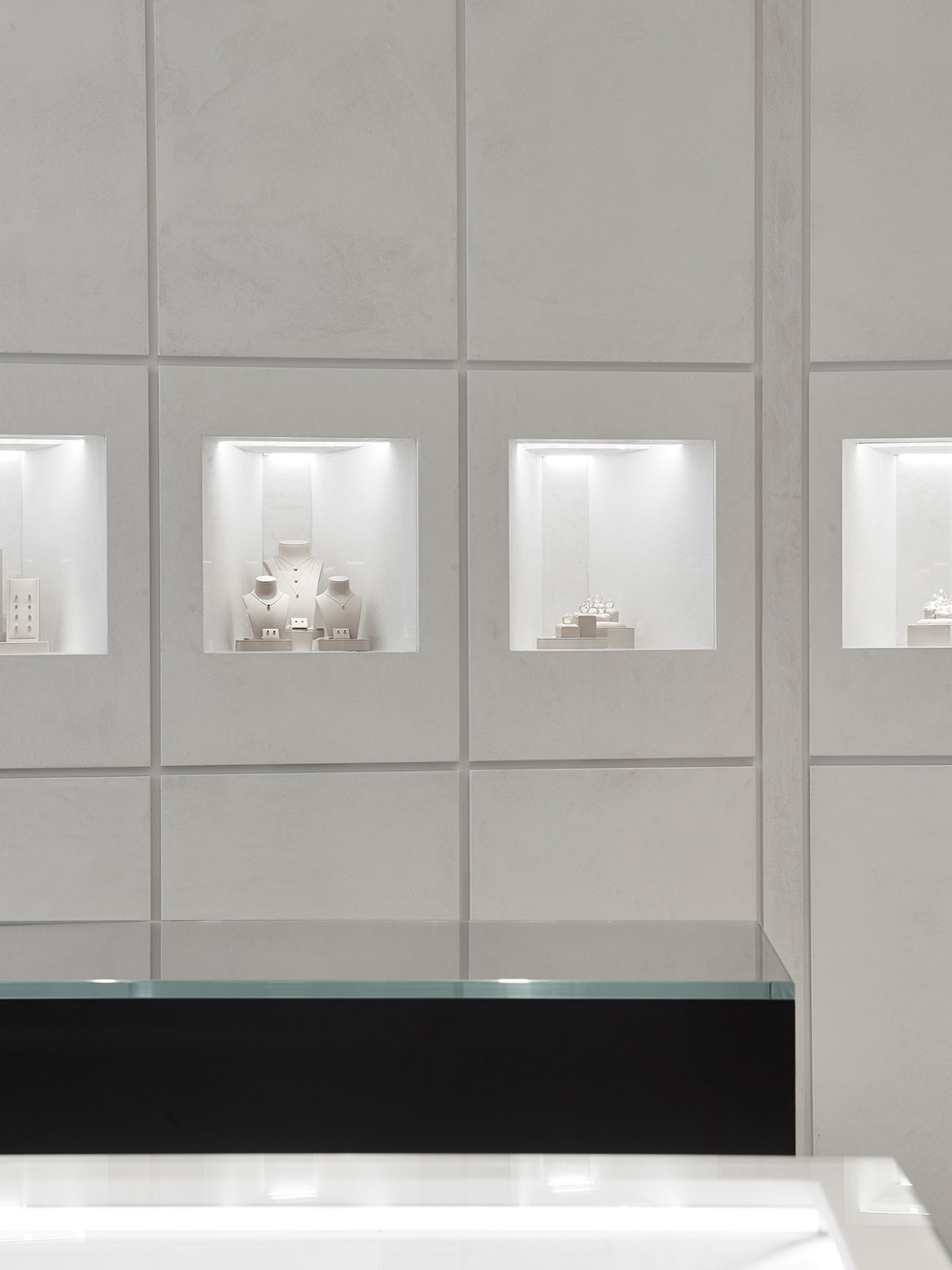 We think you might like this article about the JMGO flagship store by AIM Architecture.