The 2022 workplace was all about feeling good at work. Spurred on by COVID lockdowns and work-from-home mandates, employers had to make sure the office was an inviting place to return once restrictions were lifted. Although many businesses adapted a hybrid model, the workplace itself had to work harder than ever in order to make employees want to return. As a result, new office designs echo home, target employees wellbeing and appeal to a relaxed holiday frame of mind.
So we give you Indesign's 10 best workplaces of 2022 – in no particular order, but guaranteed to make you want to work there.
Today's fun workplace is understated in its playfulness and has a sense of sophisticated inclusivity that makes everyone feel welcome. Case in point – Bean Buro's design for Japanese brand Unicorn Stores' Hong Kong headquarters. There's nothing alienating about this interior, which teams pastel colours with blonde timber to create a serene effect that is contemporary, warm and friendly.
Warren and Mahoney's bold, confident design is enough to make anyone who works at Dexus Place feel empowered. The themes that underscore the concept are hospitability, flexibility and intuition and all three are evident in the outcome, which also has just the right amount of flair and dynamism to make it stand out from the crowd.
Related: Here are 5 destinations where people just happen to work
An ambitious project that transforms two adjacent historical buildings in the heart of Sydney's CBD, Sub Station No. 164 has all the appeal of a wonderfully gritty, popular laneway café. There's texture and visual intrigue at every turn and chances are the oh-so-cool interior makes everyone feel like work is anything but a chore.
This office in India is situated on a small 140-square-metre site, but step inside and it feels like you have all the space in the world. Charged Voids has created a seemingly life-size sculpture that features plenty of natural light and ventilation via a series of generously sized windows, skylights and courtyards. A floating metal staircase adds to the lightness, which is offset by white marble and Sivakasi gold granite. 
Is this LA's newest organic vegan restaurant? No, it's a workplace and a damn good looking one at that. Evoking all the feel-good vibes of the City of Angels' newest health-focused eateries, Afterpay's Melbourne office is crisp, cool and thoroughly inviting. It even has a yoga room and parents' room, which along with the generously configured layout and abundant potted plantings support the company's focus on wellbeing.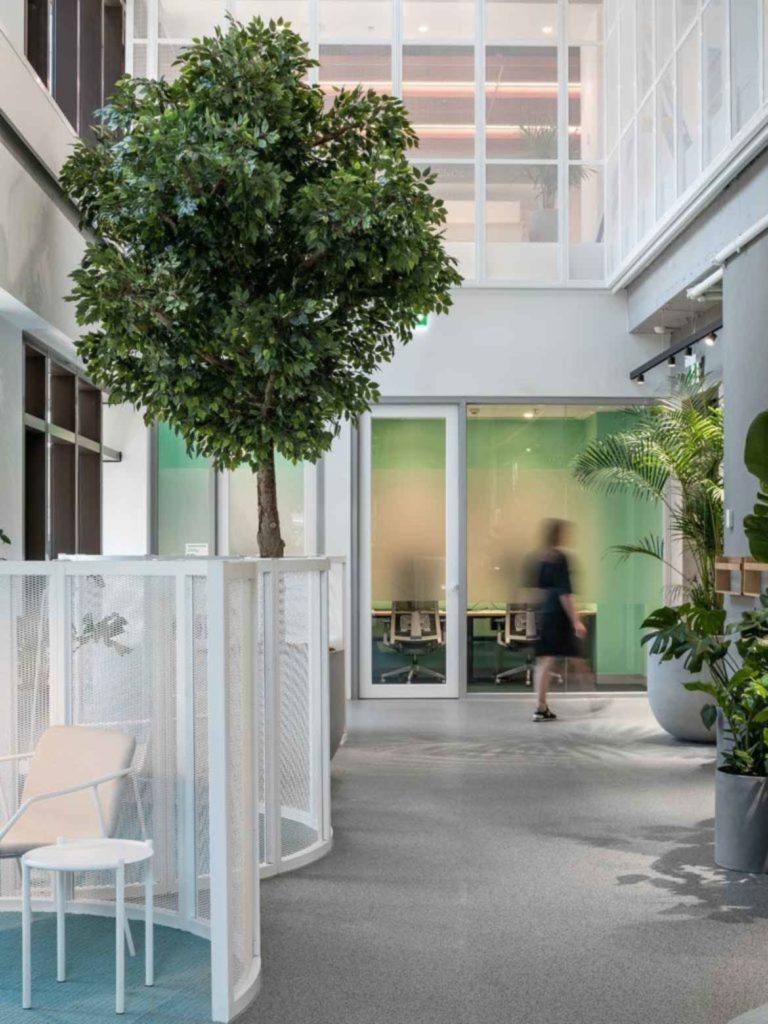 With its palette of tactile materials, muted colours and plenty of lush greenery, you'd be forgiven for mistaking Wyer & Co's new workplace for a holiday retreat. It's exactly this vibe that must make the landscape design practice's employees feel like they've been transported elsewhere, as well as keep them smiling five days a week.
This beauty could very well be mistaken for a wellness centre or spa. Arent & Pyke's poetic curation is well and truly on show, from their stunning selection of furniture to the ease with which each element sits within the overall scheme. It's evocative interior design that immediately soothes (and entices), and if you worked here and didn't ever want to leave, we would not blame you at all.
So much about ABN Group's new Perth headquarters and showroom feels like home. Not surprisingly, Woods Bagot's brief was to create an interior that was welcoming rather than corporate and they delivered just that. And like any comfy home, there are plenty of spaces to sit quietly, including a café and a sunken lounge, in a wonderfully playful nod to the grooviest of suburban 1970s abodes.
Templewell design studio's fit-out for Expedia Media Group is another exquisite example of the current trend for workplaces that look like home. This one has a distinct coastal vibe and takes its aesthetic cue from Sydney's tranquil beaches. The muted colour palette, rich materiality and breathtakingly beautiful furnishings mean that returning to this office will never be a chore. 
RMIT's administrative offices are the spatial equivalent of a pure rush of adrenaline. Peppered by objects, sculptures and paintings from the RMIT Gallery Collection, this hub of eight different business departments re-energises all who enter. It doesn't feel like an office space and while it has a sense of fun about it, there's also sophistication, delivered via a scheme that masterfully combines colour, form and materiality.
Love all these workplace projects? Continue exploring the best of workplace in 2022 here.