The ingestible beauty brand Vida Glow – known for its range of natural marine collagen powders – gets a lot of mileage out of its social media presence. It was built from the ground up by Anna Lahey, who started wholesaling the product to health food stores in 2014. Since then the company has grown a massive following – not just because of its results, but also because of its sophisticated and colourful packaging. It makes taking your supplements feel like an indulgence.
Since the end of 2021, the setting of much of the brand's social media content has subtly but certainly taken a step up. A new headquarters in North Sydney, designed by Arent&Pyke, has formed an elegant backdrop that captures the brand's ethos and vision, while becoming the perfect location from which to broadcast to its followers. "A big part of the brief was that Vida Glow has this strong social media presence, so there's a lot of camera time that they're producing," says Arent&Pyke co-founder, Sarah-Jane Pyke, of the new office design.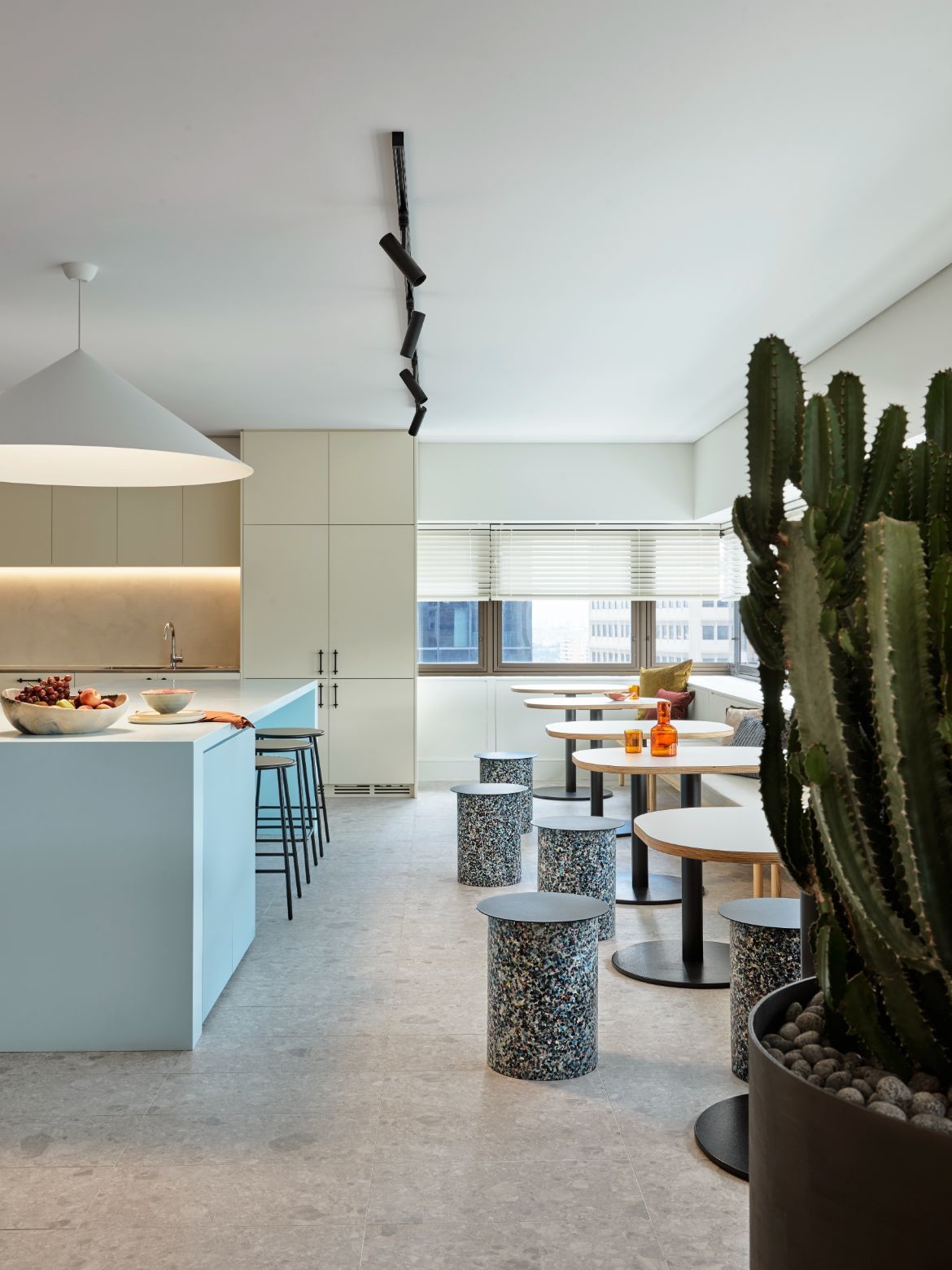 A studio for shooting its iconic content was a must. And the whole space had to work as an unobtrusive yet complementary backdrop for public posts. "The kitchen, the collagen bar, the meeting space, the wellness room, the lobby – they had to be able to create content throughout – and then having the studio itself was a key component of the design," says Pyke.
At 1000 square metres, the site was built to accommodate a rapidly growing staff base. "When we met them, they had 25 employees. By the time they moved in, it was about 50, and we designed the space for up to 100," says Pyke.
Related: This article first appeared in Indesign 86, the Hybrid at Work issue
Vida Glow's content creation was hardly the only activity the space had to accommodate. The hands-on work of formulating and testing new products was critical for the team, hence the addition of a research and development lab. "It's not the only lab or off-site facilities they have, but they love the opportunity to work with their chemists on site and get really hands-on with new products and what they're experimenting with," Pyke says.
A kitchen, dining and gathering space that would accommodate the full staff was important. And a space to facilitate exercise and relaxation, such as yoga classes, was also key for the brand that specifically caters to "real, active people". And of course, following on from that activity, "It was so important to them that [they] had beautiful bathrooms" – complete with showers, lockers, and that distinct feeling of having just finished up at a luxe fitness studio.
Perhaps the biggest need of all was what the space had to represent for Vida Glow's next era as a company. Prior to the new headquarters, the team was operating in an office above the business's warehouse. Rapid expansion saw the company embark on a product rebrand roughly 18 months ago, prompting it to reconsider the type of working environment that would suit its team as it took a step up.
"They realised that this was the time to take on some of the big aspirations of the business," Pyke says. "We saw it as a kind of butterfly moment, they were really getting ready to launch in this whole new way. [The design] wasn't just about their needs, it was really about embodying their whole ideal for the business and for the team and how they wanted it to run."
Arent&Pyke's aesthetic vision was ultimately guided by the essential nature of the product: its minerality. "Coming back to nature was really important. All of the colours that we used were talking to the earthy nature of the product," Pyke says. The space is awash with clay pinks and browns, stone greys and occasional pops of blue, calling to the sea and sky. Use of materials, too, connect to the products' elemental make-up, as well as the preciousness of Australian resources – and Australian makers.
In the kitchen, a rendered concrete table by Tigmi Trading serves as a collective gathering space, while recycled plastic features of that space (notably the Confetti Stools) came from DesignByThem. Nau, meanwhile, contributed custom workstations.
The artwork follows this narrative, with Australian artists Claire Healy and Sean Cordeiro – whose photos and installations often highlight societal waste – and Steve Kirby on loan from Art Bank.
And finally, the natural presence is felt in the "biophilic feel" that Pyke explains was an integral facet, with plants and trees making the office a truly living, breathing space.
Far from a private arena meant for just behind-the-scenes work, the office can be transformed into a setting for public events – as it has already done on a number of occasions. You may be lucky enough to score an invite, or you can always catch glimpses on social media. "Follow them on Instagram and you'll see a lot of the office pop up," Pyke says, noting: "They are absolutely getting the best out of it."
This article first appeared in Indesign 86, the Hybrid at Work issue. Purchase here.
Arent&Pyke
arentpyke.com
Photography
Anson Smart
We think you might like this story on Tappeti's carpets for Vida Glow.