London Design Festival is a sprawling, multifaceted event that celebrates design in all its many guises – and the 2023 festival was a resounding success, covering everything from furniture, fashion, and interiors, to immersive installations, new showrooms, and thought-provoking talks. The 21st edition of the event took place from the 16-24 September.
"The London Design Festival continues to provide an invaluable platform for the UK's design community. Over the past two decades, the Festival has cemented London's reputation as a global creative capital while supporting designers at every level of their careers," says Ben Evans, director of the London Design Festival. "We sometimes describe ourselves as a 'lonely hearts' organisation as there is a full body of content and an audience that's hungry to see it. Our task is to connect them, and the best part of that is discovery. If we can get people to see and experience things that are new, that's important."
Read on to discover the unmissable highlights of LDF 2023…
Aura by Pablo Valbuena
The installation everyone was talking about this year was Aura by Spanish artist Pablo Valbuena. The site specific installation is a contemporary interpretation of the religious experience, set in the awe-inspiring St. Paul's Cathedral. The installation transforms the sounds of the cathedral into a pulsating, 20-metre-high line of projected light, and the visually spectacular work is most active during the services – particularly the evening choir performances.
"It is not a diegetic process in the sense that the installation only augments and focuses on what is already there," says Valbuena of the installation. "It does not construct another experiential or narrative layer as cinema can do. Aura is a fully embodied experience, it enhances reality with a virtual layer of information."
Aura is part of the Wren 300 programme, which commemorates 300 years since the death of Christopher Wren, the visionary architect behind St. Paul's Cathedral. The installation proved so popular during LDF that it will continue until 29 October.
Hana Mikoshi by Hayatsu Architects
The Victoria & Albert Museum has long been at the heart of LDF – not least as the former site of the festival closing party. This year's installations and works were perhaps smaller in scale than previous years, but no less impactful. Japanese studio Hayatsu Architects presented a seating installation titled Hana Mikoshi that created a hot pink point of punctuation in an otherwise subdued gallery space.
The installation is inspired by the Mino Matsuri festival that takes place annually in the Gifu prefecture of Japan, in which shrines of paper flowers are carried down the streets. The seating was crafted from recycled exhibition structures wrapped in washi paper, while the canopy was made from more than 50,000 washi paper sakura flowers that were handmade by makers in Japan and applied to the structure by visitors to the V&A throughout the summer.
Unstruck Melody by Nirbhai Singh Sidhu and Without Shape Without Form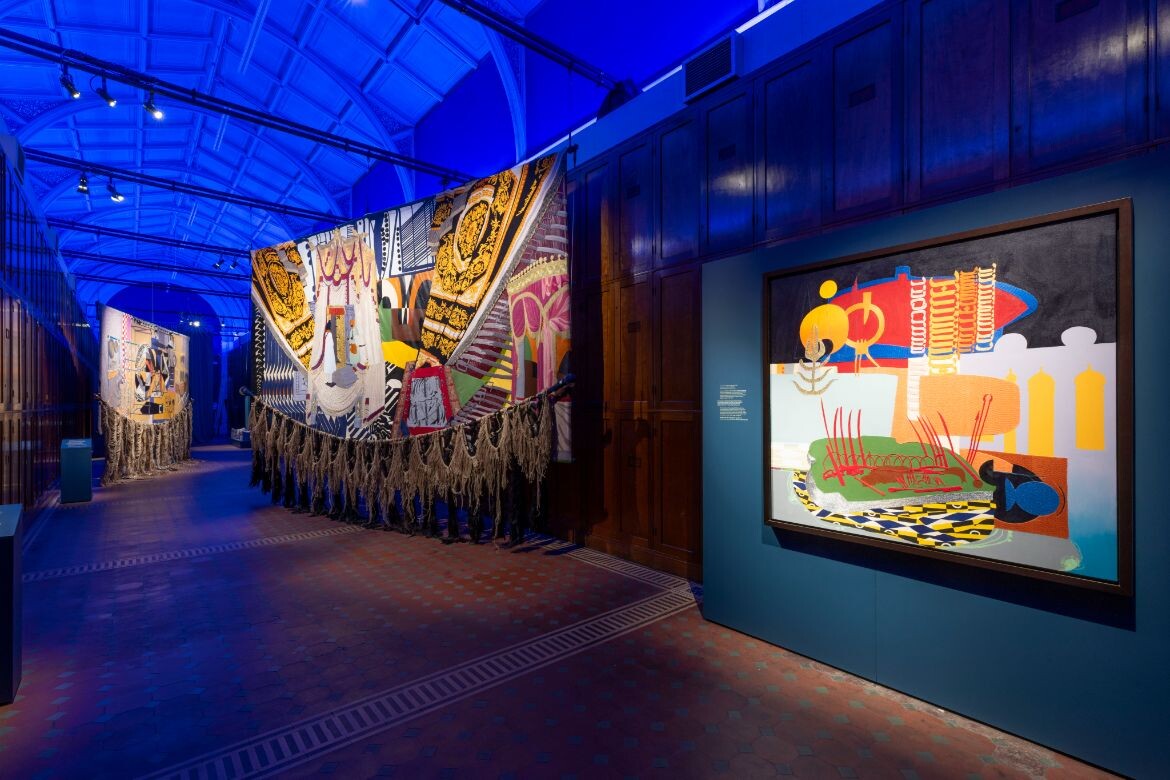 Also at the V&A Museum was Unstruck Melody, a collaboration between British-born Canadian artists Nirbhai (Nep) Singh Sidhu and arts organisation Without Shape Without Form. The work comprised enormous tapestries, rich in texture and colour, sculpture, and film, all exploring contemporary Sikh teachings and self-discovery – notably the "unstruck melody", a an eve- constant vibration that resides within our minds.
"Without Shape Without Form works at the intersection of art, spirituality and mental health," explains Deep Kailey, Artistic Director at Without Shape Without Form. "All the work we do is about understanding the mind, what it is, how we can control it, and how it is different to the brain. We spend so much time trying to understand ourselves and each other by our external identity markers – if we can get access to the 'unstruck melody' it is the one thing that will connect us all and we will be able to understand each other in a very different way."
Herbarium by Lasvit
Michelin-starred restaurant The Sketch is renowned for its eclectic interiors – think a magical forest, ballet-shoe wearing chairs, and luxuriously patterned fabric wall coverings. It's also a must-visit design destination during LDF, when it is transformed by epic installations. This year, the restaurant played host to Herbarium, an installation celebrating the avant-garde glassmaking techniques of lighting brand Lasvit. The cascading chandelier features 240 pieces crafted from molten glass poured over dried flowers, reducing them to ash but preserving their impression on the surface of the glass.
"Our glassworks are surrounded by wild nature," says Lasvit designer Mária Čulenová. "What we wanted to do in Herbarium was to capture this wilderness so anyone can take home a piece of this landscape, a piece of the Bohemian meadow as well as a piece of nature frozen in glass."
Material Matters
Material Matters launched last year to much acclaim, offering a fresh destination for visitors in the charismatic Bargehouse at Oxo Tower Wharf on London's Southbank. It returns this year for its second edition with more than 40 brands taking part. As in the inaugural show, the focus is on material innovations that will pave the way to a circular economy. The new collection of furniture by Bill Amberg was a particular highlight, made using leather produced from the longhorn cattle and free-roaming deer from the Knepp Estate's celebrated rewilding project. Green Grads, which was curated by design writer Barbara Chandler, was another highlight, showcasing graduate designers "with ideas to heal the planet".
The accompanying talks panel – chaired by the Material Matters podcast host Grant Gibson – was an opportunity to delve deeper into the impact of materials on our world, featuring discussions with Bill Amberg, Sofia Hagen, Tanja Kirst, Priyanka Narula, Jack Brandsma and Michael Evesque.
Nice to Meet you Again by Morag Myerscough x MINI
Iconic car brand MINI partnered with British artist Morag Myerscough to create a colourful installation in which to showcase the new MINI Countryman and new all-electric MINI Cooper. Known for transforming urban spaces with colour and pattern Myerscough's installation sets the scene for the ambitious electric future envisioned by MINI – and the installation was fittingly housed in the Shoreditch Electric Light Station, a former Victorian power station.
"I really love the roundness [of the MINI] and the shapes in it, and also they have always been really good colours," says Myerscough. "[With this project] we can show Londoners and the world what is possible in a city, how plants could be equal to buildings and how we can live in a much more natural environment."
The LEGO Piece Garden by Lego x It's Nice That
LEGO has long been one of the earliest tools for burgeoning designers – and at this year's festival, visitors had the opportunity to rediscover the importance of play in design at the LEGO Piece Garden. Located in the Shoreditch Design Triangle and designed in collaboration with media brand It's Nice That, the immersive event offered a space to build LEGO Botanicals and LEGO Art pieces in a garden setting adorned with brick bouquets. The result is an interesting play between natural and manufactured foliage, and space to forget about the real-world pressures of the creative industries and just play.
Workshops run by artists Charlotte Mei and Alec Doherty were also held in the garden setting. These sold-out sessions allowed participants to put their powers of creativity to the test and dream up their own LEGO designs.
London Design Festival
londondesignfestival.com
Photography
Various
We think you might also like this story on London Design Festival 2022.