Located in the esteemed Danks Street district of Waterloo, the showroom showcases Abey Australia's commitment to innovation and celebrates its 67-year heritage in the kitchen, bathroom and laundry products.
The new Sydney flagship showroom aims to cater to a diverse clientele, including architects, designers, developers, construction professionals and design-conscious consumers. That wider community was there in person to celebrate the opening at an packed event hosted by Abey in July.
The showroom offers a comprehensive range of Abey's internationally recognised designer brands. Among the notable brands featured are Gessi, a luxury bathroom brand, Schock, renowned for their German sinks, Armando Vicario, an Italian bespoke tapware brand, and Abey's own Gareth Ashton kitchen and bathroom range.
The showroom's design has been crafted in collaboration with Place Studio and The Interior Standard to create a sleek and modern aesthetic. With its open, airy layout and ample natural light, the showroom provides an inviting atmosphere for customers to explore and experience the showcased products. Carefully curated product and brand zones contribute to a sophisticated and immersive shopping experience.
Central to the design is the aim to take full advantage of the site's northern aspect. The key moves here include a striking 13-metre glass facade and double height ceiling with a mezzanine level set back to provide an upper floor. Sightlines stretch out internally and on to Danks Street, while greenery has been included throughout.
Geoff Anderson, managing director of Abey Australia, explains how the new flagship showroom is all about the commitment to "creating possibilities." He adds: "This unique space offers the public an exclusive opportunity to immerse themselves in the experiences that designers have enjoyed when visiting our showrooms for the past 20 years."
Related: Bang & Olufsen's Sydney flagship showroom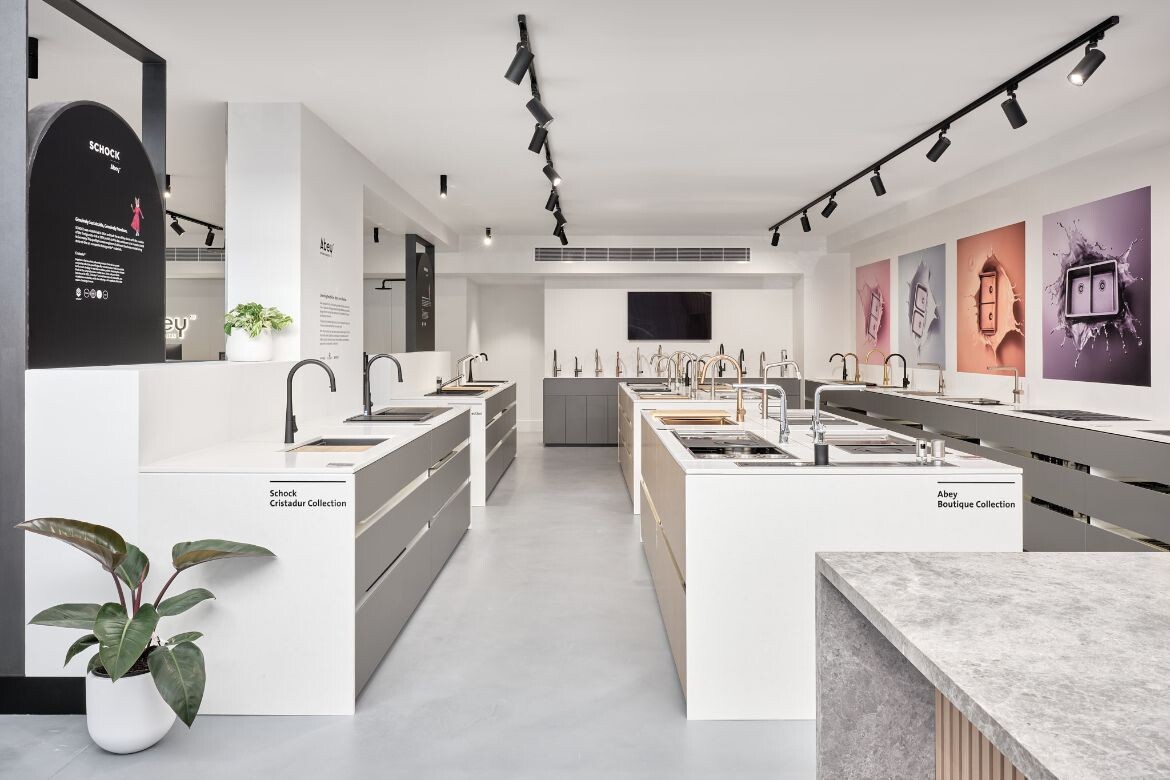 Meanwhile, Sam Foster, national showroom manager, emphasises the focus on customer experience: "Our new showroom is designed to be a truly inspirational space where customers can immerse themselves in full concept ideas. We believe in providing an experience from start to finish, helping people select the perfect products that resonate with their needs and designs.
Abey is a family-owned business and, founded in 1956, it has built a reputation for delivering quality designer products and inspiring design possibilities. "Our showrooms serve as a reflection of what we stand for," adds Foster. "As a family-run business, our commitment to good quality and relationships with our passionate suppliers is evident in our range of up-to-date products on display."
The opening of the Sydney flagship showroom marks a significant milestone. With its comprehensive range of designer brands and thoughtfully designed space, the showroom promises to be a premier destination for professionals and consumers seeking innovative products. Abey's longstanding presence in the industry and design community as a whole marks a commitment to quality and ensures that it will continue to shape the industry and inspire design enthusiasts for years to come.
Abey
abey.com.au
Photography
Courtesy of Abey
We think you might also like this story on The Wrong Shop at Living Edge in Sydney.