Mass timber structures are one of the new frontiers in addressing the climate crisis for architects and designers. With boundaries being pushed ever further in this direction, WTA has achieved a milestone with its design for this office building in Shoreditch, London.
Using 227 beech trees and 1547 spruce harvested from sustainable forests across Germany and Austria, The Black & White Building generates 37 per cent less embodied carbon than a concrete equivalent. Inside, cross-laminated timber (CLT) slabs are paired with a beech laminated veneer lumber frame while, externally, tulipwood sourced from North America can be found on the face of the building.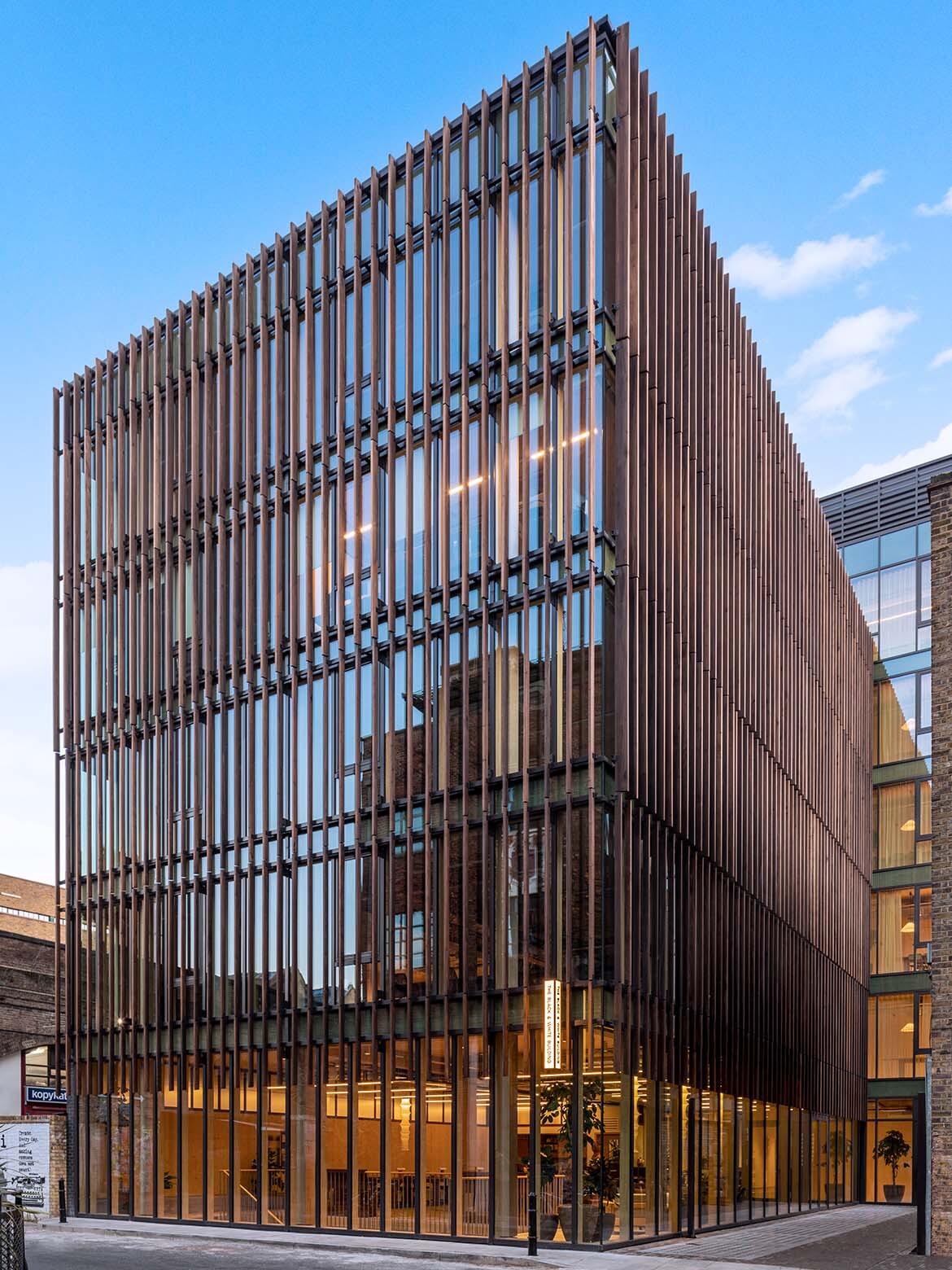 Andrew Waugh, director at WTA, explains: "The principal message of The Black & White Building is sustainability – this is a mainstream, grade-A central London office building, built entirely from timber. It clearly demonstrates that mass timber is a viable replacement for concrete and steel in the mainstream office market, saving thousands of tonnes of CO2. We're trying to change the way we build, to transform the industry."
Design-led workspace specialist TOG teamed up with WTA to realise the project. Significantly, The Black & White Building is the first workspace built from the ground up by TOG, whose history involves almost 20 years specialising in retrofits.
Related: Albury Summer Place by Studio Chris Fox
The philosophy behind the design is 'an architecture of sufficiency' – where every element serves a purpose, nothing is superfluous, and all materials and processes are as efficient and sustainable as possible. Notably, the building is also designed for disassembly with the aim of being able to take it apart and re-use the materials.
The building is powered by fully renewable energy sources including 80 solar panels on the rooftop and the emphasis is very much on purpose rather than the purely decorative. The exterior is clad in timber louvres that run from street level to the roof, providing natural shade, reducing solar gain on the facade and improving interior natural light. 
In fact, the louvres change in depth as they ascend the building in order to optimise energy-efficiency: "'We made a parametric computer model of the building and used a sun path diagram to calculate the amount of light that would enter the scheme," says Waugh. Designing with an emphasis on circular economy and re-use indeed seems to necessitate a more thoughtful approach towards the fundamentals of climatic comfort in architecture.
Standing 17.8 metres high, the scale is significant; such designs are today being facilitated by the ever-expanding technology around engineered timber. CLT, as well as laminated veneer lumber (LVL), are examples of the kinds of innovation that are making larger structures built from timber more and more realistic.
"We need to stop using massive volumes of concrete and steel, so we wanted to demonstrate that there are viable alternatives," says Waugh. Engineered, mass timber – combined with genuinely sustainable sourcing and circular economy principles – is surely one of the ways forward.
Waugh Thistleton Architects
waughthistleton.com
Photography
Ed Reeve
We think you might also like this video on American Hardwood.