The hotel industry is in the midst of a shakeup. From Baby Boomers to Millennials, more people than ever before are travelling – whether for work or pleasure, or both. But these new types of travellers no longer settle for a stock standard hotel experience.
Modern travellers want to be in the heart of a city, discovering culture, food and art just like a local would. As such, hoteliers are taking note, especially as seminal disruptors like Airbnb are moving in. But across the board hoteliers are looking at ways to enhance the experience for travellers.
Enter 8Hotels. Having already undertaken several boutique hotels, founder and CEO Paul Fischmann thought there was still a gap in the market for a more homely and intimate hotel experience.
"Little Albion Guest House was created with the needs of today's luxury travellers in the front of our minds, which is the authenticity of a local experience, alongside world-class boutique hotel service and ease of booking. To do this we had to redefine the whole hotel category by imagining a modern guest house, developed with the same attention to detail that a homeowner has in creating their dream home, resulting in this truly one of a kind property," shares Paul.
To turn it into a reality, Paul brought together a unique mix of creatives, including Terence Yong (Terence Yong Architecture) and Chris Haughton (SHED) on the architecture, with Connie Alessi (Archemy) and Cressida Kennedy (Space Control) for the interiors, rounded out with art curated by Nicholas Samartis.
An infill building site
The Little Albion Guest House "has been designed from the outside in, and from the inside out," says lead design architect Terence. The site itself has a north-south orientation and is wedged between two streets, Albion and Little Albion, the latter being a once poorly lit laneway at the back. Despite the optimal orientation, the dense surrounding buildings cut it off from desirable natural light.
It was important to retain the site's unique heritage features, but just as important that the whole site could function as needed in its new intent.
Explaining the approach to the project's architecture, Terence explains, "it's just one building attached to existing heritage buildings, but because it is in pieces, it's more domestic-feeling, rather than something big and monolithic."
The newly inserted building is unafraid to be bold – strong angles point out from the more classic looking church next door – but there are subtle references to tie them all together. For example, the forms, "When you see [the new building] together with the church gable wall, they look like they fuse into one building because of the angles," explains Terence.
In addition, white glazed bricks on the new building reference the existing heritage structures while keeping it fresh.
A challenge that arose was the consideration of the neighbouring apartments. "Everything that we designed was so carefully considered with regards to neighbouring amenities," says Terence.
All the eras rolled into one
Moving inside the 35-room Guest House, classic design references and modern amenities bloom to life.
Interior designers Connie Alessi and Cressida Kennedy worked with the concept of "old meets new". This means design influences from art deco, to mid-century and retro all coalesce as one, with particular attention paid to the 1920s and '70s.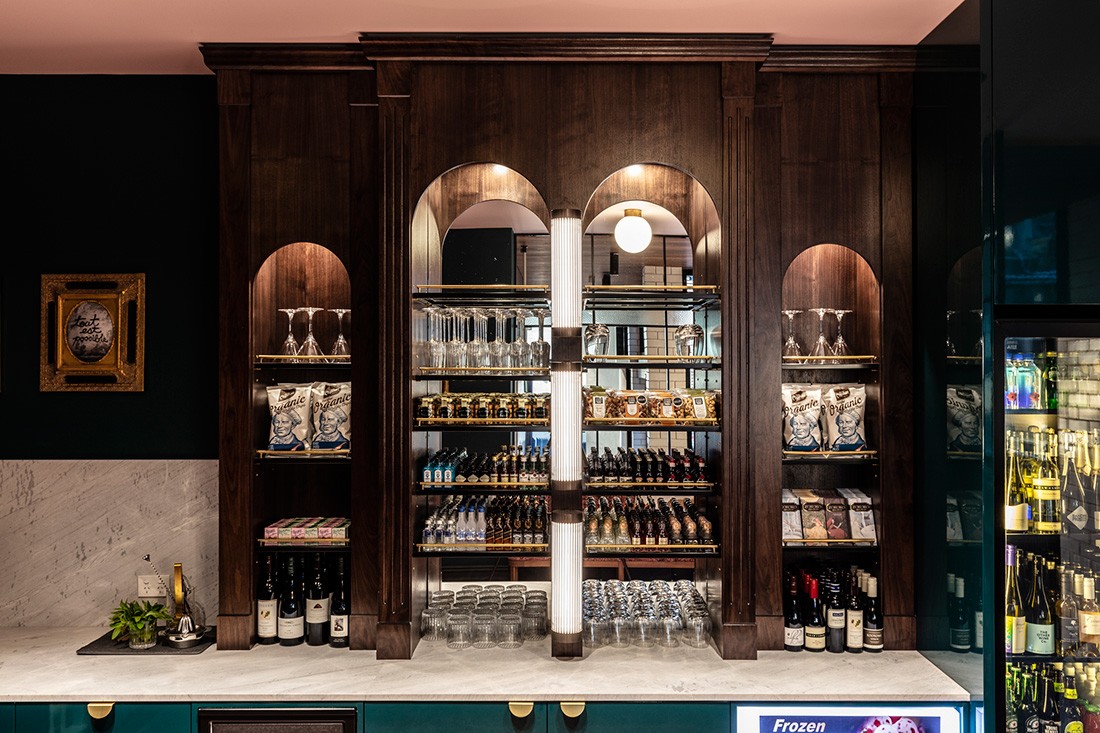 Original detailing has been maintained wherever possible, including a grand central staircase. Lining the walls of the staircase, guests can take in portraits of significant people and 'local heroes' from the Surry Hills area, which is described as a kind of "living museum". These seven original portraits were commissioned especially for the Little Albion Guest House, each painted by Ann Cape.
Each room is unique, padded out with furniture, plush soft furnishings and textiles. Nearly everything has been custom-made, as the design team worked closely with local artisans and fabricators to create the perfect design fusion of heritage meets modern.
Quite simply, as Terence states, "this is not your everyday hotel. It's a hotel with lots of character."
All of that character comes together to form a one-of-kind guest experience. Intimate in scale, clever in its execution and appealing to the new generation of modern travellers hungry for authenticity.
Photography by Tom Ferguson and Terence Yong.
Take a look at this office that could pass as a hotel.
–
Be inspired by the best design in Australia. Sign up for our newsletter.