When Indesign's Jan Henderson met up with Russell & George to visit two of their latest hospitality projects, little did she know that she would find herself immersed into one of Melbourne's most stunning new hospitality destinations. Pre-order your copy of Indesign's 'Social Spaces' issue for the full story.
Society has been three years in the making, located in the dress circle of Melbourne's most prestigious retail and hospitality precincts, at 80 Collins.
Society captures the energy of Melbourne – and no doubt the joy of a city eagerly exiting lockdown.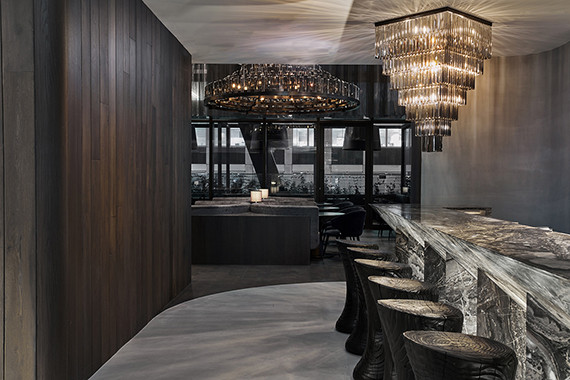 The Russell & George way
Russell & George, headed up by Ryan Russell and Byron George, has a knack for breaking all the golden rules in retail and hospitality. They prefer to deep dive into the research phase and understand the client from every facet.
They're also not adverse to slamming vastly disparate operating models, to create new narratives and offer us the escapism and delight we often seek out from hospitality experiences.
Like Melbourne's great rooms – The Flinders Street Station Ballroom, the NGV Great Hall – each room within Society conjures that iconic experience – the type that dwells in your memory for months afterward.
It speaks to Russell & George's deep connection to the city, and intention to create a sense of permanence.
Society sets out a new narrative
Clashing aesthetics of art deco, mid-century, art nouveau and brutalism, the studio has executed a series of spaces that deeply connect you to the city, and establish a sense of permanence.
From the Society Dining Room to the Lillian Terrace, through to the Society Lounge and private dining spaces, Russell & George deftly blur that transition between each location. The design entices you with hints of what you are about to experience.
The intent is to whet the appetite, make you want more, and offer a glimpse into the next space, and the next after that.
Every furniture item, fixture and finish is deeply considered. And more often than not, they are bespoke designed by Russell & George for Society. The jewel in the centre of this crown is the three chandeliers that hang within the main dining space and bar.
"It's not often you're given the opportunity to not just work on a project of this calibre, but get to design every part of it too," says Russell. A feast for the eyes, and the stomach.
Pre-order your copy of Indesign magazine, the 'Social Spaces' issue, and take a deep dive into every intimate detail of this impressive fit-out.

Photography by Sean Fennessy
Russell & George
russellandgeorge.com
..
The full version of this story will appear in Indesign #85. Subscribe now.