Sydney's One Sydney Harbour, developed by Lendlease is the ultimate project. And we're about to tell you why: Three towers comprising 808 residences sit on Sydney's most iconic waterfront. It sets a new standard in luxury living in Barangaroo South, and the project is has been some 10 years in the making.
One Sydney Harbour has been designed by luminary Renzo Piano, with the interiors handled by Daniel Goldberg's State of Craft. Lendlease's directors took a trip round the world a decade ago, and were encapsulated by the interiors found at The Shard, which sits amongst the clouds in London's CBD.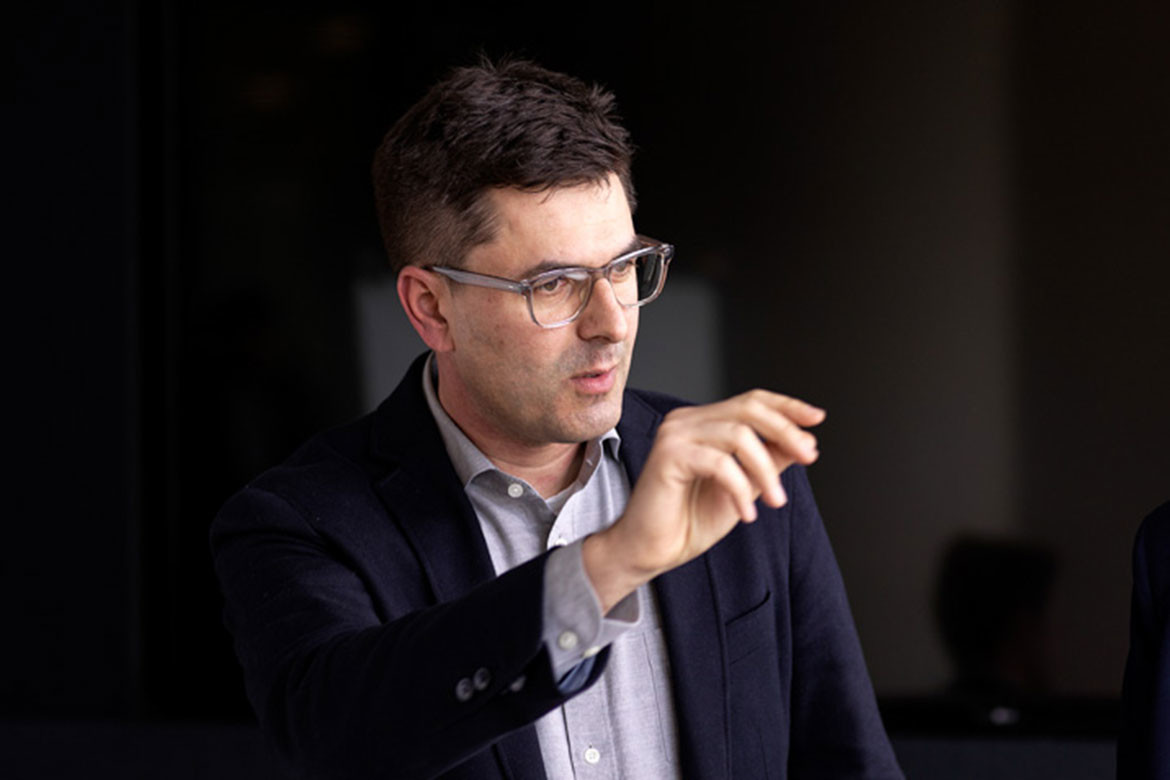 Goldberg regards his architecture background as the key to his expertise. Working on high-end residential projects across Europe and the Americas, One Sydney Harbour is yet another project elevated by Goldberg and State of Craft's work. In order to develop palettes and material selections for One Sydney Harbour, State of Craft headed Sydneyside.
"My team and I explored Sydney and did extensive amounts of research," he says. "We went to the Blue Mountains and did coastal walks and tried to encapsulate the energy of Sydney. Those experiences and our research birthed two palettes."
Related: One Sydney Harbour has views, specs and amenity to die for
The two palettes on offer for residences channel the distinct qualities of the harbour and are built to four key principles: lightness, effortlessness, authenticity and generosity.
One palette (pictured above) replicates the sensory experience of walking the shore, with roughly sawn stone floors which are off white and spotted gum kitchen cabinetry and joinery.
The second palette (pictured below) is much more about the sea itself, with a darker, greyer stone with hints of quartz that sparkles, evoking the thought that the occupant is walking on water.
There has been an emphasis placed on light and transparency by both Renzo Piano and State of Craft, with operable facades and winter gardens also integrated into the design.
Goldberg and his team designed the pool, gym and wellness space, which contrast one another. The greenstone-laden pool juxtaposes the gym, which is clad in timber.
There was no explicit brief for Goldberg to follow, but more an ongoing process taken on between designer and developer.
"The brief was a dialogue that is still ongoing. It's like the designer and the client are sparring partners and you're constantly testing, refining and evolving ideas," he says.
"There was never a document that captured the brief. It was a multi-stranded evolutionary process where things diverged and came together again. You start with spatial optimisation and layout, which has been a rigorous process. We then moved onto finishes and fittings and details."
Renzo Piano has created a fully glazed facade with low iron glass, which ensures it doesn't 'go green' when sunlight hits its surface. State of Craft wanted the interiors to be the supporting act to the sky and the view, with Goldberg's experiences as an architect putting him in good stead.
"We have a team that is understanding and respectful of the process and what Renzo Piano has tried to achieve. We want our interiors to work with the architecture and be an extension of that design philosophy," he says.
"Bringing in the same values with regard to the use of materials and how things are joined, as well as the interfaces between interior and exterior. Elements such as gardens, lighting and what you see when you're looking up."
"There's definitely things where the disciplines merge and being able to think like an architect made us aware of the importance of integration of services and structure. Understanding how things work as well as how they look."
Given the exclusivity of the address and the inherent luxury the location brings, Goldberg felt both a sense of pressure and the need to deliver ideal living spaces for future occupants.
"It's an enjoyable experience (designing interiors), but we are aware that we have a great responsibility to design many homes. It's not about creating sellable space and working with excel spreadsheets, for us it's about creating homes, which is an incredible privilege."
Renzo Piano Building Workshop
rpbw.com
State of Craft
stateofcraft.co.uk

We think you might like this story about PTW turning an old office tower into luxury apartments.