This piece has been written for Indesignlive by Nick Griffin, Melbourne co-studio leader and associate director at McGregor Coxall.
Humans have an innate desire to connect with natural systems, processes, and rhythms. As a society, we've lost respect for nature and the cultural knowledge that underpin such connections.
In my practice, I don't view Caring for Country as a state that is reached or a finished product. It's about the journey of understanding, about conscious curiosity.
Caring for Country is infinite, and community is critical to that. It begins at day dot, is embraced by all project members, and ultimately lives on in the community which informed project co-design alongside Traditional Owners.
The proposed Hobsons Bay Wetlands Centre, located on the traditional lands of the Bunurong People of the Eastern Kulin Nation on the western shoreline of Port Phillip Bay, presents a fantastic opportunity to champion respect and understanding of First Peoples' knowledge systems within the community.
An Australian-first in biophilic and community co-design architecture, the centre, designed by internationally renowned Grimshaw Architects in collaboration with Greenaway Architects and McGregor Coxall, creates unique ways of viewing and interacting with the site to help disseminate visitors' local knowledge of Country.
Related: Walking Country together at Heide MOMA
Historical understanding and the flow of water
On this project, the first question we asked ourselves was, 'What is nature in the context of this project, and what are we attempting to connect people with?'
Prior to colonisation, the site was part of a larger coastal salt marsh system – westward of coastal alkaline scrub with both ecological areas surrounded by grassland. The marsh occurs above marine and estuarine tidal flats, consisting of diverse life sustained by a larger wetland system. Coastal alkaline scrub fades into sand dunes and swales once dominated by melaleuca. Preceding the construction of channelised drainage, water flowed north to south, percolating through the Truganina Wetlands system.
The project site is positioned in the historically brackish environment between these two significant ecologies.
Caring for Country framework
Greenshoot Consulting led a comprehensive engagement process with the site's Traditional Owners, enabling the project team to align with the principles of the International Indigenous Design Charter and utilise Greenshoot's Indigenous Design Consultation Pillars, previously co-designed with the Traditional Owner groups engaged in this project.
In doing so, the project team sought to create a benchmark for culturally responsive design, translating Traditional Owner feedback into a landscape framework centred on three key approaches: Healing Country; Learning Country; and Nourishing Country.
By Healing, we mean truth telling and orienting people within Country. Learning encompasses the exchange of cultural knowledge, understanding seasons and being able to read Country. Nourishing speaks to regenerative architectural and ecological practices, fostering community connections and pride.
In an ambitious pedagogical landscape experience embedded in Country, pause points throughout the site provide space to reflect and engage, offering opportunities for cultural expression and learning.
The Wominjeka space, situated near the visitor centre and used for more formal ceremonies, stands as a symbolic offering of permission to visitors to be on Country and go forth with the values of Caring for Country.
Yarning circles distributed throughout the wetlands provide contemplative areas for the sharing of knowledge, where Bunurong-led workshops on weaving or stone tool making encourage the transfer of traditional knowledge between Indigenous and non-Indigenous people.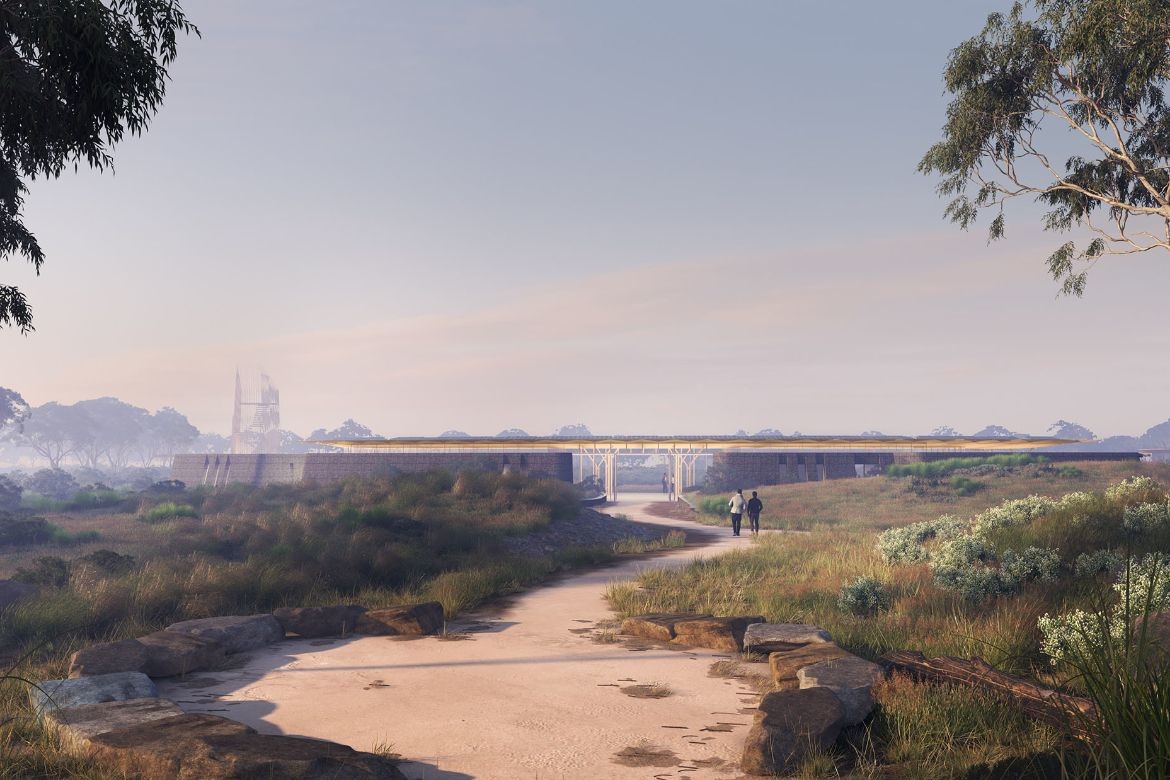 Performative, pedagogical landscape
A sensory landscape engages visitors through seasonal interpretation, gathering spaces, planting and boardwalks, with nature play allowing children to learn with all their senses.
The site ensures a safe space for wildlife via built-form, landform, and planting which provides a buffer between wetland habitats and urban conditions.
Indigenous grassland species and coastal alkaline scrub are a direct reference to the ecological vegetation that once existed near the wetlands. Expansive areas of the wetlands invite tactile engagement, while others offer protection of ecologies and their fauna.
Reusing excess material in innovative and sustainable ways adds a rich layer to the narrative of the site, championing a site-wide approach to the Healing of Country.
A bit more about Hobsons Bay Wetlands Centre
The proposed wetlands centre will become an ecological heartland in Melbourne's west, a purpose-built research and conservation centre that unites the public with nature. Forged by a collaborative partnership between Hobsons Bay City Council and HBWC Inc, McGregor Coxall was invited to join the Grimshaw Architects-led consortium to design a new wetlands centre that inspires care of our precious natural environment – intrinsically shaped to celebrate the cultural continuity of Traditional Owners.
Biophilic design patterns will be foundational for a regenerative framework that enhances, nurtures and conserves wildlife systems. Our landscape approach seeks to repair ecologies through the establishment of robust and thriving habitat, supported by a renaturalised, contemporary water management system that cleans and reuses water and potentially mitigating flood risk from the neighbouring Laverton Creek. Community wellbeing is prioritised, integrating a unified cycle and pedestrian network that allows the public to connect with their natural surrounds in a safe, respectful way.
The project is being championed by the Hobsons Bay Wetlands Centre Inc. with support from Hobsons Bay City Council and other project partners including Deakin University, Melbourne Water, Greater Western Water, Ecolinc, Cirqit Health and Birdlife Australia. Hobsons Bay City Council has committed $5 million towards the project and are seeking an additional $11 million from other levels of government.
McGregor Coxall
mcgregorcoxall.com
We think you might like this story about how Indigenous designer Bernadette Hardy is bringing Country into spaces.