Designers are breaking down the walls of the traditional box-like school classroom that many of us grew up with. Spaces are becoming more open and flexible for collaborative and varied learning methods, much like the 'agile' approach that's taken hold in the workplace. At Frankston Primary School Early Learning Centre, Chaulk Studio has created an adaptable and interconnected environment with Tolkien-inspired archways that facilitate interaction and invite exploration.
Chaulk Studio refurbished Frankston Primary School's two-storey art-deco schoolhouse by transforming closed-off classrooms and long dark corridors into a colourful and engaging learning environment. Customisable classrooms alternate with break-out zones and a community hub and have large blackboards and pinboard walls. "Our ambition was to create an environment that enabled the school's pedagogical philosophies while creating a place for students that was exciting, innovative and a place they want to be," says Kim Pannan, director of Chaulk Studio.
Low-slung archways carved out of walls and thresholds connect spaces, provide openness and encourage interaction. "They invoke the spirit of J. R. R. Tolkien's Hobbit houses and are employed to create a sense of belonging for students and an enticement to explore the space," Kim explains. They are also a structural solution for creating large openings in the existing load-bearing walls and for achieving passive supervision throughout the building. Portholes also allow physical and visual connection and are spaces children can climb, play and relax in.
.
"Our ambition was to create an environment that enabled the school's pedagogical philosophies." – Kim Pannan, director of Chaulk Studio
.
Chaulk Studio removed walls to incorporate corridors into breakout spaces and bring bag lockers into classrooms thereby eliminating "loitering zones" and "an area prone to bullying," as Kim describes. Small meeting rooms offer privacy for students who require additional coaching, and the curved walls, which started as a play on the art-deco style of the building, became a safety feature so that children wouldn't run into sharp corners.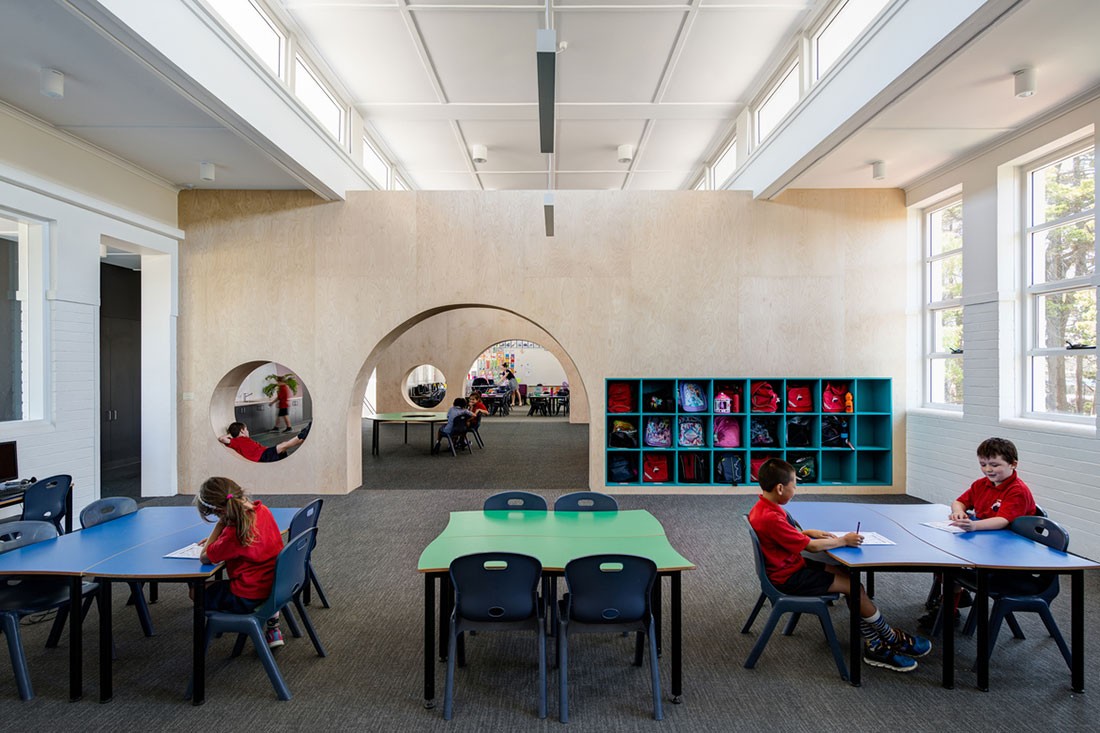 The school is a light and bright space punctuated with colour. "Classrooms can be similar to designing gallery spaces as surfaces are used for displaying teachers' aids and student work," says Kim. The design team, therefore, used natural colours and neutral finishes within the main teaching rooms and adopted a more colourful strategy for other spaces. The amphitheatre has a rainbow of colourful curving steps; meetings rooms are clad in orange pinboard material; bag lockers are teal (voted by students as their favourite colour); and light pink quietly complements the brighter colours.
Early learning is about introducing children to new ideas and ways of learning. By breaking down the walls of the traditional classroom, Chaulk Studio and Frankston Primary School are helping children to think outside of the box.
Photography by Jaime-Diaz Berrio.
Take a look back through our education design archives. This project speaks to the themes found in the current issue of Indesign magazine, The 'Information Age' issue.
–
Get more stories like this straight to your inbox. Sign up for our newsletter.