Fashion is alive and well in Chengdu, China with ATMOSPHERE Architects' retail design for Le Sélect, a project that creates the experiential for customers but also showcases the high-end fashion to perfection.
Le Sélect is located in an urban lifestyle complex of some 200,000-square-metres in the northern section of Tianfu Avenue, Wuhou District, Chengdu, China. The store is positioned next to a giant sculpture designed by Dutch artist, Florentijin Hofman, and is adjacent to an outdoor atrium that affords open views of the surrounding area. Together, light and space create the optimum opportunity for shopping and retail therapy at its best.
Related: hug store by ATMOSPHERE Architects
With a generous floorplate of 680-square-metres over two levels, Le Sélect offers myriad spaces and places for customers to view, touch and try. However, it is the interior design of Le Sélect that dazzles. ATMOSPHERE Architects chief designer, Tommy Yu and his team, have created a space that transcends time and transports the imagination.
The design inspiration comes from the surrounding city where excavation and mining have existed for centuries and the store itself becomes something of a 'natural mine' employing the ideas and textural features in a refined solution.
Natural stone is the hero material of the design, roughly hewn and covering the whole interior structure, it is monumental in both application and intention. A row of stone walls serve as a guiding line and lighting has been arranged to simulate a mining operation. The textural stone walls and evocative lighting creates a longitudinal extension that divides the space. To further extrapolate the intention of the natural world, clothing has been hung or draped against the walls, along with artificial flowers to simulate natural flora, and this creates a vivid presentation for shoppers.
Related: 7 projects reshaping Chinese architecture today
While the chic, fashion-conscious clientele can wander across the showroom floors, the inclusion of an independent VIP room provides an intimate space for special customers. In this luxurious sanctuary, there is the opportunity to explore the plethora of fashion collections with comfort and discretion.
A white spiral staircase connects the two levels and its smooth organic shape truncates space as it rises from between the stone walls. As the upper level is ring-shaped, it provides fine spatial flow for customers to move with ease and browse and buy in comfort.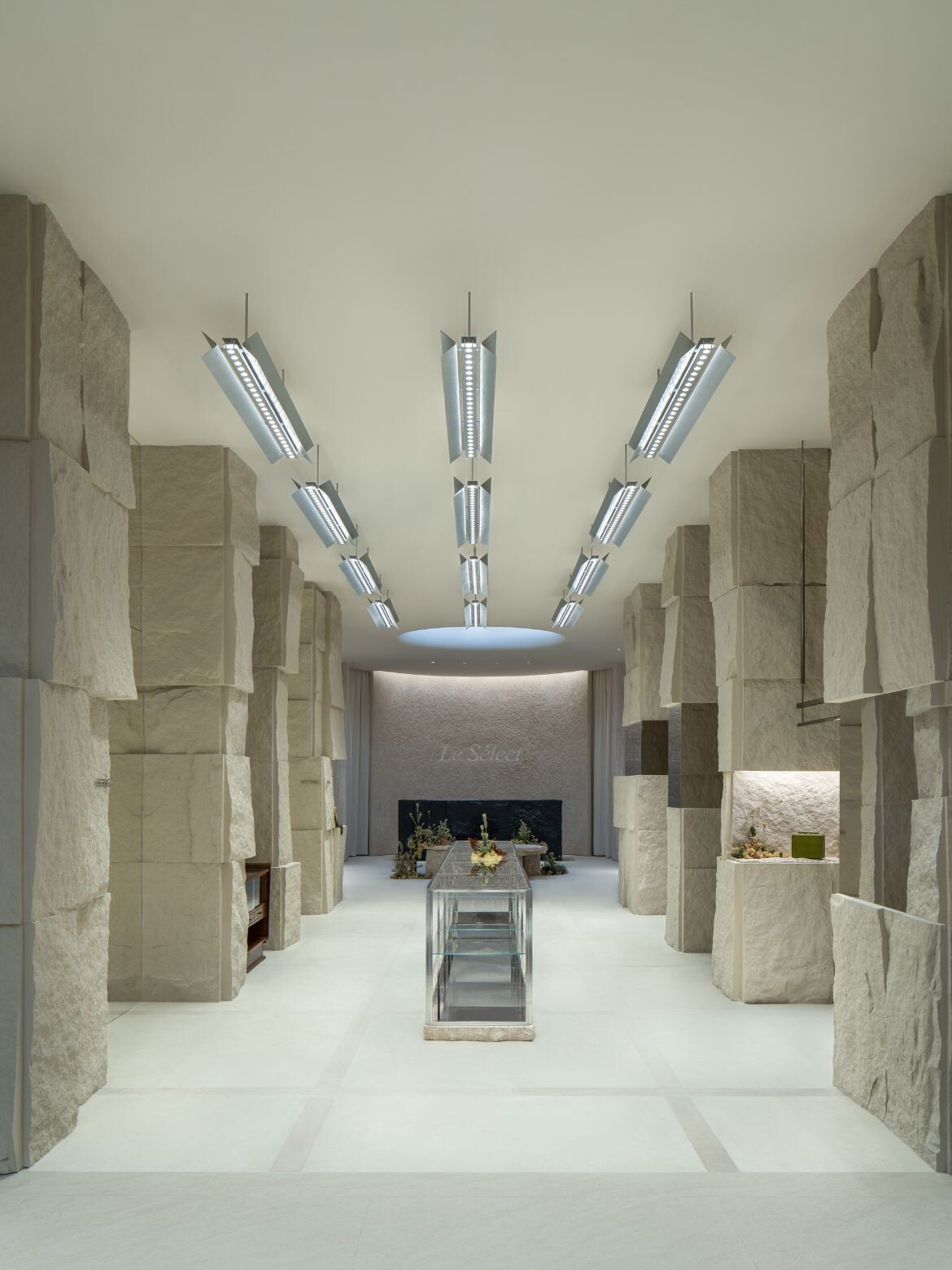 In all, the experiential is paramount to this retail store where interaction between interior architecture, design and materiality converge. Le Sélect is not simply a place to shop, it imbues a culture of fashion into an interior that complements the product and takes retailing to another level of sophistication.
ATMOSPHERE Architects is an architecture and design practice established in 2018 by Tommy Yu. The studio is dedicated to research and practice through a global perspective and its work encompasses the range of architectural design, interior spaces, installation, artworks and contemporary video and multimedia production. Utilising cutting-edge technology, ATMOSPHERE Architects innovates and explores the future of 'new retail' and it is this that sets it aside from its peers.
With Le Sélect, a visionary design has created a place that is singular in its resolution, where place, culture and product combine as a finely tuned interior. In making its presence felt in the world of retailing, Le Sélect has achieved critical acclaim but it also captivates its customers through a brilliant and innovative design.
ATMOSPHERE Architects
atmosphere-architects
Photography
Chuan He from Here Space
We think you might like this article about Zikawei Library by Wutopia Lab.