Cult have unveiled its new nau contract look book, a showcase of the latest commercial offerings by its in-house Australian design brand, nau. This contemporary brand, specialising in hospitality, workplace and public environments, has become renowned for producing quality furniture, lighting and accessories with a modern twist. nau's bestselling products are now available in new specialty contracts, as well as custom finish options for contract applications.
All of Nau's new releases are proudly designed and made in Australia, with new contract releases by Adam Goodrum and Tom Fereday. From Goodrum comes the Lincoln Sofa System, Nest Monochrome Tables, and the Mega Tulip Workpod, while Fereday introduces the Nami Bistro Table.
Just like the car: The Lincoln Sofa System
The lines and shapes of the Lincoln Sofa System were heavily inspired by the interior of a classic 1970s Lincoln Continental luxury car. The new Lincoln Sofa System boasts 24 different modules of all different styles – curved, straight and angled as well as single seats and ottomans.
The dynamic flexibility of this sofa system does not end in the configuration stage; individuals have the option of customising the arms, side tables and upholstery of the sofa system.
Indispensible to your comfort, the Nest Monochrome Tables
These Nest Monochrome Tables from Adam Goodrum are dynamic, futuristic and innovative. They allow for designers to bring a pop of colour into their homes without overwhelming the space.
An incredibly practical design, these tables can slide over your couch to provide a stable platform within easy arms reach, as you'll see in the image below.
Mega Tulip is now a workpod!
The Mega Tulip Workpod is a gorgeous extension to Goodrum's extremely popular Mega Tulip system. Featuring captivating organic curves, perfect proportions and stunning dark tones, the Mega Tulip is ideal for a variety of commercial settings.
The system includes a desk, lined work pods and privacy screening – all with the option of integrated power.
Locally crafted, the Nami Bistro Table
Finally the Nami Bistro Table is a testament to the quality of local manufacturing. Produced in Queensland, this addition to Fereday's iconic Nami range provides the ideal column-style table for a range of environments.
Available in seating and standing heights, this table is the height of customisation – choose between timber, metal and painted finishes to ensure the perfect fit for your interior.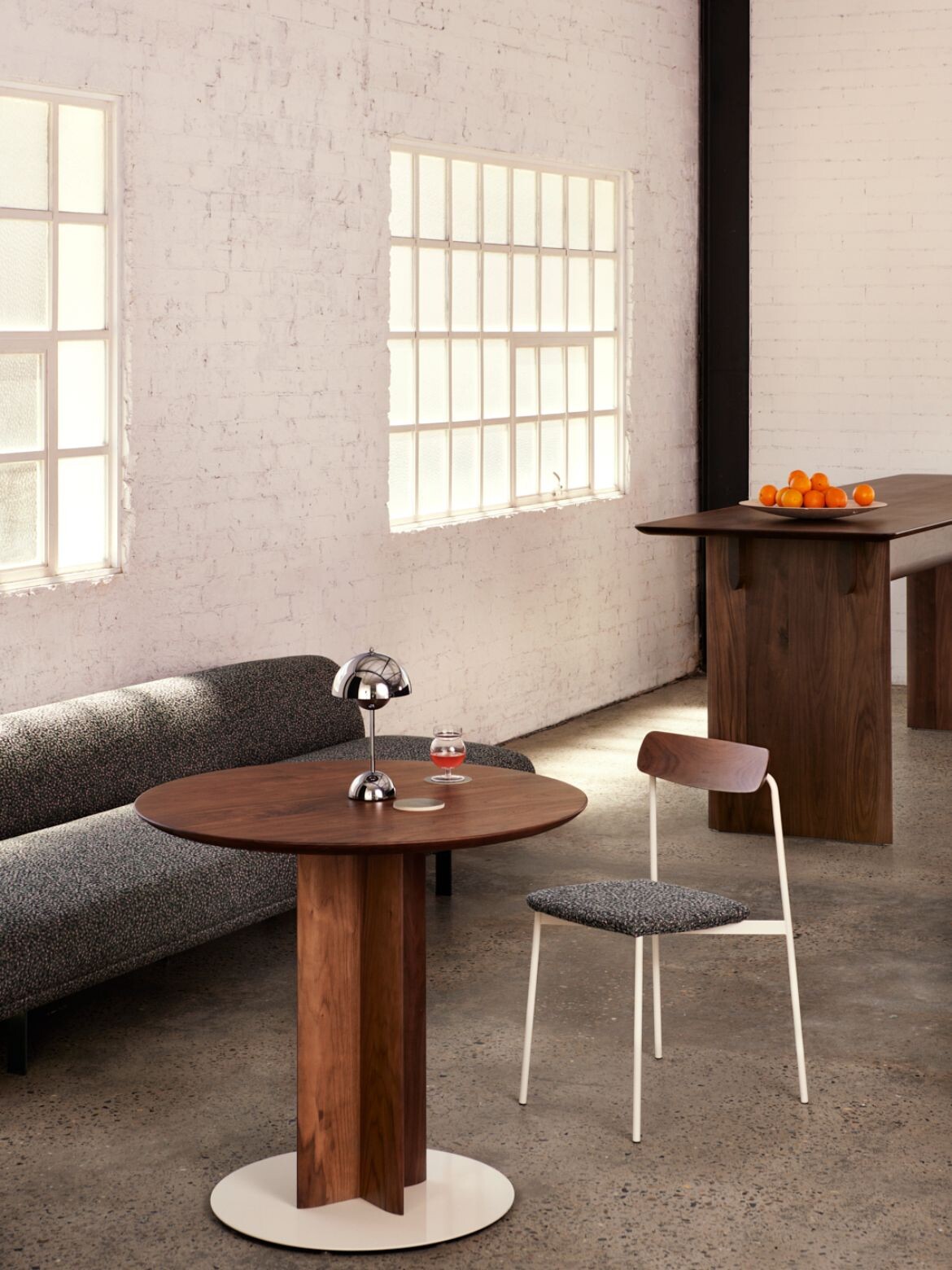 As one of Australia's leading suppliers in premium furniture, lighting and objects, Cult offers luxury goods from around the world and local sources, The brand prides itself on delivering top-tier quality design to the interiors of Australia.
You can view more about the nau Contract Collection launch here.
We think you might like to read this exclusive interview with founder of Cult, Richard Munao.