Leanne Amodeo: What differentiates Local Projects from other exhibition designers?
Jake Barton: We're a rare if not singular studio because we have always integrated creative technology and new approaches to software into our exhibitions. Most exhibition designers come from a physical design or architectural background and have come to absorb or utilise new media as one of the tools in their toolbox. But we've always treated this media as a core vehicle for understanding and engagement, so we realise the ways visitors interact with an exhibition or artefact.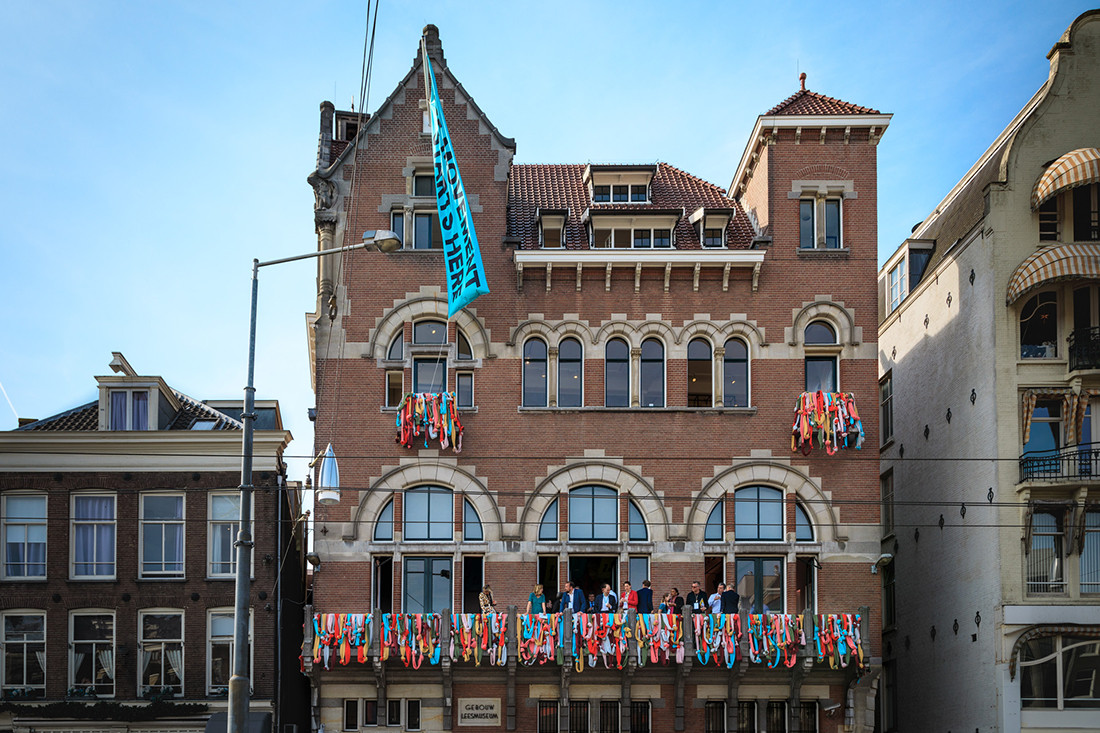 How have visitors' expectations of exhibition design changed in the past ten years?
We've seen visitors' expectations shift from a world of information scarcity to a world of information surplus. When we started Local Projects in 2002, people used to just watch programs on TV because they didn't have anything else to do or they would read newspapers because there was time to fill. We now live in a world where we're overwhelmed with constant streams of media information and news, which means museums are no longer places that just supply general information, because general information is ubiquitous. Museums have become places of curated meaning and making that happen between you and your museum companion or a group of strangers witnessing an experience together. In the past, exhibitions were purely documentation-based, but now, a space really needs to function transcendentally to provide visitors with an emotional connection that makes the experience memorable.
Why have pedagogical principles like object-based learning and intergenerational learning become so important to the gallery/museum experience?
Museums originally began as collections with their primary driver being conservation rather than public engagement or education. So object-based learning hasn't so much come to recent prominence as this was the root foundation of why museums existed in the first place. The interesting thing is that in the last generation or two, museums have shifted dramatically from being about collections to existing to serve an audience or community, and that's where intergenerational learning comes in and why object-based learning becomes even more important. Yes, objects have value in and of themselves, but are most valuable when people learn from them.
.
"In the past, exhibitions were purely documentation-based, but now, a space really needs to function transcendentally to provide visitors with an emotional connection that makes the experience memorable." – Jake Barton
.
How does this thinking relate to the current work you're doing in Sydney on the Hyde Park Barracks?
We want to make the Hyde Park Barracks' exhibition experience personal, so the most valuable thing it can give visitors, whether local or international, is an understanding of Australia's history and a sense of where the country is headed from here based on the past. I don't think museums and their heritage experiences should exist in and of themselves. They're there to become spaces of public reckoning, dialogue and grappling between a suite of communities and narratives in order to chart a pathway forward. An institution like Hyde Park Barracks plays an incredibly important civic role in disseminating information to people.
What do you think is the definition of a memorable interactive exhibition experience?
When we try to define what it is that makes a memorable exhibition, we tend to look at two different core elements, neither of which have anything to with technology. The first is emotion and emotional engagement, because that's what relates the strongest memories. But we also look to narrative, as we understand that the world and our place in it, is created through storytelling, which is at the heart of every culture. So we're constantly looking for ways to use emotion and stories to engage people and create something that's deeply memorable for them.
How does your ZERO work at the Guggenheim Museum Bilbao and your design of the Fashion for Good Experience in Amsterdam display the way you use storytelling, learning and interactivity as tools for engagement?
Both of these projects are a really good example of how media is, will and should become dissolved into architectural experiences. You can't simply put a monitor in a room and expect it to command attention, especially when people are carrying far more sophisticated technology in their pockets and when they're going to museums to get away from their screens. ZERO involves a giant media-based kaleidoscope that visitors can walk through and the Fashion for Good Experience is a space where you don't just shop for sustainable fashion, you also shop for ideas and behaviours. In both examples, storytelling and learning come into play depending on how the visitor activates the space. We understand that museums are about dialogue; spaces where visitors have a voice and a point of view that's just as important and interesting as what curators want to tell them.
What changes can we expect to see in exhibition design in the next ten years?
A lot of what we'll see in the next ten years surrounds this idea of narratives being filtered through the visitor's point of view. We live in challenging times for our civic spaces and I believe museums are uniquely positioned to bring people together via often complex narratives that can create a hopeful bond between us all. My hope now and for the future is that people come to museums to learn about themselves and leave knowing that the key to understanding yourself is understanding the connection you have with others.
Photography courtesy Local Project.
This article speaks to themes that are being explored in the current issue of Indesign magazine – the "Knowledge Economy" issue. For up to the minute insights, join our mailing list.