With boundless enthusiasm for all things green, Phillip Withers Landscape Design is a young, award-winning team based in Collingwood. Get insights into what he sees as being integral for conscious, green spaces.
Sandra Tan: Tell me about the origins of your design practice…
Phillip Withers: I'd worked for a few landscape gardeners, prior to starting my own business in early 2012. We began in a studio in Braeside, before moving to a little space in Richmond. At the time, we were doing a lot of residential gardens, and we wanted to have a studio that could move more into the commercial space, and be more diverse in the type environments we put together.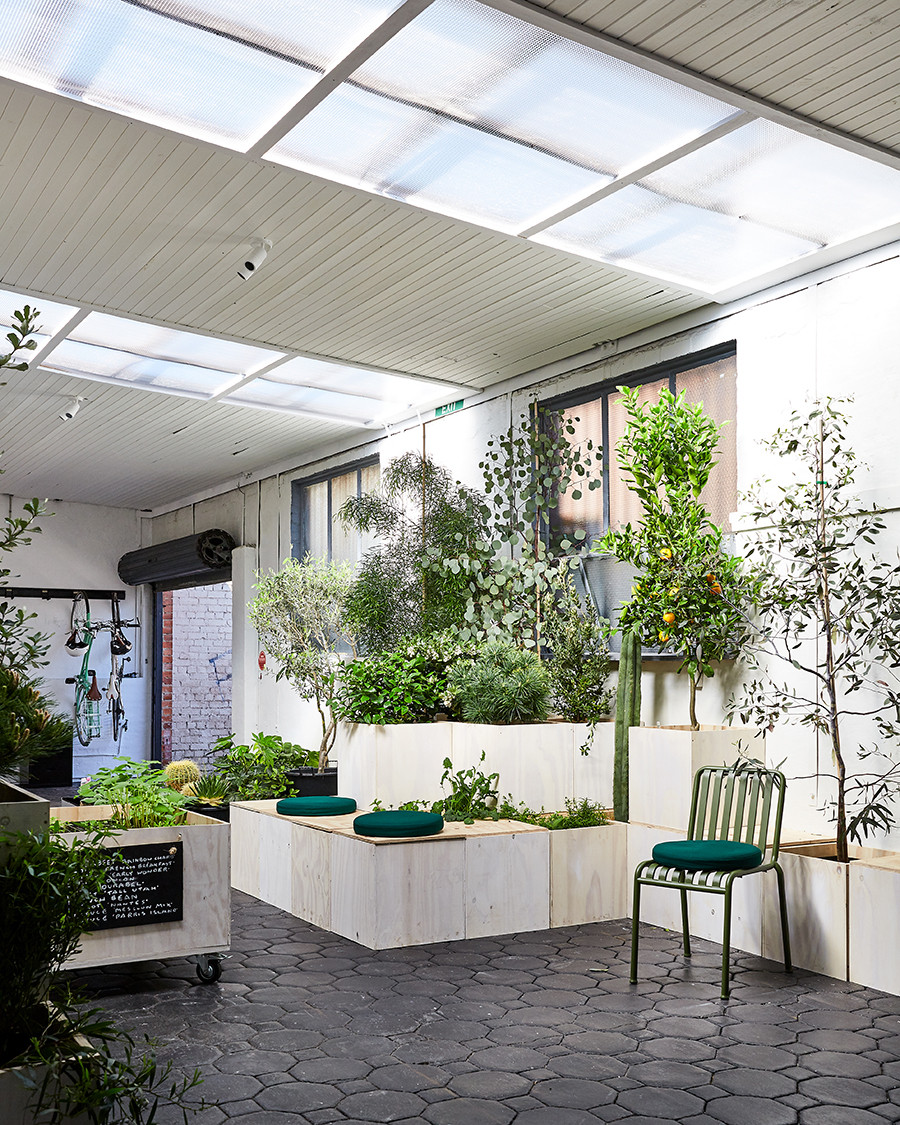 How did that evolve into the Shrub Hub?
We realised we needed a cross-use space, a studio where we could collaborate and learn – somewhere we weren't limited to just sitting with plants. Ideally, we could test plants, have room to bring people in and show them what we're doing. We like to have drinks here on a Friday night, host talks, invite architects and designers, and now we have a great space where we can do all that. Our team is passionate about what we do but don't like to take ourselves too seriously, hence the name Shrub Hub – it's a bit of fun!
Sustainability has gained a reputation as a bit of a buzzword in the design industry, but landscape design is directly focused on environmental impact. What key challenges within your field should designers of all disciplines be conscious of?
In Australia right now, one of the biggest issues is waste – where our food is actually coming from, and what is going into it. Australia throws out 20,000 tonnes of organic waste every year, and it could just be going back into feeding our gardens, but instead we're using chemicals that rip apart our soils. It's no good. And it comes back to design and education.
How do you encourage change on that front?
Our horticulture team is working on an early learning centre at the moment, where we're planting vegetation that's indigenous to the area. The idea is that the children can understand the importance of what grows there, not just what looks good. And the intent is to teach them more about veggies and real food, and where it all comes from.
I'd like for people to understand that it's not just simply about planting a plant, and it looking good over there in a corner. There's a whole story there, about the life of the plant and how suited it is to the location. And I think it's a wonderful thing to get kids outside, even just doing simple things, like getting off the computer and making sure we're all enjoying nature.
Green walls are still quite a big thing in the interior design realm – are these seen as a bit cliché in your line of work?
Well – it's been done well in places, in terms of bringing big leafy greens in and establishing more of a connection between inside and out. But what hasn't really been touched on is planting more specifically to where we are. We try to start local and bring in wildlife that pays respect to the particular areas we work in.
–
Want more greenery? Read our in-depth profile on Indesign Luminary and landscape architect Tom Sitta. And get all the latest digitally via our newsletter.