On Saturday, May 21st, Sydney sprung to life with the latest iteration of Saturday Indesign: architecture and design's most loved design event. Inverting everything you thought you knew about design events, Saturday Indesign put the focus on networking, relationships, product specification and the good times, with 2022's program ensuring it was a day to remember!
2,000 architects, designers and design lovers braved wild weather and a federal election for SID 2022, descending on this year's event as they worked their way around 31 exhibitors in 25 showrooms across four dynamic design precincts. Sydney's design scene was front and centre, as new connections were made, products and showrooms launched, talks and workshops held and hospitality was served.
Miss out on all the fun? Relive the best of the 2022 Saturday Indesign program below!
Alexandria
The biggest precinct of 2022 didn't hold back any punches, ensuring there really was something for everyone. From Krost's all-day waffle bar and beer garden, to Maker&Son's jumping photoshoot set in an indoor forest, and Space Furniture's immersive and futuristic installation, Alexandria was buzzing from start to finish.
Living Edge set the tone with DJ's, donuts and a multi-coloured tribute to Gufram's Cactus. Inside the space, collaborating partners Herman Miller hosted one of the talks-of-the-day, where a panel dived into the future of working.
The precinct held installations a-plenty, with The Project providing fertile ground for some incredible creative collaborations: Porter's Paints and PTW wowed with suspended colour fabrics creating a journey based on the science of colour; Kaolin partnered with ARM Architecture to create a permanent display that used circular patterns to speak to regeneration; Anterior XL and Plus Architecture installed an innovative and reusable demountable structural stone system; and Stormtech made use of show partner Caroma's impressive bathroom showroom to present a collaborative work with Squillace, where illuminating cubes of offcuts highlighted recycling and sustainability practices.
Residential design got a moment to shine at Molmic's relaxing space, while Ignite Fireplace studio worked with Steelcase to keep us warm with impressive displays and mulled wine.
CBD
The precinct that never sleeps: the CBD started early and partied into the night, while still making sure everyone got a wholesome, wellness fix. Visitors to the CBD formally kicked off their Saturday Indesign experience the evening before the event, with event veterans District going off-schedule with an exclusive launch of their brand new showroom. Hosting international guests from Normann Copenhagen (who made a second appearance on Saturday!), the showroom launched in style and set a high precedent for the day that followed.
Visitor favourites and returning brand Stylecraft brought us a captivating talk on education but ensured learning was done in style with drinks and canapes served on their commercial floor, with sweeping city views and DJs into the night. This carried on into dedece where getting published and designing for an Instagram age was a standout in the afternoon scheduling block.
Learning was centre stage at Thinking Works and Squarebear, where experts spoke on topics ranging from Sustainability, Modern Slavery and Wellbeing in the Workplace.
On the periphery of the CBD, newcomers Technogym and JANUS et Cie gave us an injection of wellness and wellbeing. Technogym showed us the crème de la crème of fitness design while JANUS et Cie's floral-based installation spilled onto the streets of Rushcutters Bay, inviting passersby in for a pasta workshop set amongst leading outdoor furniture.
Surry Hills
With a focus on smaller showrooms and curated displays, Surry Hills – as the CBD's partner in crime – was a hub of activity from start to finish. Savage Design and Sussex Taps was a must-visit for many, where a collaboration all about craftsmanship and considered design gave way to an immersive showroom tour. Many attendees also got their first look at Flokk's showroom, as well as at their launch of the HÅG Tion, arguably the world's most sustainable task chair.
Over at Wilkhahn, a morning talk on workplace was an informative precursor to an afternoon Ping-Pong tournament, while for many, the afternoon location of choice was Fred International, where people flocked to the design-led space to hear Jan Henderson in conversation with Australian design icon William Smart.
Waterloo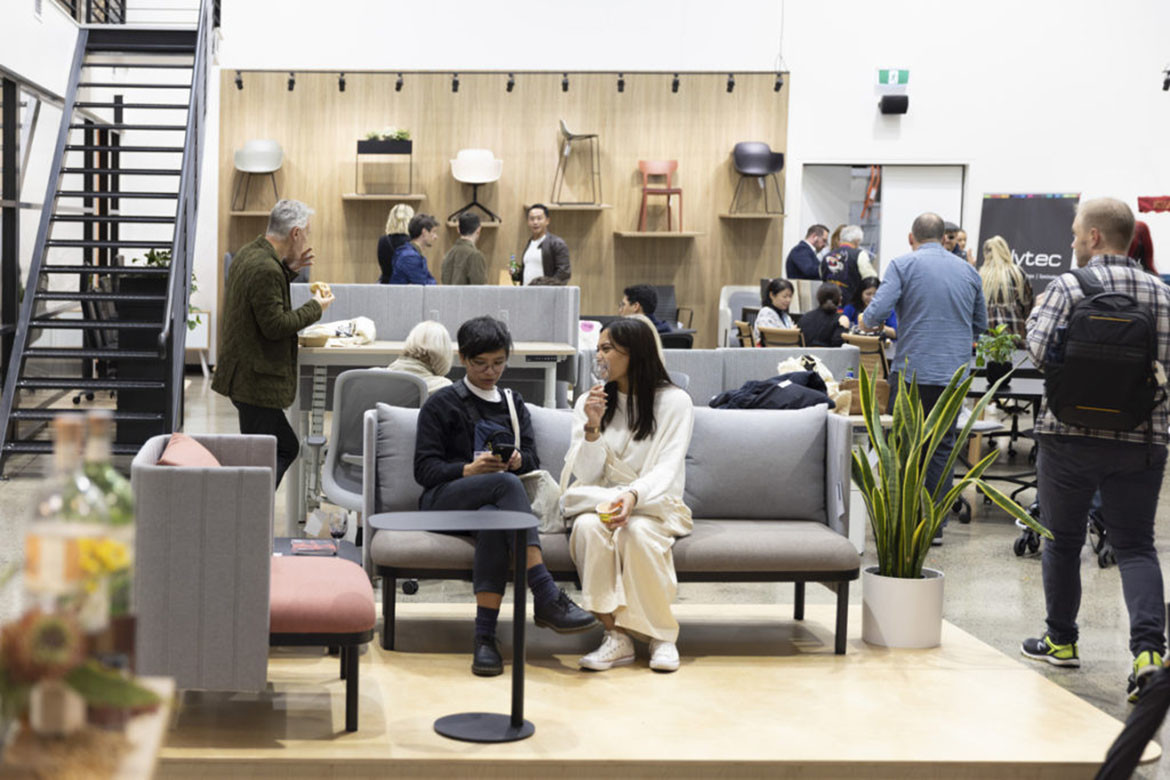 The Waterloo district kicked off Saturday morning with an early start at Winning Appliances, where a VIP breakfast was followed by the first official scheduled activation: a talk on the future of retail spaces, held beneath the impressive domed ceilings of SJB's "Casba". A short stroll away was SeehoSu and Koda Lighting, where Koda presented the future of lighting (see Vibia's Plusminus) with a side of paella and a swig of sangria, while Seeho Su brought the house down with a talk on sustainability in their brand new showroom.
Sydney culinary legends Messina Gelato and Archie Rose popped up at Infinity Commercial Furniture, who partnered with Polytec and Laine furnishings to create a holistic showroom experience, while Special Lights brought in Brokenwood Wines to curate wine pairings with some of their standout lighting products.
Program Highlights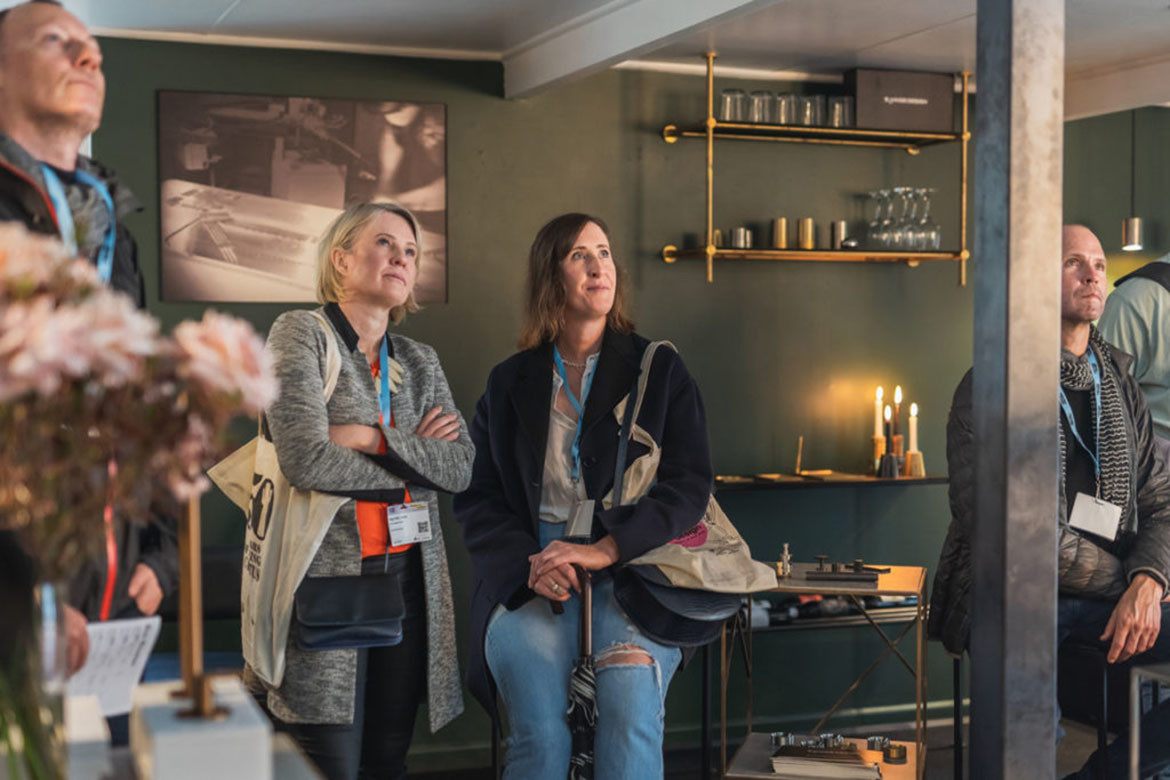 Beyond the precincts, Sydney studios zipped around in private buses, where a VIP experience elevated the Saturday Indesign experience for 15 lucky teams. At an event where connections are at the heart, the Studio Buses – which returned for their second year – proved an enjoyable way to promote team building, navigate the event and take the party on wheels. The studio buses, along with our iconic hop-on/hop-off bus fleet, were proudly sponsored by Neolith, who ensured that Saturday Indesign kept moving.
The entire event also got a little bit greener thanks to inaugural Sustainability Partners Autex Acoustics and Interface, who contributed to carbon offsetting, sourcing event collateral with a lower environmental impact and helping to build a conversation around event and design sustainability. With Saturday Indesign 2023 already in the works, the challenge is on to continue to improve the environmental footprint of all design events!
See more highlights from the Saturday Indesign Speaker Series, The Project and the Official Saturday Indesign 2023 After Party.
To express your interest to attend, exhibit or collaborate in Saturday Indesign 2023, fill out this form here.
Gallery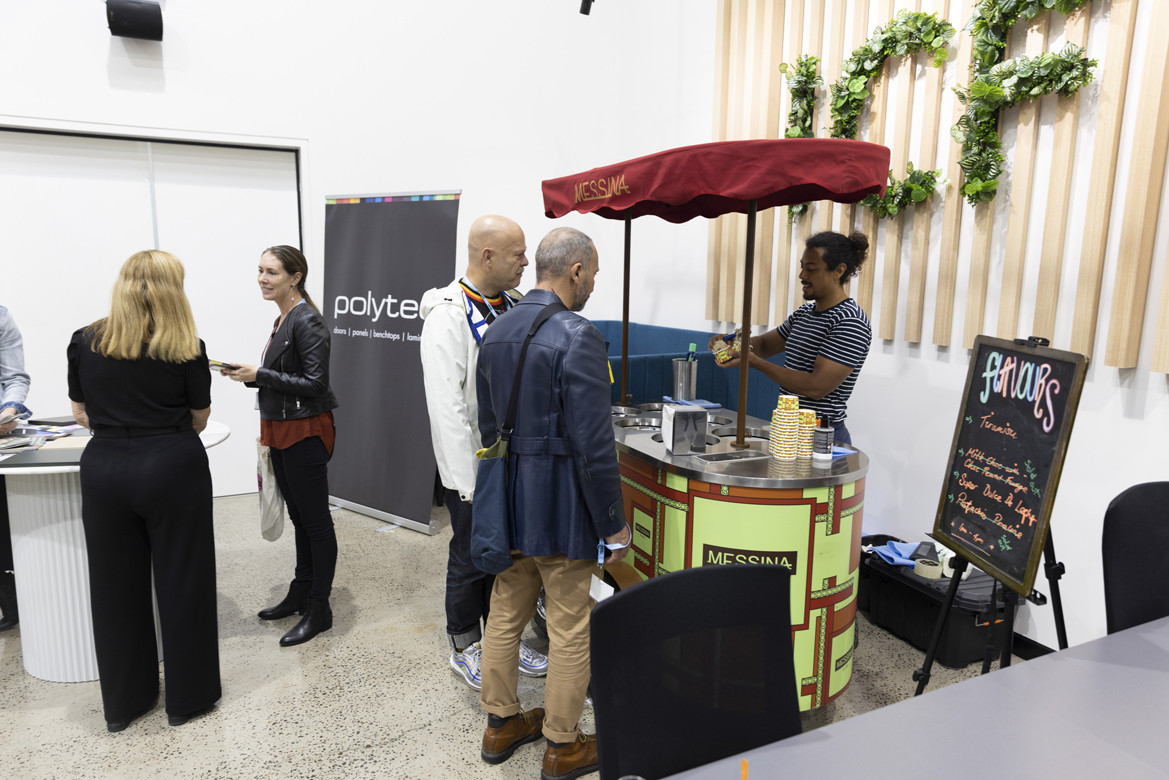 Relive the highlights from Saturday Indesign 2022 with more happy snaps from the day.