You'd be easily forgiven for saying work-from-home defined 'work' and 'workplace' in 2021. However, you may be slightly off the mark – but only slightly.
We've taken a look back at the workplaces you loved the most and what we found was this. While many of us spent a majority of our year working from home, there was still some impressive developments in the workplace design sector with co-working offering a valuable and highly connective alternative to the traditional office; hybrid working models were already starting to play out through key workplace strategies and fit-outs; and a sense of open-ness – connections to nature – as well as connections to more domestic typologies came strongly into play.
Here are five workplaces that rated among the most popular with you – our audience, this year.
Market Lane, Melbourne by Elenberg Fraser
Although it was conceived prior to the COVID-19 pandemic, Market Lane remains an exemplar of salutogenic principles at work. Crafted by Elenberg Fraser in partnership with Hickory Group, the building provides amply for a full existence incorporating nature, fitness, productivity and leisure.
"Today's workforce is all about flexibility and comfort, especially now we've spent so much time in our homes," says Vicki Karavasil, associate architect at Elenberg Fraser. "So the challenge is really to ask ourselves, coming out of all this, what would we want in a workplace? What will have us genuinely excited to come in every day?"
---
Alexander House, Sydney, by Alexander & Co.
Designed by Alexander &CO., Alexander House acts as a forward-thinking design laboratory to support a diversity of uses, while challenging engagement with one another and the environment. It also won an INDE.Awards – check it out.
Located within a heritage context and providing a highly flexible, co-working environment, the project champions local craftspeople and also provides a working space to explore sustainability techniques, carbon sequestration and environmental innovation.
Extensive sustainable innovations include a solar system that supplies 60 to 80 per cent of the daily electrical supply and a solar hot water system with two underground tanks that supply the sanitary and internal water filtration system.
---
The Commons, South Yarra, by Foolscap Studio
"In the past year we've seen the typology of working-from-home emerge in parallel to the office place," says Adèle Winteridge, founding director of Foolscap Studio. "For The Commons South Yarra we envisaged a "third space" for working – a place that is less about the hot desk and more about social engagement, separating work from home, and gaining access to specialist facilities."
Led by the concept of delivering "what you can't get at home", Foolscap's design response for The Commons South Yarra is a seriously fun rendition of a co-working space that places special emphasis on enabling collaboration and social interaction.
Foolscap applied a disruptive grid to develop the design concept around "serious fun". "This is based around the idea that The Commons South Yarra is a place where you get to choose your own world and revel in constant contrast," says Winteridge.
---
CitiWealth Hub, Singapore, by Ministry Of Design
Situated smack-bang in the middle of Singapore's Orchard Road, the 2,787-square-metre CitiWealth Hub is a giant, glass conservatory, home to a veritable jungle. The central talking piece is the main atrium. Here, tinted glass walls and skylights shield betel nut trees jostling with parlour palms.
In amongst the tropical flora sit Garden Pods for private meetings on level seven, with central, marble-clad bars on each floor catering to refreshment needs.
The foliage extends far beyond the main, client-facing space, and it's not just an afterthought. Greenery springs up like mini tropical islands at the centre of hot-desking areas, behind collaborative spaces and in other meeting rooms.
While the building's exterior may be sharp and angular in glass and steel, the interiors are all decidedly biophilic, with organic lines and rounded forms – from reception counters and planters through to staff work areas which are predominantly hot-desk-based. This project also won the INDE.Awards' The Shopping Space category.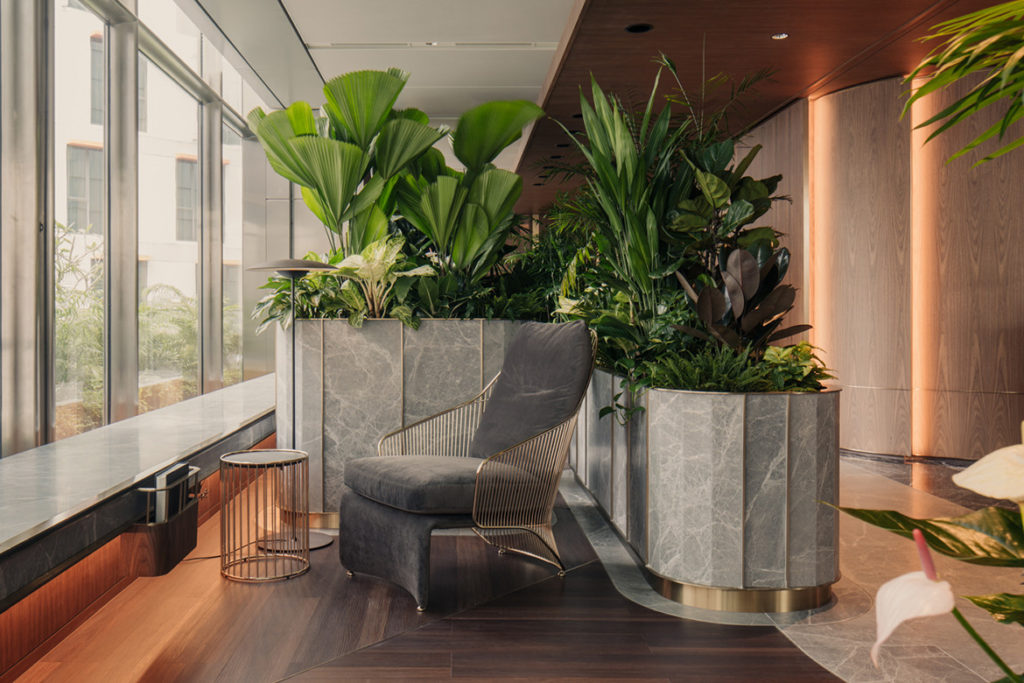 ---
Living Office, Sydney, by Living Edge
A long-time champion of the Herman Miller brand and its collection of workplace solutions, Living Edge's in-house team of interior designers (Living Edge Design Studio) has aligned the space with the Herman Miller Living Office Concept. Placemaking is at the centre of this, offering purpose-led areas that serve the varying needs of the Living Edge team and its diverse customers.
"In Sydney we have our marketing, purchasing and logistics, finance and customer care teams, and our design studio. You can have nearly 50 people working in the space, but it never has that sense of being crowded," says Jo Mawhinney, Living Edge's director of products, brands and experience.
This is thanks in large part to the human-centred, purposeful spaces that are curated in amongst blocked and branded zones that cleverly showcase Living Edge's covetable stable of brands.
We think you may like to read about Smart Design Studio's award-winning workplace.