Living Edge has been located in the Alexandria Woolstores complex for seven years now. It's a large, sweeping space that wraps you in a warm, timber-toned hug.
In refurbishing the site and bringing new life to the showroom and team-working elements, Jo Mawhinney, Living Edge's director of products, brands and experience, and her team, looked to disperse any hard-edged commercial vibes. Instead they set out to transform it into a destination akin to a first-class lounge experience – "a place you want to spend time in and enjoy", says Mawhinney.
A long-time champion of the Herman Miller brand and its collection of workplace solutions, Living Edge's in-house team of interior designers (Living Edge Design Studio) has aligned the space with the Herman Miller Living Office Concept. Placemaking is at the centre of this, offering purpose-led areas that serve the varying needs of the Living Edge team and its diverse customers.
"In Sydney we have our marketing, purchasing and logistics, finance and customer care teams, and our design studio. You can have nearly 50 people working in the space, but it never has that sense of being crowded," says Mawhinney.
This is thanks in large part to the human-centred, purposeful spaces that are curated in amongst blocked and branded zones that cleverly showcase Living Edge's covetable stable of brands.
The Haven is devoted to individual work, while The Clubhouse is for project-based work. "This area is a collaborative and interactive space – it's a think tank," comments Mawhinney.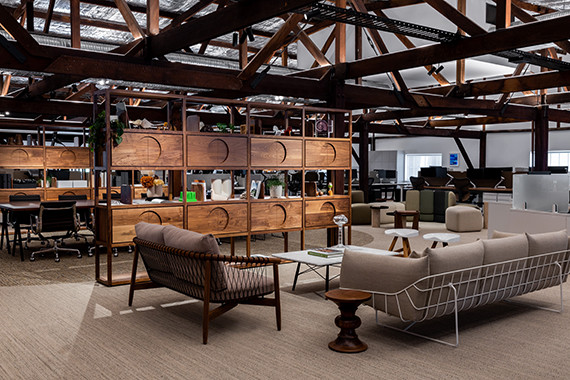 The Plaza is the high-traffic and dynamic heart of the office – the perfect zone for meeting and greeting with clients and colleagues over coffee. Here, visitors are greeted by an installation of Herman Miller Nelson Bubble pendants and Muuto seating framed by an Elan Plus 'Grid' modular shelving system.
It's also the meeting point for the showroom tour, specially developed by the Living Edge team to walk visitors through the Living Office Concept, and introduce them to the many products that dwell within the space.
The Workshop zone is where people can put their heads together – figuratively speaking – and generate new ideas. Blending that line between office and showroom, is the hero of this space – the Conference X table by Walter Knoll, and the undulating Caterpillar sofa system by Derlot.
"This is really the centrepoint of the office, while also being a fun, casual, open area," says Mawhinney.
A particular highlight is in The Hive, furnished with a set of Herman Miller Atlas Desks – notable for their propeller foot and height-adjustability. These support individual work and more than likely you'll find the Living Edge sales team taking full advantage of this zone.
Not to be missed is the roll call of ergonomic task chairs from Herman Miller: the Embody, Sayl, Aeron, Mirra, and Cosm, mixed and matched to user and desk.
"Every area is used by our team," notes Mawhinney – and doubles as a welcoming escape for showroom visitors looking to 'land', relax and discover design anew.
Living Edge
livingedge.com.au
We think you might like this story on Sanya Farm Lab, by CLOU Architects.