Today, the progressive workplace has become a whole design genre of its own — and Silicon Valley is no longer home to the 'best in class'. Businesses, small and large, of all industries have copped on to the fact that a workplace designed well can act as a tool to enable greater opportunities for collaboration and activity based work, as well as valuable bait for attracting the right kind of talent. And as we enter the 'post-covid' world, with widespread newfound flexibility on where and how we work, the 'office' seems to be rapidly becoming the linchpin of workplace culture.
Now, more than ever, place plays a vital role in the cultivation of office culture, and businesses are increasingly looking to designers to create unique, engaging and desirable places to work. Here are 9 projects from the last few years that have decidedly hit the nail on the head, resulting in offices that each embody a workplace culture with inimitable appeal.
Cobild, Mim Design
Located amongst the eclectic charm of inner city Cremorne, Cobild is a workplace that authentically externalises the values of the business it houses. An expansive use of mesh cladding to the building's exterior, by architects Fieldwork, sets the tone for an inspired design narrative. A considered curation of textured materiality in the open plan environment encourages transparency and authenticity, both literal and philosophical. Natural stone, powder coated metal, concrete, leather and timber unite confidently and coherently, finding tactile resolve in the raw and the refined.
Photography by Peter Clarke.
PSLab, James Plumb
PSLab London is typologically ambiguous: grounded in hospitality, it is neither an office nor a showroom yet functions as both. It's a theatrical space for PSLab to exhibit and explain light and optics to its (potential) clientele, and a workplace for its London team.
JamesPlumb is known for uncovering beauty in the everyday – and what could be more everyday than eight hours spent at the office? But by focusing on the culture of their client – "Lebanese culture is one of the warmest and most welcoming we have ever experienced," says Russell – the studio imbued PSLab's London home with just that: a sense of home. "Multiple visits to the mothership in Beirut, as well as their other spaces such as in Stuttgart, showed us first-hand the organic way they work. We always referred to the project as a 'home' – albeit a professional home – and approached the design as such."
Photography by Rory Gardiner.
David Jones x Country Road Group HQ, Gray Puksand
Almost any Melburnian, probably dressed head-to-toe in black, would attest to their hometown being the nation's true fashion capital. The city's sartorial cred' boomed late last year, when historically fashion-forward retailer David Jones farewelled its Sydney offices to join Country Road Group in a new shared working environment, developed by Gray Puksand.
"For us, it was really quite an exciting opportunity to create a new culture for six brands that needed to come together and cohabit, as well as take a fresh look at what a contemporary Australian retail headquarters might be," says Heidi Smith, partner and national interior design lead at Gray Puksand in Melbourne.
Photography by Peter Bennetts.
Clemenger Group Sydney Campus, Bates Smart
In designing the new Sydney 'campus' for Clemenger Group, one of the country's largest end-to-end marketing and communications companies, Bates Smart made the most of the agency's new three-level interior on the historic Pier 8/9 in Sydney's Walsh Bay. The idea was to reflect the group's creative work through flexible and fluid spaces, while also giving them the modern office environment they so desired. Bates Smart's concept imagines a roll of butcher's paper unravelled down the centre of the space and translates it as a series of white insertions that accommodate collaboration and knowledge-sharing zones.
"The structure is a manifestation of the business – a place where this collective of knowledge workers can meet to teach, learn, problem-solve and generally make incredible stuff happen. And its presence at the workplace's entrance speaks of an agency that's all about creative collaboration."
McConaghy Properties HQ, Hogg and Lamb
If a majority of desk-based work can be done from home, what does that mean for the corporate workplace? Far from being defunct, companies are looking to their formal headquarters with fresh eyes, viewing space as a tool for personal engagement, connecting with people through a very visceral kind of brand presence. We are entering an age of branded workplace design.
Case in point is McConaghy Properties which recently moved in to its new Brisbane headquarters. Taking over the top two floors of The Annexe, a new 12-level office development by Dexus, the company briefed architecture and design practice Hogg and Lamb to create a non-corporate space that showcases its identity as both commercial landlords and builders.
Photography by Christopher Frederick Jones. Read more.
Market Lane, Elenberg Fraser
"Today's workforce is all about flexibility and comfort, especially now we've spent so much time in our homes," says Vicki Karavasil, associate architect at Elenberg Fraser. "So the challenge is really to ask ourselves, coming out of all this, what would we want in a workplace? What will have us genuinely excited to come in every day?"
Market Lane makes a luminous first impression through a striking art installation at the foyer, visible from its industrial South Melbourne street. Created by Elenberg Fraser and Mark Douglass Design, an undulating ceiling comprising hundreds of slim LED light fins, reminiscent of fish scales, glows and changes colour according to customisable internal programming.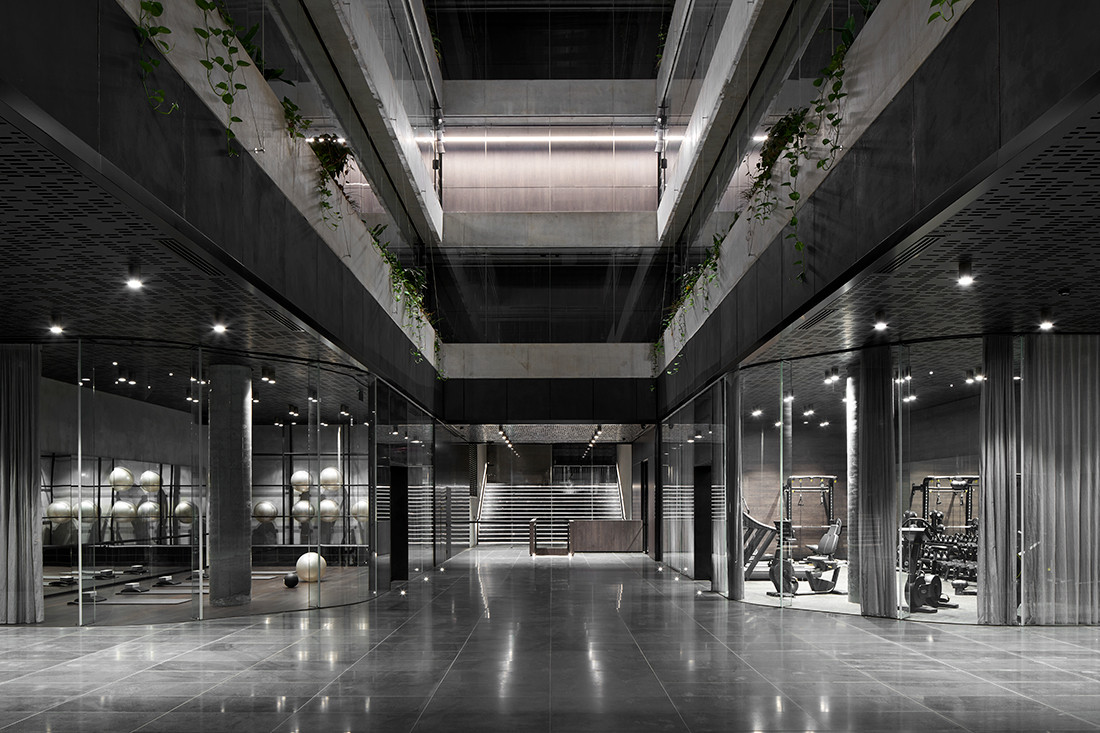 Photography by Damien Kook. Read more.
Escient, Snohetta
In Adelaide, for example, start-up business and digital advisory consultancy Escient recently commissioned Snøhetta to design its head office, which will be used as a prototype for its other offices across Australia. "We wanted to design a 'home' that was distinct to the company and this led us to create a central place where everyone could come and go," says Snøhetta interior designer Lisa Lee. "It's not a typical nine-to-five workplace, so we had to design a space people want to come back to."
Photography by Darren Centofanti.
Conrad Architects' studio, Conrad Architects
When an architecture firm designs its own workplace it's an opportunity to lead by example and to realise an outcome uninhibited by client constraints. Conrad Architects' new studio in Cremorne, Melbourne, embodies the practice's design approach to align philosophy with company culture.
As with any space there are physical and non-physical elements that contribute to its aesthetic and atmosphere. At Conrad Architects, the physical is a refined and sophisticated industrial space, and the non-physical is a comfortable, enjoyable and inspiring environment that encourages the team to strive.
Photography by Dan Hocking. Read more.
Boston Consulting Group, Melbourne, Bates Smart
There's no doubt Melbourne has character like any other city in the world, and it was the inspiration for the new workplace of Boston Consulting Group (BCG), giving the global firm a local presence. BCG required a works space that felt welcoming for its local consultant – who are predominantly only in the office on Friday, working off-site the remainder of the week – as well as for its overseas staff to feel at home travelling. Bates Smart looked to idiosyncratic attributes of Melbourne to bring the vitality of the city into the high-performance environment.
Photography by Tom Blachford. Read more.